Wowzer, friends! Have you had enough rain? Who hasn't? Nevertheless, our market will be in full swing Wednesday and I predict it won't rain until 3pm—after the market.;) Lots of eggs and figs at Double K Farms. You can make some mighty fine muffins with these figs. Simply whisk together 1 cup all purpose flour, 1 tsp cinnamon, 1/2 tsp baking soda, and 1/4 tsp salt. In another bowl, blend together 1/2 cup buttermilk, 1 large egg, and 1/2 tsp vanilla extract. In a third bowl or stand mixer, beat 3/4 cup dark brown sugar and 4 tbsp room temp unsalted butter until nice and creamy. Begin to add the other ingredients, alternating dry then wet ingredients. Mix until just combined. Do not overmix. Gently fold in 1 cup chopped fresh figs. Pour into generously butter muffin pan and bake at 350F for 25-30 min. If you were lucky enough to get goat cheese last Saturday, this would make a luscious topping.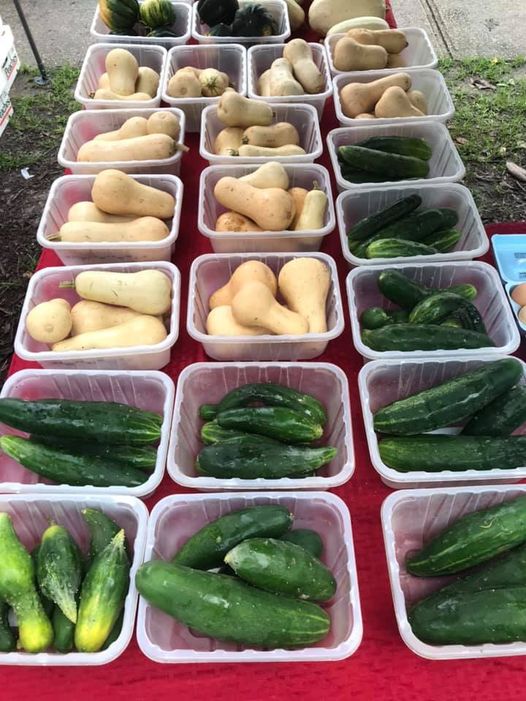 Delight in a wonderful salad from Kandy like a delicious blend of shredded cabbage red onion, and carrots, accented with cilantro and mint with a side of soothing jasmine tea. If you're looking for Jerry and some sweet, raw honey, look no further than Kandy's table. He has been so busy managing his hives and blueberries, he just can't get out here. But I won't complain because we'll definitely appreciate good honey and are breathlessly waiting to see if there will be more of his world famous blueberry spread. Abeer has some amazing dishes to enjoy in the meantime. If you haven't tried her Mujadara, then definitely treat yourself. It's a delicious combination of lentils and rice topped with fried onions. Oh man!How good! She's also got Baba Ghanoush and some splendid meat & spinach pies.
Tomorrow may be a perfect day for a Bhakti bowl from Johnny. Thai Peanut sauce? Sesame Ginger sauce? It's gonna be a hard choice. No hard choices when it comes to one of Carroll's waffles, though. Puff pastry waffle topped with a creamy custard, fresh berries, and homemade whipped cream —need I say it? I had me at waffle. Even if you totally fill up on lunch, you'll still have room for snacks at 3. New vendor Allison certainly has you covered with crunchy freeze-dried snacks including "Cheese Puffs" which are technically asparagus seasoned with a vegan cheese seasoning. I'm thinking you'll like these even if you don't like asparagus.
Last Chance Bluegrass Band…in the gazebo….this Saturday morning…be there!! And we'll have lots more than that so why not celebrate with a totally delish veggie pancake from Meme to go with your coffee. Happy Flour makes awesome waffles if the veggie pancakes don't entice you and Bear Creek Road has that delightfully Spicy Chicken Biscuit. Jennifer is also making a Roasted Garlic Mushroom pizza – YUM!
Did I mention coffee? Well we have some really good stuff at the pavilion BUT we also have a brand new coffee vendor. Yep and you won't forget the name —Koffee's Coffee (formerly known as Covington Coffee Works). They roast the beans themselves and you can taste test before buying. Glenn plans to have 1 dark roast, 2 medium roasts, and 1 decaf available. This week he will offer Columbian Supremo roasted Medium Plus, Tanzanian Peaberry (how exotic!) roasted Full City, French Breakfast roasted Dark, Decaf Columbian Swiss Water roasted Medium. I know you're gonna enjoy!
Naturally, we have gorgeous veggies all through the market… eggplant here, okra there, peppers everywhere! Tables are filled with great seasonal veggies at the moment —red potatoes, white squash, yellow squash, zucchini, maybe even some butternut squash, lots of tomatoes, too. For juices, head on over to Amanda's where you can find fresh orange juice and mango juice. She also has juice blends made with seasonal fruits. Of course, if you prefer your fruits in frozen form, her Popsicles are legendary! For a green juice, you can't beat Sam's Farmer's Cocktail with apples, ginger, and spirulina. It has amazing flavor to go with that bright green color!
Watermelon and peaches still abound as do the figs. Now if you haven't tried the fig muffin recipe above because you wanted to get some goat cheese from Huckleberry Fred's and buttermilk from Mauthe's, here's a reminder not to forget.
I found a lovely recipe for chicken, sausage and mushrooms which is absolutely fabulous! (see below) So make it a plan to stop by Jubilee for your sausage, Credo for your chicken, James for the mushrooms, Alton for the parsley and Mauthe's for the butter. Oh yeah, all good stuff!
Fight that urge to sleep in! The goodness of the Covington Farmers' Market awaits! You can nap on Saturday afternoon. The tastes are fantastic; the flavors abundant and the smiles are everywhere. How many more reasons do you need to be at the market each week?
Lots of love
Charlene LeJeune
Abundant Life Kitchen
The Covington Farmers' Market is open each Wednesday, rain or shine, from 10 a.m. to 2 p.m. at the Covington Trailhead, 419 N. New Hampshire and every Saturday from 8a.m. to 12p.m. on the side lawn of the Covington Police Station, 609 N. Columbia St. Call (985) 892-1873 for information or visit covingtonfarmersmarket.org
Check out our Facebook page – facebook.com/thecovingtonlafarmersmarket
On Instagram — @covingtonlafarmersmarket
Farmer's Market Recipe
Chicken, Sausage and Mushrooms
1 (6-ounce) sweet Italian sausage, cooked, diced (Jubilee)
2 tablespoons olive oil
2 boneless chicken breasts (Credo Farms)
salt, freshly ground black pepper, and cayenne to taste
1 red onion, diced
1 1/2 cups pioppino mushroom or sliced shiitakes (James)
1/2 cup white wine
2 tablespoons cold butter (Mauthe's)
2 tablespoons fresh chopped Italian parsley (Alton)
Simply poke your sausages with a knife and brown for about 3 mins on each side. Remove from heat but don't wash the pan. Cool sausage in fridge while you cook the chicken. Season your chicken breasts on both sides. Add a little olive oil to your pan (with the drippings from the sausage) and cook chicken for 5-6 min on one side and about 3 on the other. While chicken is browning, prepare the mushrooms and slice up the cooled sausage. Remove chicken from the pan and add red onions, sliced sausage and mushrooms. Salt to taste. Cook until slightly onions and mushrooms are slightly browned. Nestle the chicken breasts in your veggies and bake in a 400F oven for about 15 mins. or until cooked through. Remove from the oven and put the chicken on a plate to rest. Put the mushroom mixture on high heat to brown for about a minute then add the white wine or a blend of chicken stock and vinegar (the taste cooks out). Cook until the mixture reduces by half and add your butter. Stir around the pan until butter is melted and sauce starts to thicken up. Spoon over your chicken and serve. Perfection!