What a delightful Tuesday, friends! Wednesday is just a smile away with promises of a great lunch and relaxing morning. Kandy will be there with wholesome homespun Vietnamese salads to add an exotic flair to lunch.You'll just love a glass of jasmine tea with that! Maybe bring home a serving of traditional egg rolls for Thursday's lunch. You may prefer a Jordanian favorite —Muhjadara —which is a simple dish of lentils and rice topped with caramelized onions. Don't forget the baklava, ya just gotta have some treat for the afternoon. Of course, you could just save the baklava for tomorrow and go in for some of Allison's freeze dried treats.
Indulge in a luscious Vegan Burger from Bhakti Farms. This is an amazing little burger made with sweet potato, black beans, and beets. Sooo good! Remember to get your eggs. Kristen also has figs and now she is offering fig preserves as well. Of course, there are Carroll's waffles to enjoy. Do NOT refer to them as dessert waffles so you can be very convincing when you tell your coworkers that it really is lunch. You'll want to remember to bring your knives for Ben to sharpen. Nothing worse than a dull knife.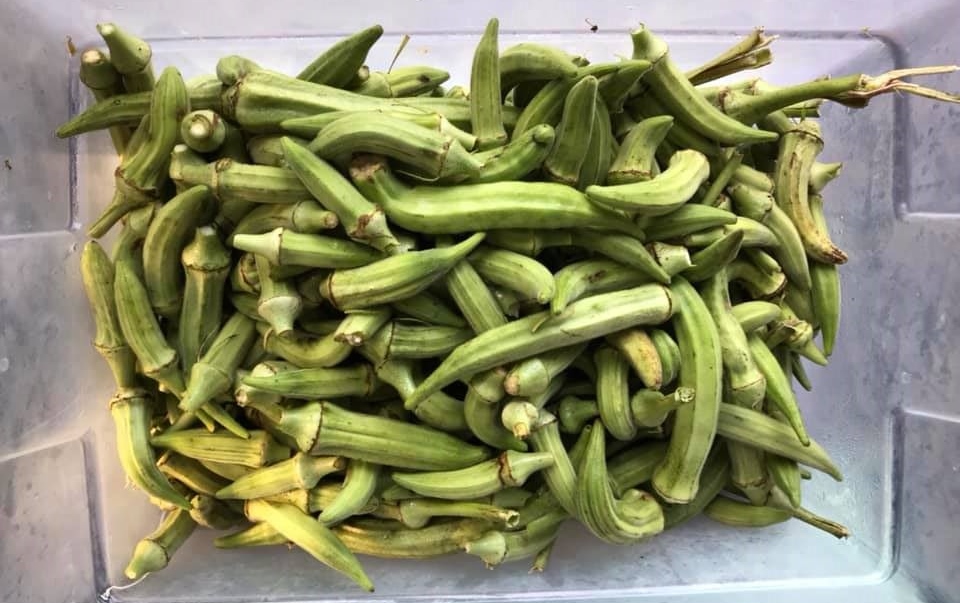 Darrell Galatas will welcome Saturday with sweet music wafting from the gazebo and lifting your spirits. So grab a cuppa joe from the pavilion and take a stroll through the "garden department". Our plant vendors, Trudy, Dennis, and Ms. Betty have some lovely varieties to brighten up your gardens whether you're looking for patio and landscape plants, trees and bushes, or house plants.
Since Vince has beets and fennel on his table, I looked for a recipe that includes both. I hope you enjoy this roasted beet and fennel salad with mint and toasted walnuts. First things first, preheat your oven to 400F. Line 2 baking sheets with parchment paper (you could get away with 1 if you cut the recipe in half). Cut 6 medium or 3 large beets and cut into 1" chunks and add to one of your baking sheets. Place the fennel (cored and thinly sliced) to the other. Drizzle with oil, salt and pepper. Roast for 25-30 min til beets are cooked and fennel is golden. While you're roasting, make your dressing by whisking the juice of 1 lemon, 1 tsp stone ground dijon mustard, 1 tsp honey, 1 tbsp chopped fennel fronds (frilly tops), and 2 tbsp olive oil. After the veg have been roasting for 15 min, put 1/2 cup chopped walnuts into the oven to toast. Remove from oven when done and let cool. Once all has had a chance to cool, toss them all together and coat with 3/4 of the dressing. Top with mint leaves. Serve with the rest of the dressing, just in case you need a dab more. You can serve this by itself, or over lettuce, or toss with some of Six Acres fabulous microgreens and enjoy!
Mushrooms are always delicious whether sautéed with a bit of Mauthe's butter or one of Jennifer's amazing butter blends. James has the market cornered with gourmet mushrooms — lion's mane, shiitake, chestnut, pioppino, and oyster. You can't even find this quality at Whole Foods. While you're over that way, check out Rose's new praline delights. You won't be sorry. Then a stroll over to Tessier Gourmet for fabulous prepared foods. You'll love her tamales and the spinach artichoke dip. You also love Mauricio's cookies, ginger snap and peanut butter. YUM!
Norma has some fabulous brownies, rich and chocolatey. She also makes a most delicious veggie wrap. You'll find lemon and cherry ice box pies at Bear Creek Road. Abeer will be there this week with wonderful hummus, grape leaves, and more Mediterranean dishes. Sam is making (well, his girlfriend is) gluten free cookies and brownies and he will have nutritious sprouts and that amazing Farmer's Cocktail. Koffee's Coffee has a new Columbian roast that begs to be brewed.
All in all, there is so much to enjoy! We hope you will join us!
Lots of love,
Charlene LeJeune
Abundant Life Kitchen
The Covington Farmers' Market is open each Wednesday, rain or shine, from 10 a.m. to 2 p.m. at the Covington Trailhead, 419 N. New Hampshire and every Saturday from 8a.m. to 12p.m. on the side lawn of the Covington Police Station, 609 N. Columbia St. Call (985) 892-1873 for information or visit covingtonfarmersmarket.org