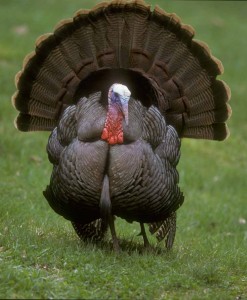 The wild turkey is native to North America and can be broken down into six subspecies. It is the heavies member of the diverse Galliformes or "game fowl". The turkey got its name from trade routes in place during the 16th century, where goods from the Americas and Asia were required to go to Constantinople, Turkey, before being sent to Britain. The British of the time associated wild turkeys with the country, and the name stuck.
The wild turkey has one of the heaviest maximum weights of any North American bird, second only to the Trumpeter Swan. Adult males, called toms or gobblers, normally weigh between 11 to 24 pounds, with records of the birds being over 30 pounds uncommon but not rare. The females, or hens, are much smaller in comparison, usually between 5 – 12 pounds. The long fleshy flap over the male turkeys beak is called a snood – this flap along with the wattles and bare skin on his neck and head fill with blood and expand when the bird is alarmed. When he is excited, his head turns blue; when he is aggressive it turns red. The body feathers of both males and females begin black and gray with a copper and brown sheen. The color of the male turkey becomes more complex as it ages, picking up metallic green and blue hues.
Although never publicly voicing his opinion on the matter, Benjamin Franklin wrote in a letter to his daughter Sarah Bache that he would have preferred the wild turkey being picked for the National Bird instead of the bald eagle.