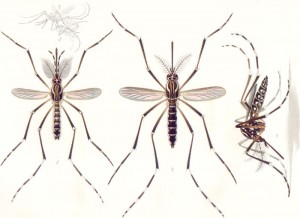 Due to an increase in positive West Nile Virus samples, the St. Tammany Parish Government is taking proactive measures both in mosquito abatement efforts and by informing residents of ways to reduce risk of exposure. Here are just a few suggestions to protect yourself and your family from harm:
Check the Time Mosquitoes are most active at dusk and dawn – try to stay indoors during these times.
Cover Up Wearing a long sleeve shirt, pants and socks will protect a large part of your body from attack. Cover your ears with a hat or bandana. Light-colored clothing is best.
Drain Standing Water  Empty any standing water that you find in your yard.  Buckets, cans, old tires, flowerpots and other like items can be a breeding ground for mosquitoes.
Natural Repellants:
Citronella Oil
Lemon Eucalyptus Oil
Rosemary Oil
Lemongrass Oil
Pennyroyal (Plant/Oil)
Please remember that 'natural' does not always imply 'safe'.  Many people are sensitive to plant oils, and some are toxic to both humans and animals.  Pennyroyal, for example, is toxic to cats, dogs and humans in larger doses/exposures.  Seek expert advice before using any natural or synthetic product.
Don't Forget About Fido!
For dogs, mosquitoes are the cause of another problem: heartworms.  Heartworms are caused by mosquito bites as well as ingesting the larvae.  Make sure your dog has access to fresh, clean water, and refresh bowls that have been left out over night.  Keep your pet on a preventative throughout the year to protect them.  Consult your veterinarian to find an appropriate product for your dog.