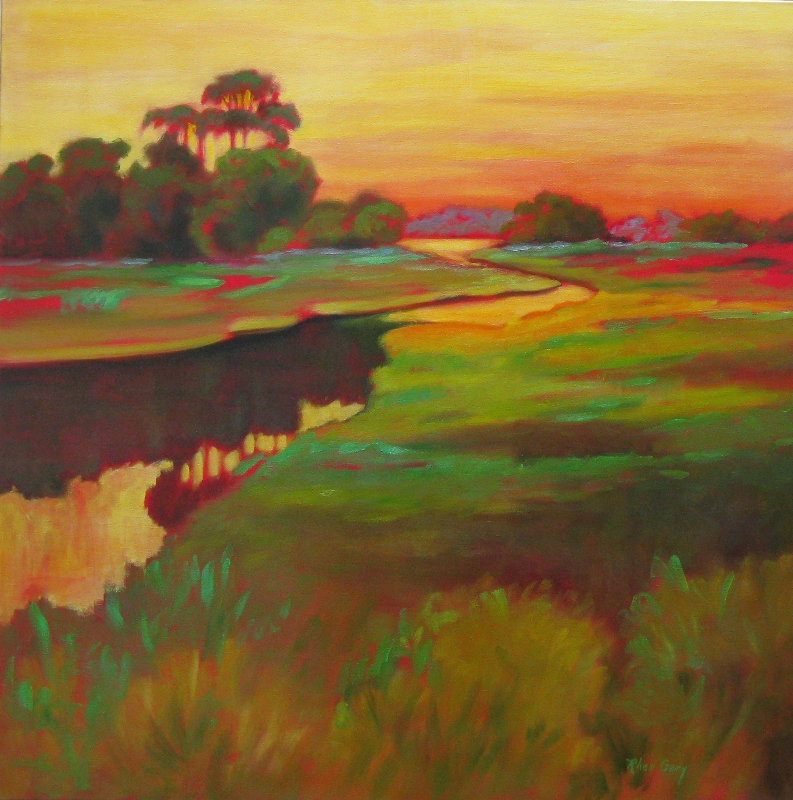 "My interest is not in the nuances of the landscape, but in using color for an emotional response that creates a joyful statement about the place. The paintings are filled with emotion, excitement, and energy. It is the vibrant color and light in the paintings that reflect the energy of the ever present heat and richness of nature that surrounds me."
– Rhea Gary
The artworks of Rhea Gary are colorful celebrations of the Louisiana Landscape. Her dramatic paintings are filled with mood and colors that reflect her passionate response to the beauty that abounds here. Her brush strokes mimic the excitement and energy she feels as she captures the beauty she sees in the wetlands. Louisiana's haunting swamps and bayous are filled with inspiration for this local artist. Her love of our vanishing wetlands prompted her to develop a project called Marsh Mission, in collaboration with C.C. Lockwood. Their best-selling book "Marsh Mission: Capturing the Vanishing Wetlands" documented their artistic journey through Louisiana's waterways.
Rhea Gary is a Louisiana native, and award winning artist. She holds Bachelor of Science and Masters of Fine Arts degrees from Louisiana State University in Baton Rouge. She also studied at the New Orleans Academy of Fine Arts. Her works are held in museum collections, in the Louisiana State Capitol, Louisiana Governor's Mansion, Louisiana State University, and the American Embassies in Australia, Bahrain, Jordan, and Venezuela and in many individual and corporate collections. Her work has been published in several magazines including Louisiana Life, American Artist, Art & Antiques, and numerous regional journals. She has been featured on television on CBS Sunday Mornings, Delta Hands, and Louisiana Public Broadcasting. In 2007, 2009, and 2010 she was voted 'Best Visual Artist' in the Best of 225 AWARDS by the readers of 225 Magazine, a publication of the Greater Baton Rouge Metropolitan Area. In February 2010 she was Country Roads Magazine's Readers Choice-Favorite Local Artist. In July 2011 she was named Louisiana Art Legend by Forum 35, an organization of young leaders. The widespread distribution of her work allows people everywhere to share in her joyful artistic statement of love for the places she paints.
An opening reception for Rhea Gary's new works will be held at Three Rivers Gallery, 333 E. Boston Street, on Saturday March 8th from 6 – 9 pm.  This is a free event, refreshments will be provided.