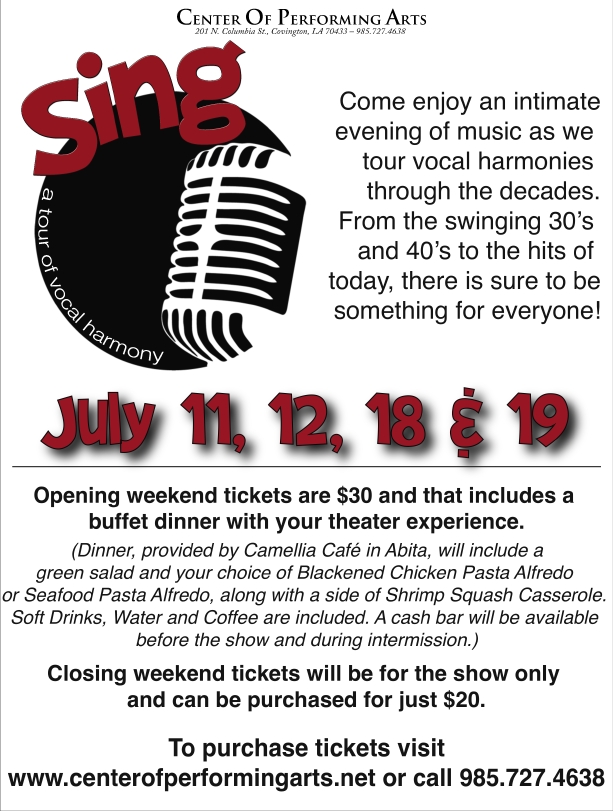 The Center of Performing Arts (COPA) will open its summer show "SING – A Tour of Vocal Harmony" July 11, 12, 18 and 19 at 8 p.m. Take a journey while exploring vocal harmony in popular music. Starting in the 1930's and '40's with Big Band and Swing music, see where vocal harmony began. You'll hear favorites such as "Boogie Woogie Bugle Boy", "In The Mood" and "Mr. Sandman". Transitioning into the '50's and '60's, you'll recognize some toe tapping Doo Wop beats along with the smooth sounds of soul. The evening will close out with hits from the 70's to the present. You'll be singing along as you enjoy a night of music and entertainment for all ages.
The opening weekend dates, July 11 and 12, will be dinner theater evenings with a 7 p.m. dinner and 8 p.m. show time. Food provided by the Camellia Café in Abita Springs will include a green salad and a choice of Blackened Chicken Pasta Alfredo or Seafood Pasta Alfredo, along with a side of Shrimp Squash Casserole. Soft drinks, water and coffee are included, and a cash bar will be available prior to show time and during intermission. Dinner theater tickets are $30 in advance.
The closing weekend, July 18 and 19, will be show only, and tickets are $20 each. Tickets will be available at the door, but seating is limited and reservations are suggested. For more information or to purchase tickets online, visit www.centerofperformingarts.net or call (985) 727-4638.