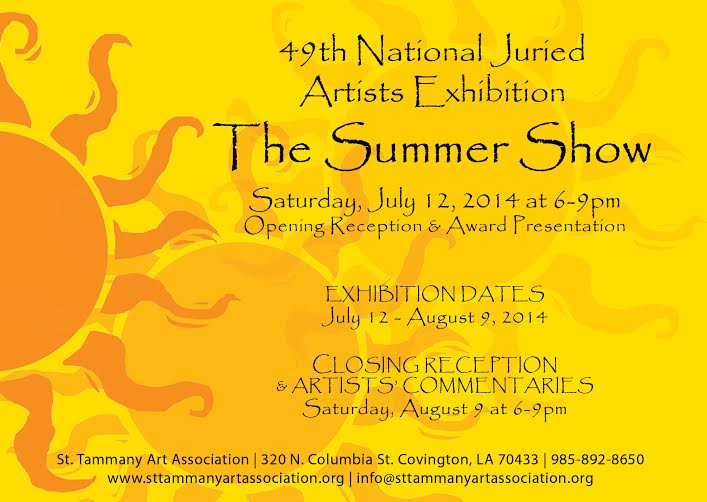 49th Annual National Juried Exhibition: Summer Show at St. Tammany Art Association
Open to artists from all over the United States, the St. Tammany Art Association's annual juried exhibition is one of the most diverse in the state of Louisiana, featuring only visual art completed within the past two years. Read more here: STAA Announces Artists In 49th Annual Juried Exhibition This Saturday – The Summer Show

Henry Hood Gallery Mid Summer Exhibition
325 E. Lockwood Street
Henry Hood Gallery introduces new abstract paintings by Cissy Carville with a reception Saturday evening. The gallery is also showing new work by Jean Flint, Robin Hamaker, Lucille Hunter, Michael LeDay and Maggie McConnell.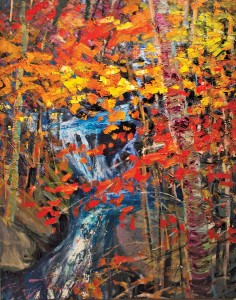 Tripolo Gallery Features Barry Thomas
323 N. Columbia Street
Everything about Barry Thomas is big. Big colors. Big physique. Big heart. Big humility. Big paintings. Even his paintbrushes, which he travels to Madrid, Spain to acquire, are big. And yet, he never fails to capture the subtle beauty of an Aspen tree, or a horse and rider, or a sunset shining eastward. Read more about Barry here.
Robert Maxwell: Exhibition of Sculpture at Three Rivers Gallery
333 E. Boston Street
"Beauty is found not in perfection but rather the dancing among imperfection" Robert Maxwell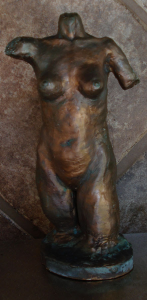 Robert Maxwell's exhibition of sculpture is a collection of work by the artist specializing in the human figure.  Having been inspired by some of the Old Master sculptors such as Rodin and Bernini, he traveled to Europe to study their works.  He has spent years learning and perfecting the complex lessons necessary for the technical skill required to sculpt such demanding subject matter.  He is constantly inspired by the  beauty evident in the human form.  There are so many elements that are important to the creation of the work such as mass, volume, perspective, light and dark.  These elements give an impression of form and space and bring emphasis to a particular narrative between the subject and the artist's expression of that subject.  The most important element to Maxwell's sculpture however is: texture.  The significance of the evidence of the human touch on the sculpture pieces are what the artist hopes to emphasize.  The handmade human quality and visible textures are just as important as the subject itself.
Award-winning artist Robert Maxwell has been a resident of St. Tammany Parish all of his life.  He has two Masters Degrees from Mississippi College for education and sculpture.  He spends much of his time sculpting his creations and teaching others anatomy, sculpture and mold making.  His art is in the permanent collections of Taylor University, Vermont Law School, and National University in Lima Peru, and locally: the Bogue Falaya Park gates. He is in public, private and corporate collections throughout the United States and abroad.
Robert Maxwell: Exhibition of Sculpture is on view from July 12th through August 1st, 2014.