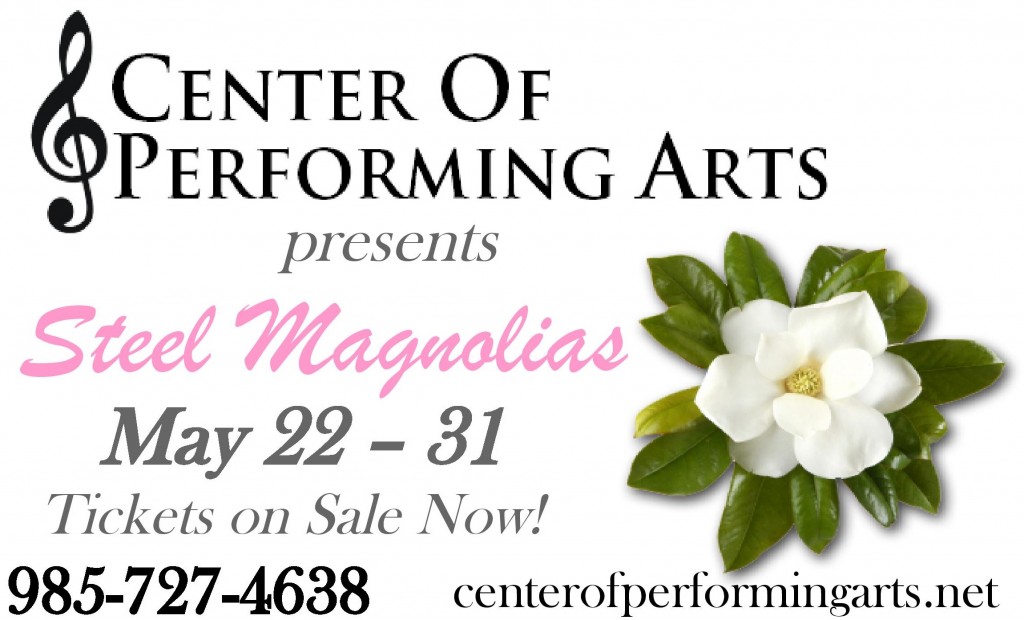 Center Of Performing Arts is proud to open the 2015 theatrical season with "Steel Magnolias" written by Robert Harling. The play will run from May 22nd through May 31st. This classic slice of Louisiana life, is based on a true story set from 1983 to 1985, and features a six person ensemble cast of strong local actresses who are primarily from the West St Tammany area.
The action is set in Truvy's beauty salon where all the ladies who are "anybody" come to have their hair done. Helped by her eager new assistant, Annelle (Rachael Pace), the outspoken, wise-cracking Truvy (Courtney Caulfield) dispenses shampoos and free advice to the town's rich curmudgeon, Ouiser (Cheryl Farris); an eccentric millionaire, Miss Clairee (Beth Harris); and the local social leader, M'Lynn (PJ Clarke), whose daughter, Shelby (Madison Lusco), is marrying a "good ole boy".
Steel Magnolias is the first of six plays that will be staged from now until December at Center Of Performing Arts. The season contains comedies, musicals, a mystery, and of course "The Best Christmas Pageant Ever".
"With six concerts, and six plays scheduled through the end of the year, we want to bring Covington the very best in live entertainment options," said artistic director Robert Sturcken. "Being completely self supporting, we count on ticket sales to keep the doors open, so we have selected a schedule of events with broad appeal."
www.centerofperformingarts.net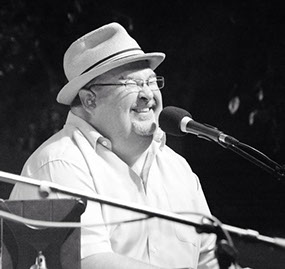 Friday Music Club Ends Season with John "Papa" Gros
On May 8th, COPA closes out the premiere season with John "Papa" Gros and Friends. Most notably known for his thirteen year stint as the frontman of Papa Grows Funk, John is one of New Orleans's most sought-after session and live keyboardists. With numerous Jazz Fest appearances under his belt, he has been seen with Better than Ezra, Raw Oyster Cult, and Sarah McLachlan.
New Orleans music lovers will appreciate "Papa's" colorful songwriting which features his funky piano and gritty, soulful voice reminiscent of Leon Russell, Dr. John, Little Feat but a whole lot of John Gros: Swamp blues, N.O. piano, LA rock-n-roll, heartbreak ballads, and even a Cajun waltz. Buy ticket online here