Representatives of the Parish inspected the Helis Oil & Gas well site recently, finding that only permitted work was being done as air monitoring equipment on Lakeshore High School property was finalized. The concept of a monitoring station at the school is intended to serve as a reminder that the company is actively providing protections as the project moves forward. A single air monitoring station at the school is grossly insufficient; the obvious solution is individual, hand held air monitoring devices for the kids.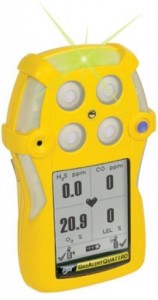 The BW Honeywell GasAlert Quattro 4-Gas Monitor has four full-sized sensors to detect oxygen and any serious atmospheric changes therein. The unit detects hydrogen sulfide (H2S), carbon monoxide (CO) and a variety of dangerous flammable and or combustible gases. If anything were to happen at the well site, the children carrying this device will be some of the first to know with a 95dB alarm, vibration alert and an array of warning lights. The Quattro's simple interface allows ease of use and ensures confidence in safety.
The Quattro comes individually packaged in a cardboard box including a 120v AC battery charger, an operator's manual, a cd-rom owner's manual, calibration/bump test adapter w/18 inches of clear pvc tubing, a double ended screwdriver (No. 1 Phillips – 5/64 Hex Allen) and a factory calibration certificate. Calibration gas may be ordered separately, and ships separately.
Lakeshore High has a student population near 1,000. The units run about $650 apiece, so Helis would be able to provide every student with their own unit for somewhere in the neighborhood of $700,000. This is a small price to pay considering that the children are the future. Plumes are subject to weather conditions and other variables, and one part of the campus may be a hazard while another part of the campus may be perfectly safe. For this reason, a handheld, individual air monitor for every student is absolutely imperative.
Do we want to leave the health and safety of the children to the responsibility of a remotely monitored station, or give them the power to monitor the air they breathe in their own hands? The answer is obvious, as individual air monitors would reduce liability and ensure safety.
Timothy Gates may be reached at: covweekly@gmail.com