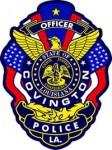 Following the review of resumes, telephone screenings and face-to-face interviews with each candidate in the past several weeks, the field of candidates for the position of Police Chief for the Covington Police Department has been narrowed to five.  Mayor Cooper maintains his schedule to select the new Police Chief by mid-October.
Based upon completed level of education, qualifications, personal and professional qualities, experience and achievements in municipal and/or parish law enforcement, the following candidates for the position of Police Chief have been selected to proceed for an in-depth follow up interview with Mayor Mike Cooper next week:  Chris Lang, Captain, Covington Police Department; Tim Lentz, Former Chief Deputy, St Tammany Parish Sheriff's Office; Ron Ruple, Assistant Chief, Mandeville Police Department; James Steele, East Baton Rouge Parish DA Office; and Nicholas Tranchina, Patrol Sergeant, St Tammany Parish Sheriff's Office.
Though Captain Jack West, who is now serving as Interim Chief of the Covington Police Department, took and passed the competitive civil service examination, he withdrew his name for consideration for the permanent position and has not participated in the interview process.