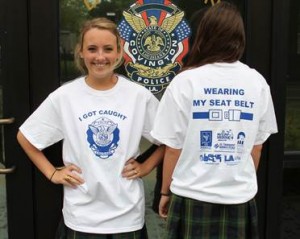 Chief Tim Lentz announces that the Covington Police Department is launching a program today designed to increase seatbelt safety among our children. Motor vehicle accidents are the leading cause of death to teenagers in the United States, representing over one-third of all teen deaths. In a survey conducted by the National Highway Safety Administration, only 76% of teens and young adults (16 to 24 years old) wear their seatbelts, the lowest of any age group. In 2006, 58% of people 16 to 20 years old involved in fatal crashes were unbuckled.
As a member of the Northshore Regional Safety Coalition, the Covington Police Department has partnered with several local businesses to promote teen seatbelt use. Using donations from these local businesses, the CPD designed t-shirts with "I Got Caught" on the front and "Wearing My Seatbelt" on the back.
This week, officers will conduct seatbelt inspections at local schools as students are released. Students found wearing their seatbelts will be given a t-shirt in recognition of their usage while supplies last. Students who are not wearing their seatbelts will be educated on the necessity of wearing seatbelts and the safety they provide.
Chief Lentz states, "Thanks to the support of our local businesses, we have an opportunity to educate our children on the safety seatbelts provide, in a positive manner. With summer almost here, teens will spend more time on the road than ever and we want to make their journeys as safe as possible."
The purchase of the t-shirts was made possible by donations from the Covington Business Association, LA Logos and Promos, Lake 94.7, Mellow Mushroom, Southern Hotel, and St. Tammany Homestead.