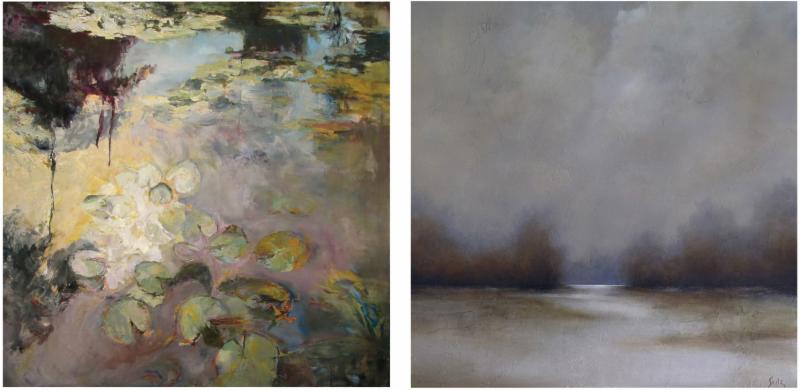 Nature's Essence presents works by two established artists whose approaches to nature differ in method and style, yet parallel in nature as a driving force. Marcia Holmes's abstract approach to water and landscapes explore the eloquent and dynamic aspect of nature. Alternatively, Jim Seitz's work takes a minimalistic and tonal approach to a variety of landscapes and influences. This complimentary relationship creates a holistic perspective of nature, lending the viewer full interpretation.
Marcia Holmes is a self-taught abstract impressionist artist from Mandeville, LA, whose work has been featured in publications such as American Art Collector: The Art of the Horse and Florals & Botanicals, Inside Northside and most recently the December 2014 issue of Fine Art Connoisseur. An established Master Pastelist and member of the Pastel Society of America, she has recently explored the depiction of nature's movement with oil and mixed media. Holmes has traveled to France and Venice, lending her creative approach to classical artistic destinations. She is currently represented by the Garden District Gallery, The Pineapple Gallery in Mandeville, and Kelli Kaufman Gallery in Lafayette.
Jim Seitz is a self-taught, contemporary landscape artist living in the New Orleans area. A well-traveled artist who has lived in the Middle East and Singapore, Seitz blends the colors directly on the canvas and augments with signature gold leaf, creating landscapes that promote reflection and thought. Jim is currently represented by Huff Harrington Fine Art Gallery in Buckhead Georgia and Laura Rathe Fine Art Gallery in Houston and Dallas. His work has found a home in corporate and private collections both at home and abroad. He has been featured in publications such as American Art Collector, Western Art Collector, American Artist, Delta Airlines magazines and most recently as the cover artist for Inside New Orleans Magazine's second edition, currently on newsstands.
The exhibition will be on display at the St. Tammany Art Association located at 320 N. Columbia St. in downtown Covington December 13th- February 7, 2015. The opening reception will take place on December 13th at 6-9pm, and the gallery talk with Marcia Holmes will take place on January 31st at 2-4pm. The reception, talk and exhibition are free and open to the public.