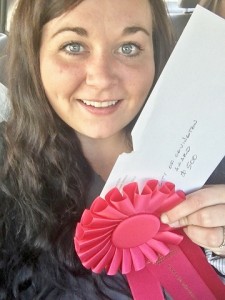 Local artist Katie Burckel received the "City of Covington" award on the second day of last weekend's Three Rivers Art Festival, which took place along Columbia Street in Historic Downtown Covington.  We had an opportunity to catch up with Katie on Sunday afternoon:
"The Three Rivers Art Festival was everything I imagined and more.   I experienced many different reactions throughout the weekend. The best reaction however, was laughter.  I was not only giving people a visual experience, but they also got a kick out of the social commentary the art reveals.  I seemed to be one of the younger exhibitors there, and I would like to encourage young artists to be more open to the festival experience.  The staff, volunteers, fellow artists and the City of Covington are an impressive bunch, and I appreciate them all."
Katie was born and raised in Covington, LA and attended St. Scholastica Academy for high school.  Awarded a full singing scholarship to Jones County Junior College, Katie then studied art at Southeastern Louisiana University.  Covington Weekly would like to congratulate Katie Burckel for receiving the City of Covington award!
Artist Statement: The juxtaposition of found objects with human figures allows the ironic social commentary to cause a chuckle.  Re-purposed items, often antiques, become miniature landscapes for imaginary conversations.