In an effort to introduce our local police officers to the community and provide an opportunity for the CPD to highlight their outstanding officers, Covington Weekly profiles are provided by Chief Tim Lentz of the Covington Police Department.
Kevin started his law enforcement career with the  Police Department in 2013.  Before that, he worked at Special Olympics of Louisiana.    Kevin holds a bachelor's degree in kinesiology from Southeastern, where he also played wide receiver and defensive back for the football team.  After completing his POST Training and FTO program, Kevin patrolled the streets of Covington until his selection to the Detective Division in January 2015.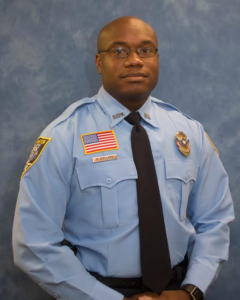 He is the defensive tactics instructor for the department along with being specially  trained in JCARD (Joint Child Abduction Rapid Deployment) with the FBI, a specialized group that responds to child abductions across the south.  In 2014, Kevin received the Top Cop award for the Police Department.
In his off time he enjoys spending time with this family, exercising, and still remains active with Special Olympics.   Earlier this year (February),  Kevin joined myself and Mayor Cooper at the Polar Plunge in Gonzales to help raise money for Special Olympics.  In January 2017, Kevin will attend a class to become a certified cultural diversity instructor for the Police Department. – Chief Tim Lentz