The City of Covington once again celebrates the birth, the life and the legacy of Dr. Martin Luther King, Jr.  When we talk about the noted civil rights leader, we remember one who opposed segregation and talked of equal rights for all Americans.  We remember one who had a dream for a better tomorrow, a dream which became a hope for all mankind. This year's theme is born out of the necessity to remind ourselves that we are stronger, wiser and kinder when we live Dr. King's dream. The time is ripe to pursue "Keeping the Dream Alive," make a difference and embark on something worth accomplishing. Dr. King and later President Obama used the term, "The Fierce Urgency of Now."  Now is the time for all of us to join together, trying to move closer to Dr. King's "Beloved Community".
The tribute to Dr. King includes a parade, Celebration Service, and a fun afternoon at the Reverend Peter Atkins Park all on Monday, January 16, 2017.  The MLK Birthday Celebration will begin on Monday, January 16, 2017 with the customary parade beginning at Reverend Peter S. Atkins Park commencing at 10:00 a.m., marching throughout the West 30's neighborhood, ending at Fuhrmann Auditorium, Greater Covington Center, 317 N. Jefferson Street. This year's Commemorative Service will begin at 11:00 a.m., and feature the Midway Church of Christ Holiness, USA Mass Choir. The inspirational Pastor Mallory Callahan, Sr., pastor of Greater Starlight Baptist Church, will be the keynote speaker. Immediately following the service, the celebration will continue at Reverend Peter Atkins Park, with an afternoon of food, games and fellowship. We invite everyone to come out and join us. Everything is free.
Once again, the Greater Covington Chapter of the NAACP is graciously sponsoring an art (poster) and essay contest.
Submissions should reflect the topics and rules outlined in the written guidelines. Applications and guidelines are available at Covington City Hall, 317 N. Jefferson, Covington, LA, Covington Planning and Zoning Department. Entries must be delivered to the Covington Planning and Zoning Department at the Greater Covington Center no later than noon, Wednesday, January 11, 2017. Awards and winners will be announced at the Commemorative Service.
For Additional Information: Contact the City of Covington's Martin Luther King Holiday Celebration Chairlady, Beatrice Dunn Penn, (985) 249-1094, Vice-Chairlady, Gaynel Martin Perry, (985) 893-3767, City Councilman District A, John Callahan, (985) 264-6767 or Councilman District B, Jerry Coner, (985) 893-9689.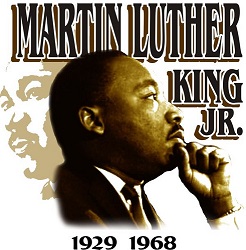 "I have a dream that one day this nation will rise up and live out the true meaning of its creed – we hold these truths to be self-evident: that all men are created equal." — – Martin Luther King, Jr.