Covington History segment provided by local historical writer Ron Barthet. View his blog Tammany Family here.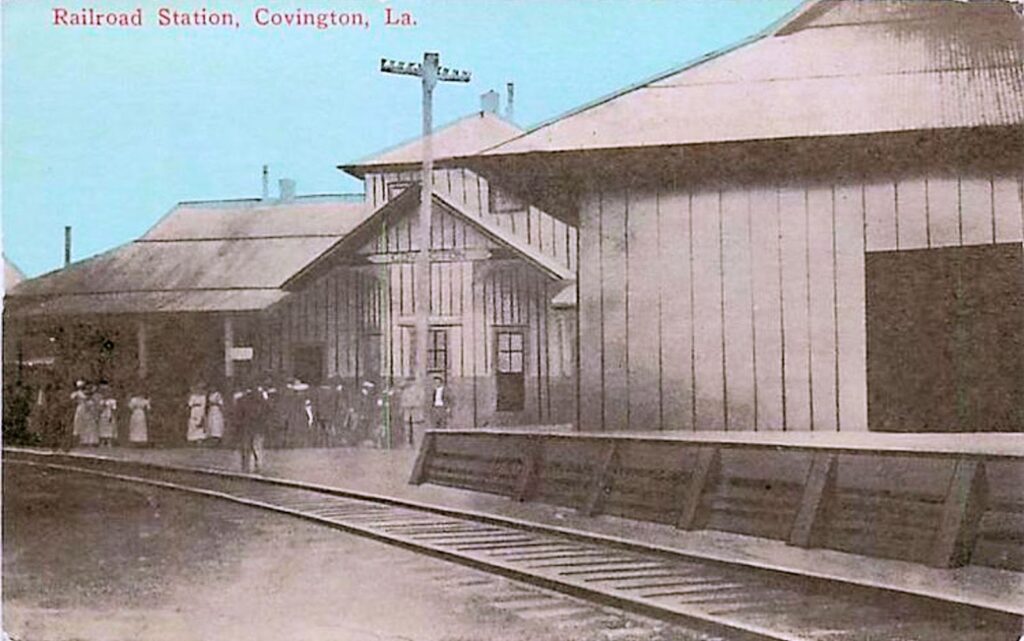 Covington's first train depot was located on N. New Hampshire St. on the northeast corner of its intersection with Gibson St.
A timeline of important dates in the development of the railroad in St. Tammany Parish is detailed in the book "The Early History of Bonfouca and Lake Pontchartrain" by Carl Fedrowisch. On Dan Ellis' website the following information is provided: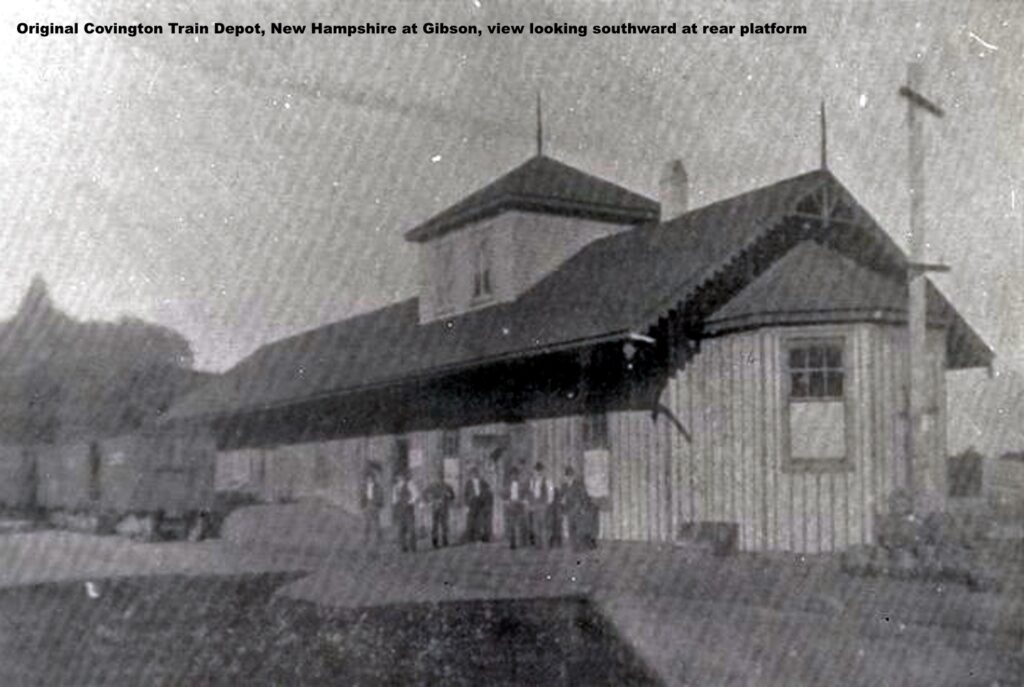 The Mandeville to Sulphur Springs Railroad Co. was organized in 1868, aiming to build a railroad from Mandeville northward towards Abita Springs.
A 22 mile long railroad trestle between New Orleans and Mandeville was deemed "possible" by engineers in 1880, but a year later the proposed bridge location was moved to the east end of the lake following the completion of the preliminary survey.
On October 15, 1883, the railroad bridge across Lake Pontchartrain south of Slidell was completed. The first train arrived in New Orleans from Meridian, MS, and Slidell became an important railroad stop, especially with the coming of the creosoting process and Roberts Landing creosote plant providing trestle building timbers and cross-ties that lasted much longer in service.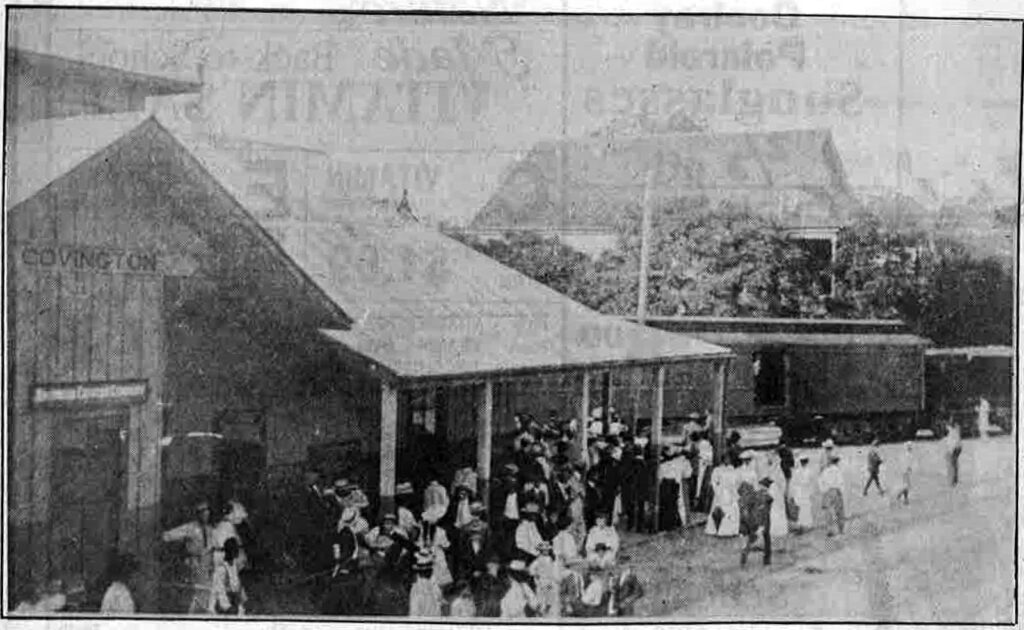 In June of 1887, the East Louisiana Railroad was completed between Pearl River and Abita Springs, and on May 16, 1888, the East Louisiana Railroad was completed into Covington.
In 1904, the New Orleans and Great Northern Railroad was organized and plans were made to build a track from New Orleans to Bogalusa, then northward up the west side of the Pearl River to Jackson, MS. The same year the Salmen brothers of Slidell started building a railroad track from Slidell to Mandeville.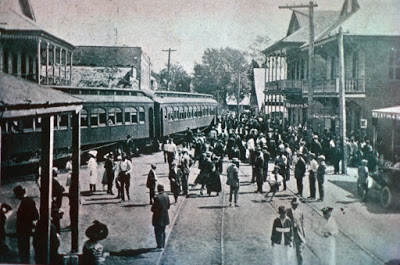 The original railroad depot in Covington was built in mid-1888, and when the East Louisiana Railroad reached Covington, it heralded an economic boom. The original depot faced New Hampshire Street with a passenger and freight terminal facing east. The track split in front of what is now Hebert's Cleaners, with one track curving northward towards New Hampshire St. and the other track continuing on Gibson heading west.
Eventually the increase in the volume of train traffic convinced town officials and business people that a bigger, better train depot was needed, and the push for a new train station began.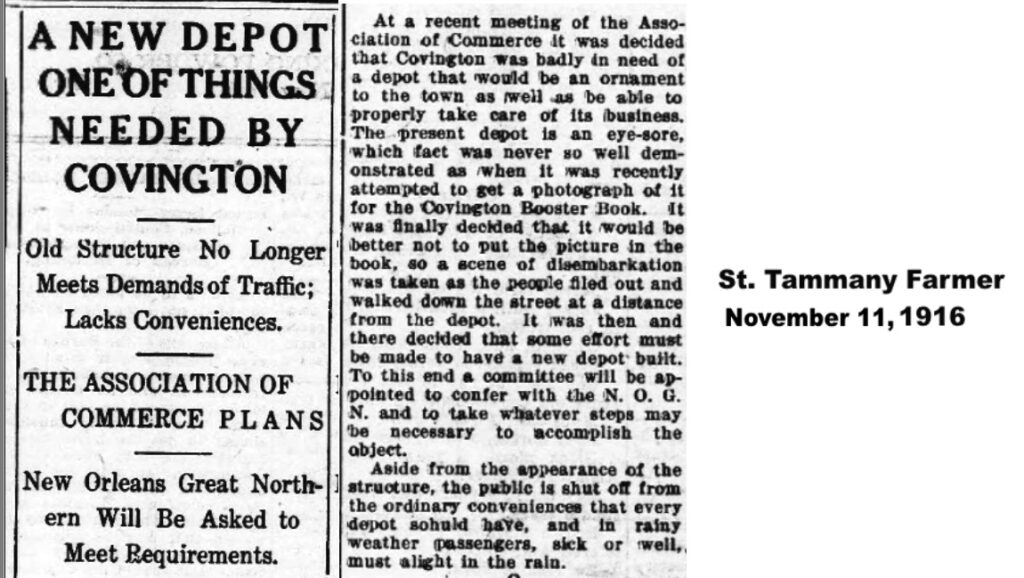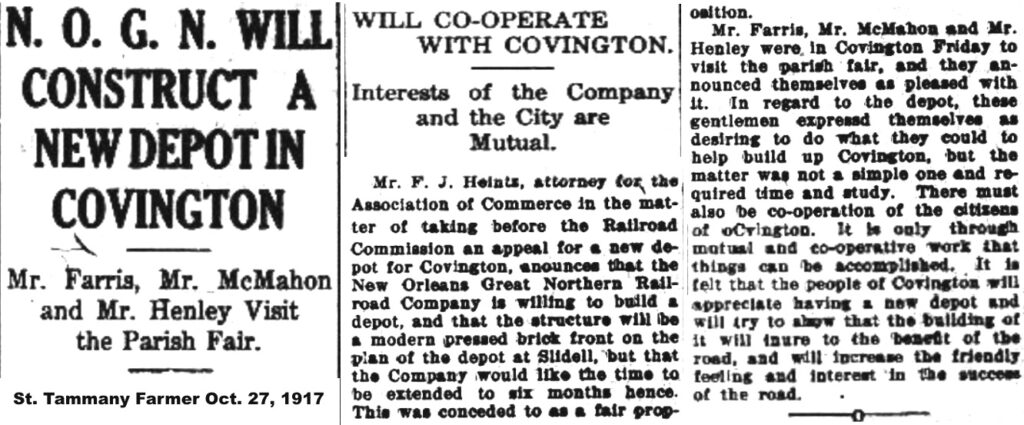 And the new depot, a large brick structure, was built in 1921.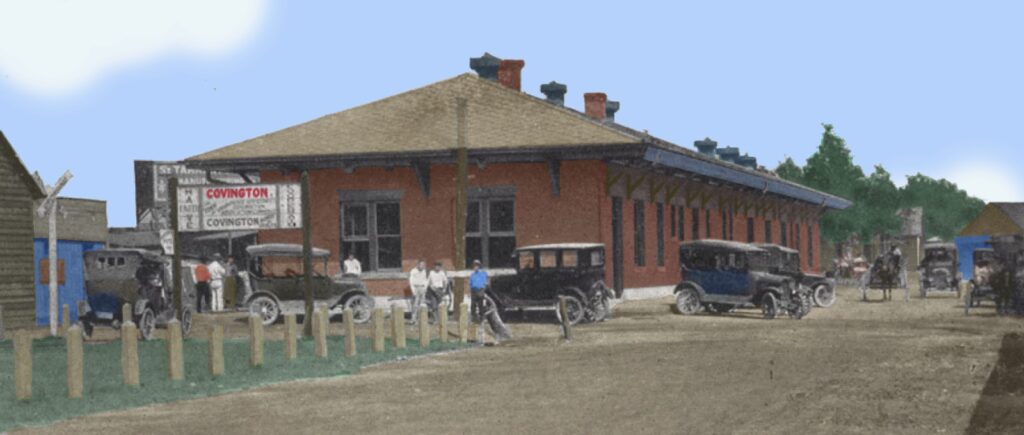 The north end of the train depot building is occupied by Lola Restaurant.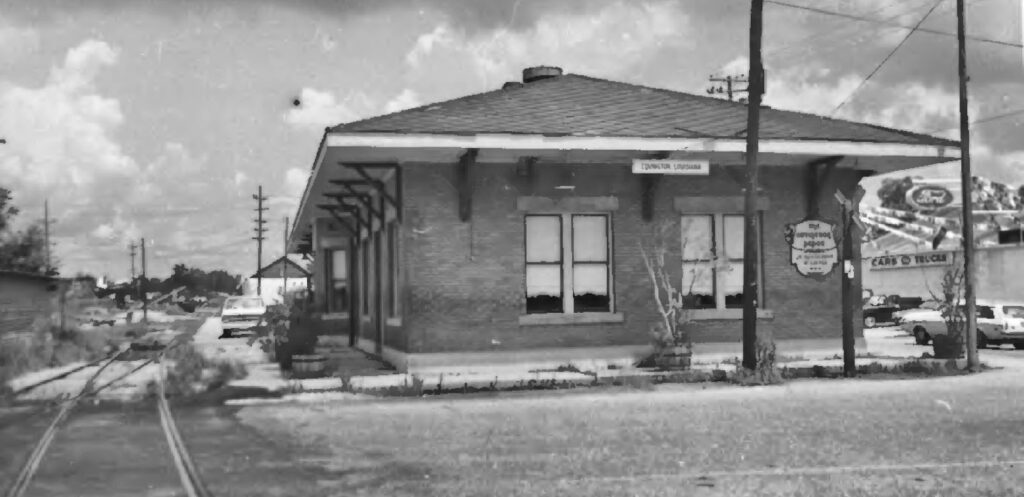 Over on Facebook, Patrick Moore shared with us some of his grandmother's memories of the Covington Train depot.
"My grandmother, who was 96 when she died in 2003, talked about taking the train from Abbeville to Covington in about 1935. She came to visit her mother-in-law/my great grandmother.
"My grandmother remembered arriving at "the new station" and walking to my great-grandmother's house. When she'd asked for directions to the house, she was told "it's an easy walk." Today I'm not sure anyone would say that, as the distance is about a mile!
"When I was in high school I worked at The Covington Depot as a waiter, and when my grandmother would come in for dinner she'd show me where the depot waiting room had been, where she'd sat, etc.
"My grandmother was born in 1907 and she was raised in Abbeville, where her father was mayor, but she spent several years as a young girl residing in New Orleans because her father's work brought him there. While she was living in New Orleans, my grandmother befriended a girl whose last name was Delahoussaye. The girl's family owned a weekend home here in Covington and my grandmother stayed there on several weekends as a guest of her friend's parents.
"My grandmother told me about her first visit to Covington, which was via the Delahoussayes, and that it occurred in the late teens. She and her friend traveled here from New Orleans by streetcar and they were met at the station in Helenburg by the Delahoussaye's chauffeur and limousine. Mrs. Delahoussaye received them at home and proposed that they embark soon thereafter into Covington to pick up groceries for dinner.
"My grandmother was impressed when Mrs. Delahoussaye, who was described as "very formal," prepared for the short trip into Covington by donning a hat, veil and gloves. My grandmother, who was rather formal herself, shook her head when telling that story and said: "Imagine! Wearing a hat and veil and gloves(!) in the country!" Apparently the fashion conventions to which Mrs. Delahoussaye so staunchly adhered, in my grandmother's way of thinking, were better reserved for town events.
"The story continued with Mrs. Delahoussaye making her grocery selections and departing the store immediately thereafter, unburdened by her purchases. The groceries were delivered to the house later that day and received by the cook.
"Ever since hearing that story I've imagined the c. 1919 scene of the Delahoussaye's black limousine as it rumbled across the Bogue Falaya River bridge (which would have been a plank bridge in those days, I assume) onto Boston Street.
"The story also reminds me of the culture that my grandmother and others always associated with Covington: that it was a country town where one employed country manners in all things, such as clothing. We think of Covington today as a rather fashionable and sophisticated address, but it was certainly a country town in 1919!"