From St. Tammany Parish Government:
St. Tammany Parish President Mike Cooper is asking residents to continue to monitor the forecast for Hurricane Sally through the National Weather Service and local media, and to be assured that St. Tammany Parish Government remains prepared.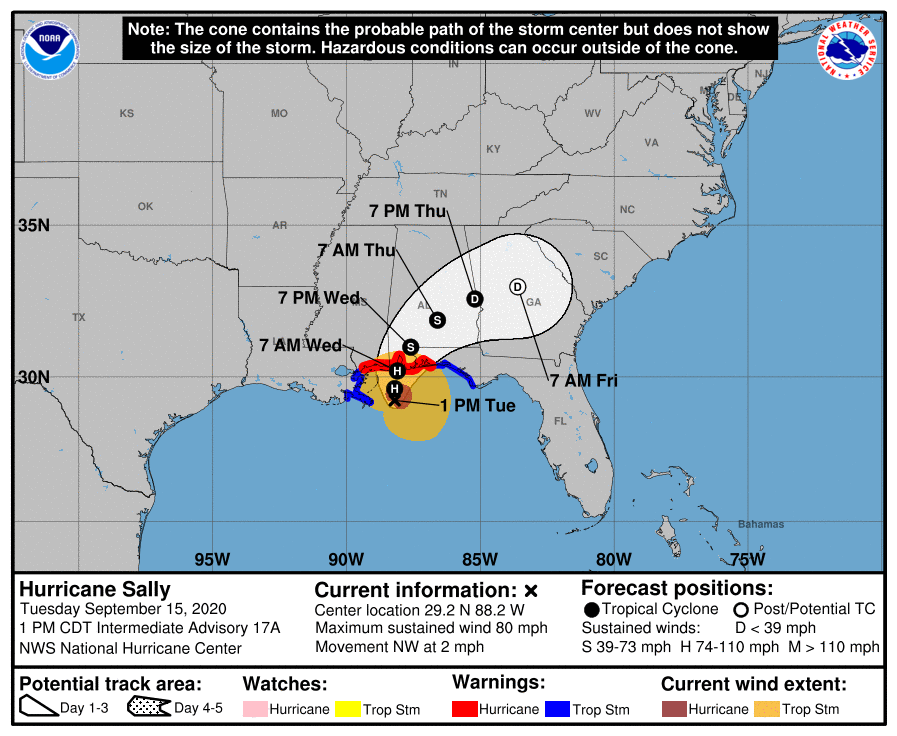 "While we seem to be out of the heaviest impact area, this storm remains slow-moving and meandering at a slow pace, so we ask residents to continue to watch forecasts and predictions from the National Hurricane Center," Cooper said. "We continue to monitor the situation and will update any changes should they occur. I want to thank citizens for their vigilant preparation."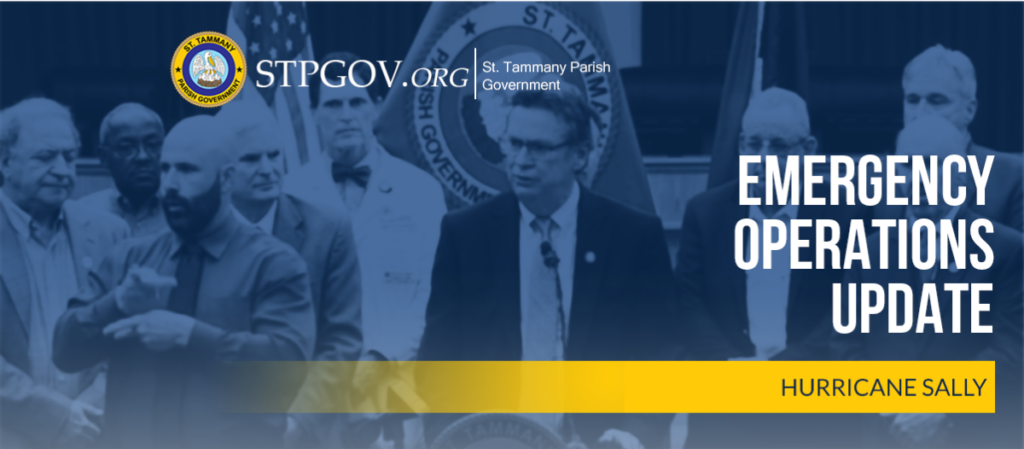 September 15, 2020 Emergency Operations Updates:
The St. Tammany Parish Crisis Action Team remains activated at the EOC.
Storm updates including road information will continue to be updated at www.stpgov.org/storm .
The Department of Public works continues to place high water signage and assist with removal of roadway obstructions as needed.
St. Tammany Parish Government offices will re-open Wednesday, September 16, 2020 at 8 a.m.
The following facilities are expected to re-open Wednesday, September 16, 2020 unless there are area that need cleanup. Any closures will be posted:
The Tammany Trace
The St. Tammany Fishing Pier located at 54001 E Howze Beach Rd, Slidell, LA 70461
Kids Konnection Playground located at 21410 Koop Dr, Mandeville
Northshore Beach located at 267 Debbie Dr, Slidell, LA 70458
Bayou Lacombe Bridge re-open to marine traffic as needed.
STAR TRANSIT will resume services Wednesday, September 16, 2020.
Garbage pickup and recycling will resume normal schedules beginning Wednesday, September 16, 2020. Residents should check their waste hauling provider websites for specifics.
The 22nd Judicial Courts will resume operations Wednesday, September 16, 2020.
Sign up now for ALERT St. Tammany, here. This is the Parish-wide emergency notification system for St. Tammany Parish Government. If we can't reach you, we can't alert you.
 
View all storm updates www.stpgov.org/storm.
September 14, 2020 Statement from St. Tammany Parish President Mike Cooper
September 14, 2020 Update
View Emergency Declaration here .
September 13, 2020 Update
Watch the September 13, 2020 Press Conference here.
September 12, 2020 Update
St. Tammany Parish Government in Preparedness Posture
CITY OF COVINGTON:
Update on Waste Pickup Mayor Mark
As of 2:00pm today, trash pick-up day remains tomorrow (Wednesday). Due to the uncertainty of Sally's path, it is still subject to change to Thursday. Recycling has been cancelled for this week. – MMJ