Covington History segment provided by local historical writer Ron Barthet. View Ron's blog Tammany Family here.
Here's a smattering of news articles about Mardi Gras in St. Tammany Parish some 55 years ago in 1966. Click on the images to make them larger and more readable.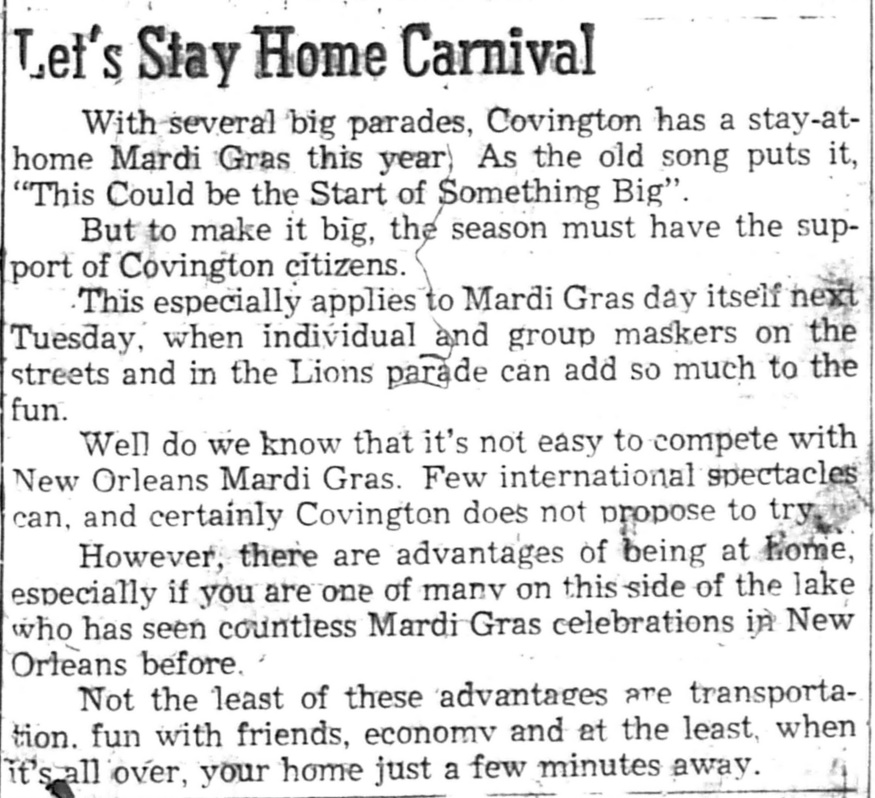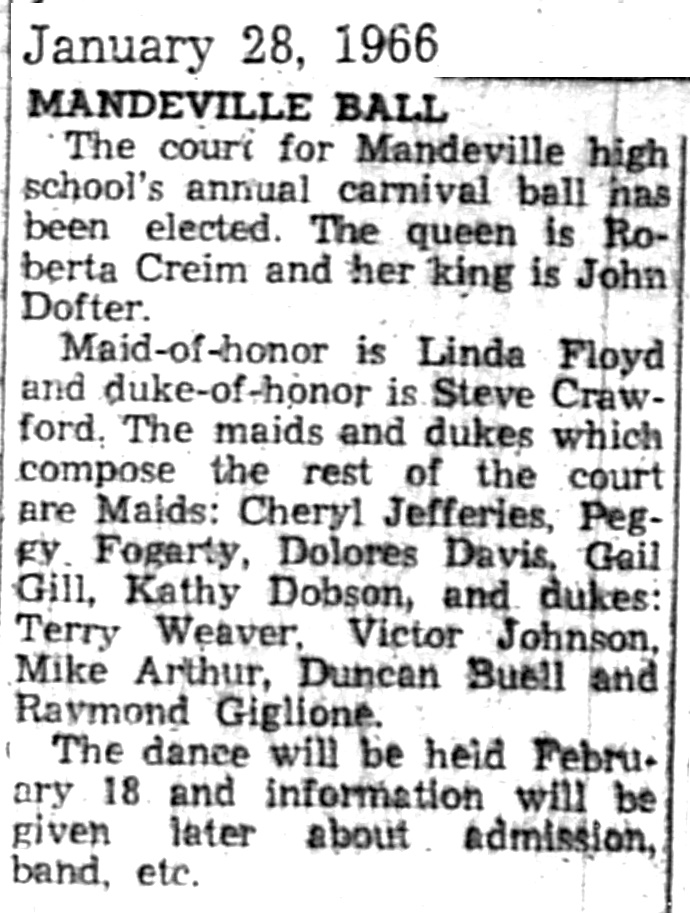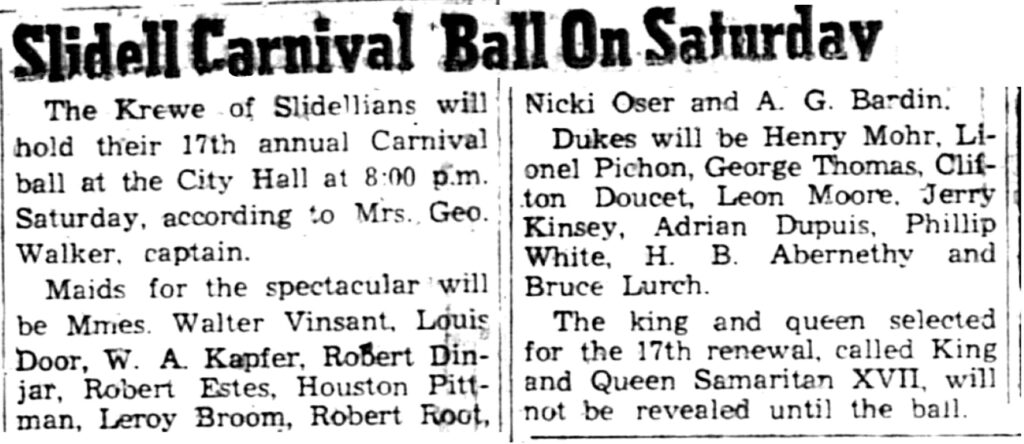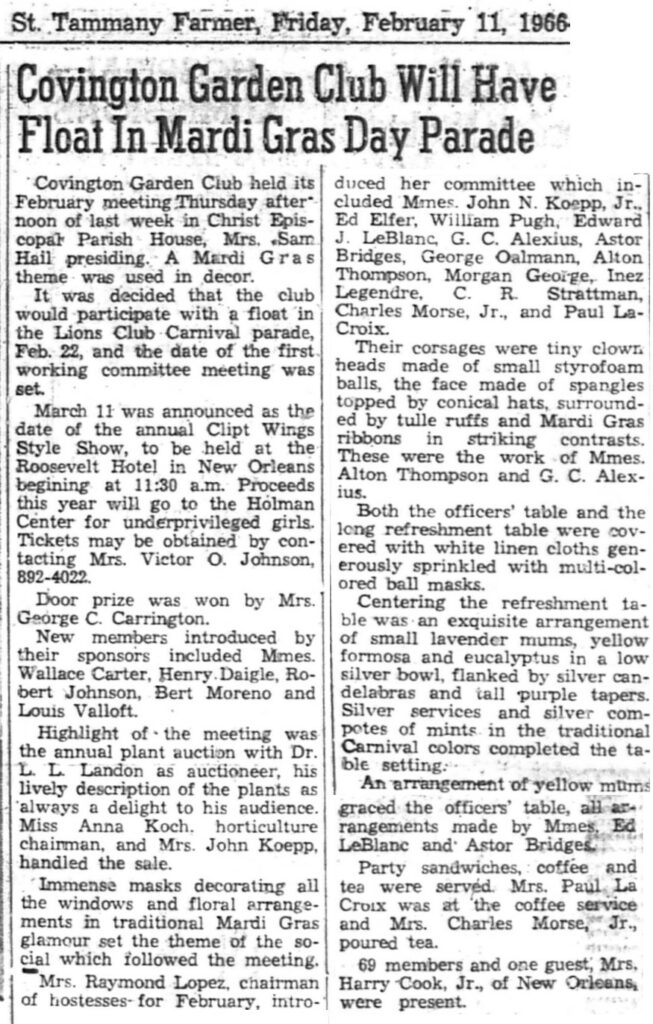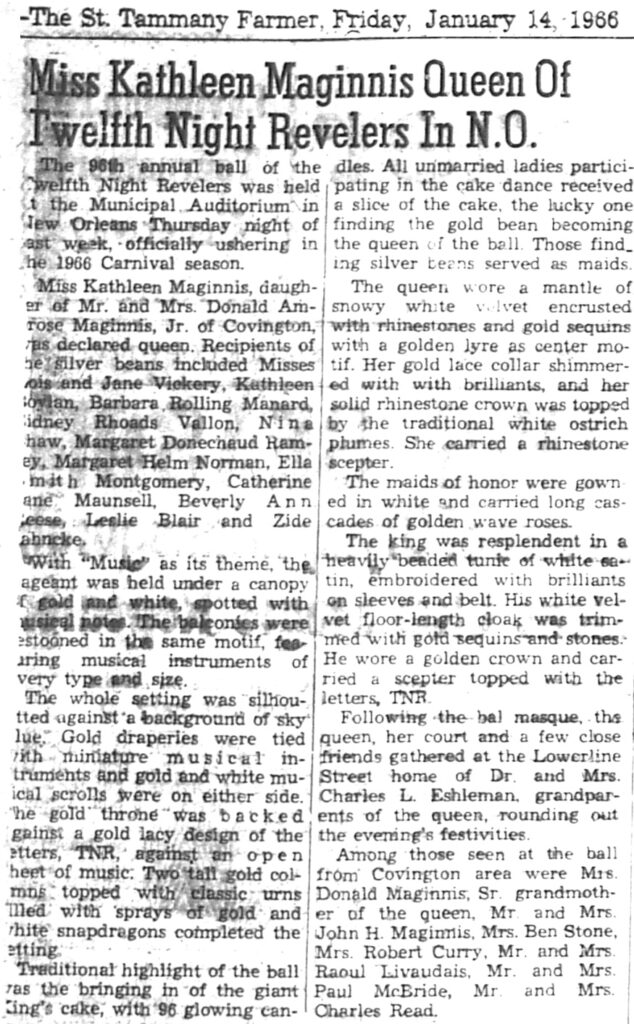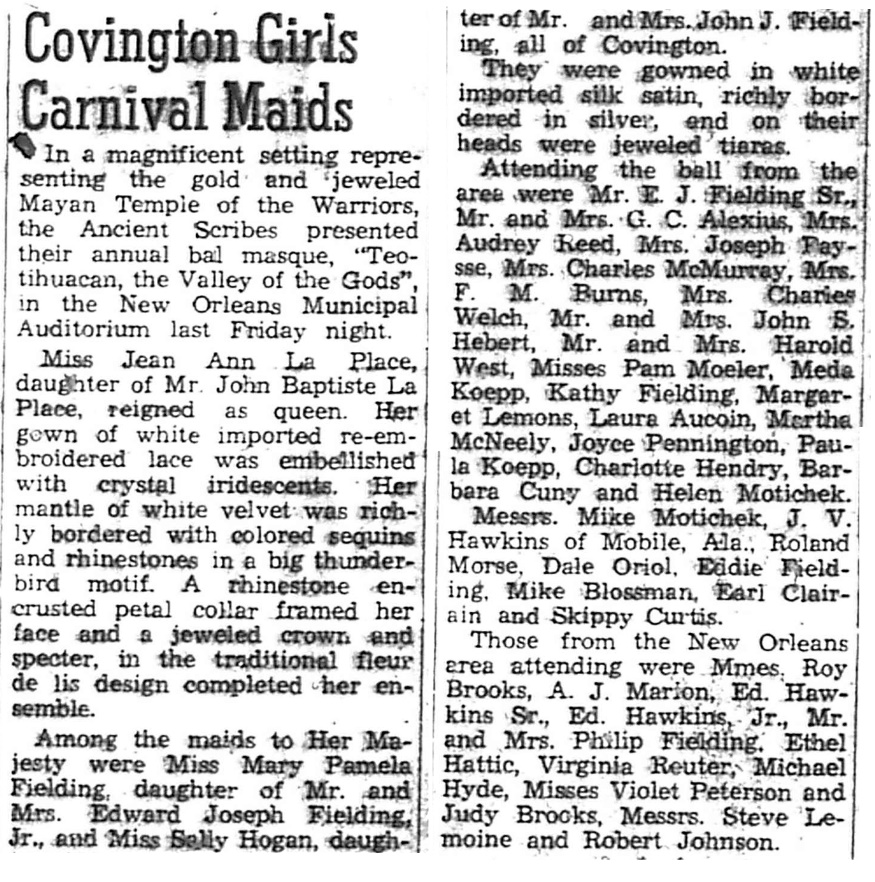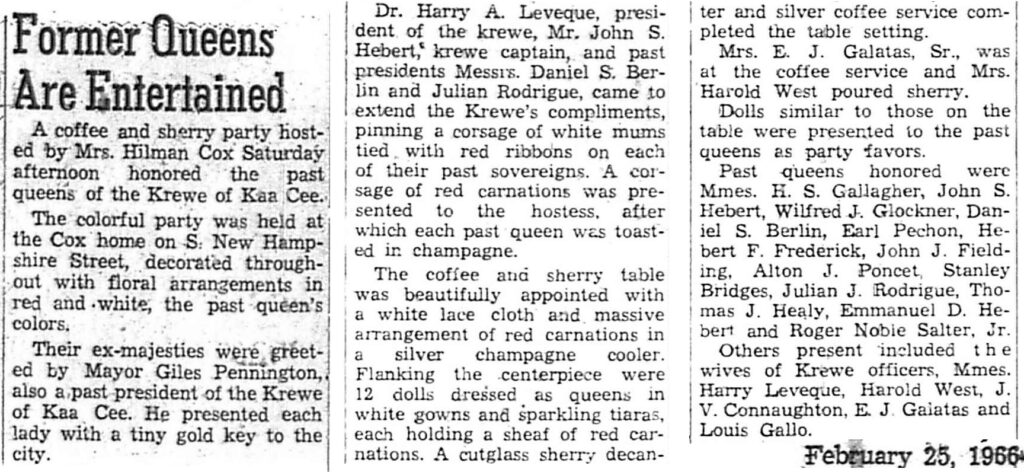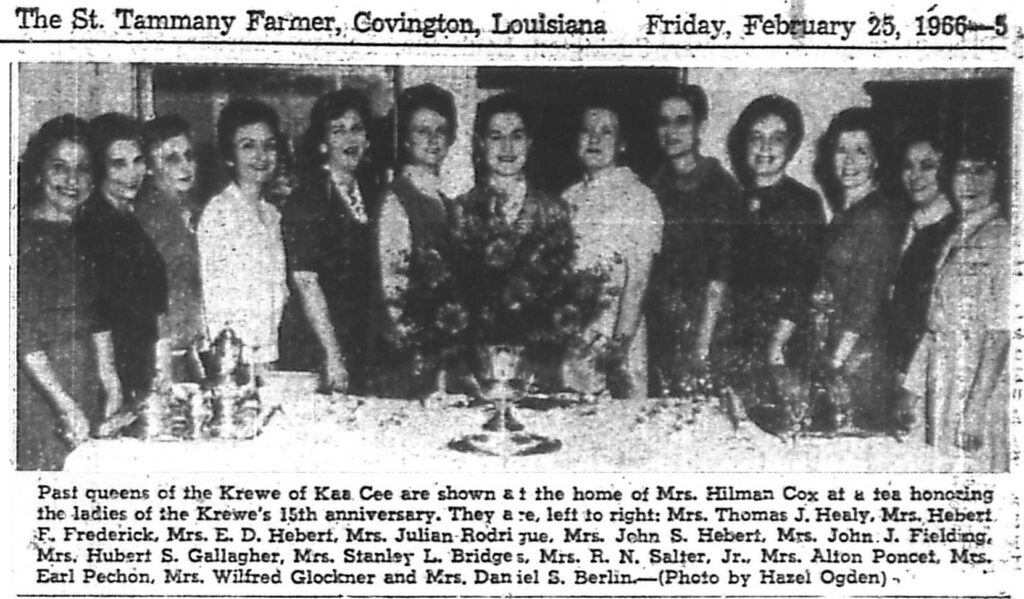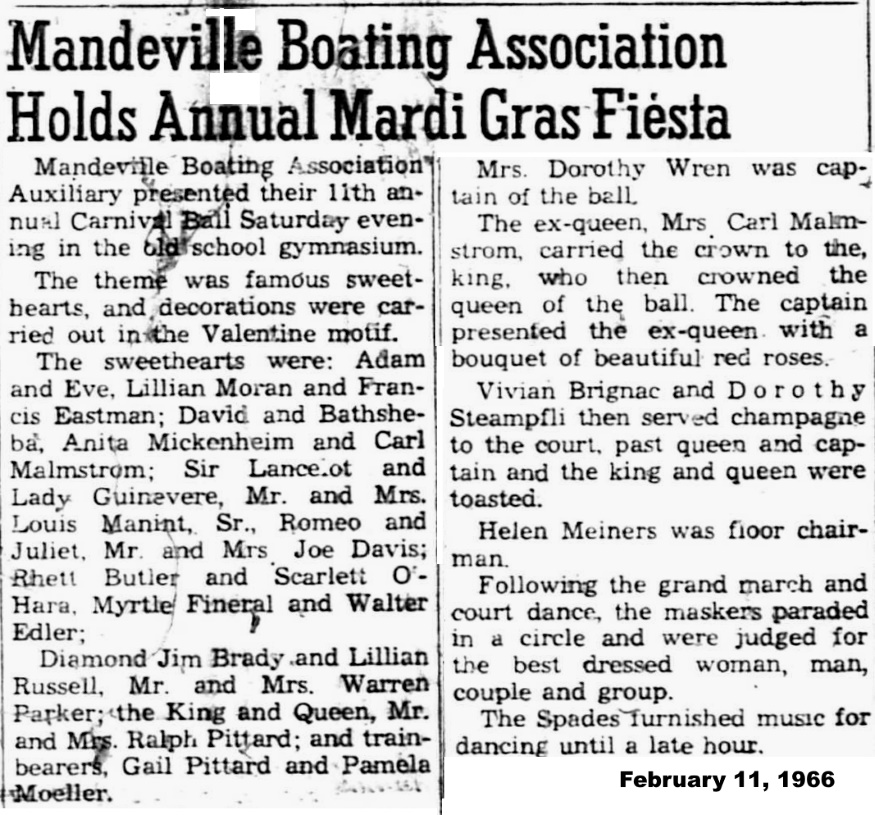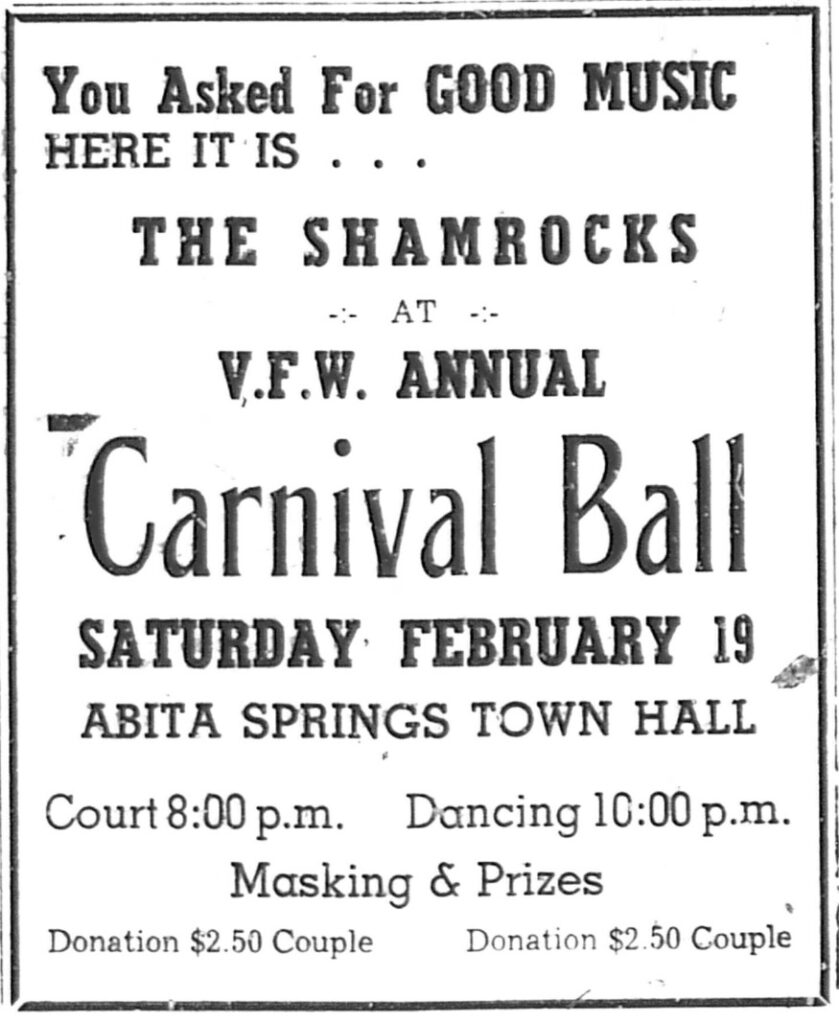 Krewe of Olympia 1st Parade in 1966
The Carnival season in Covington got even more exciting when the brand new Krewe of Olympia launched its parade on February 20, 1966, joining two other parades already scheduled for the Mardi Gras season.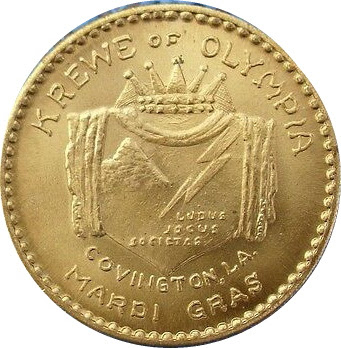 Here are some articles and photographs that chronicled the coming of the Krewe of Olympia, its King, Court, and festivities. Click on the images to make them larger.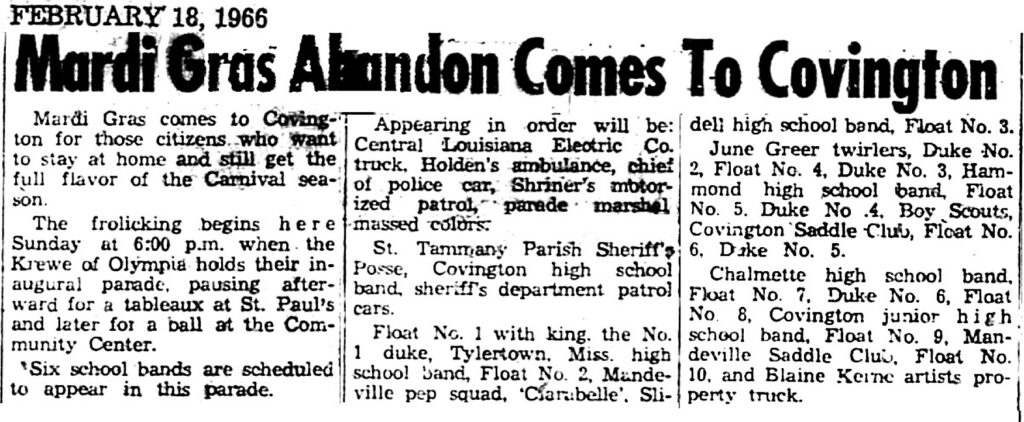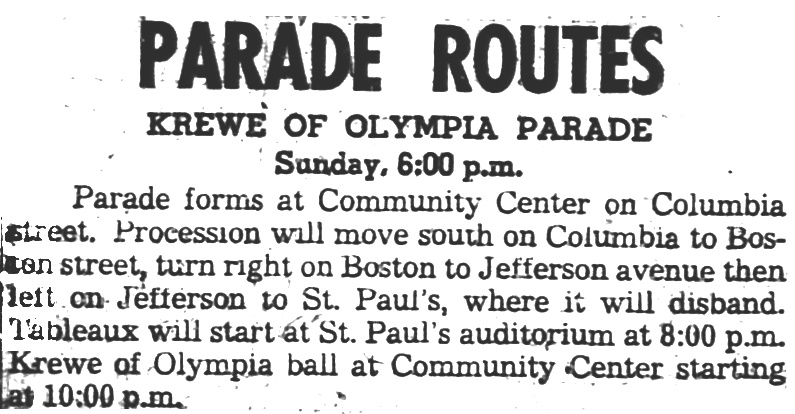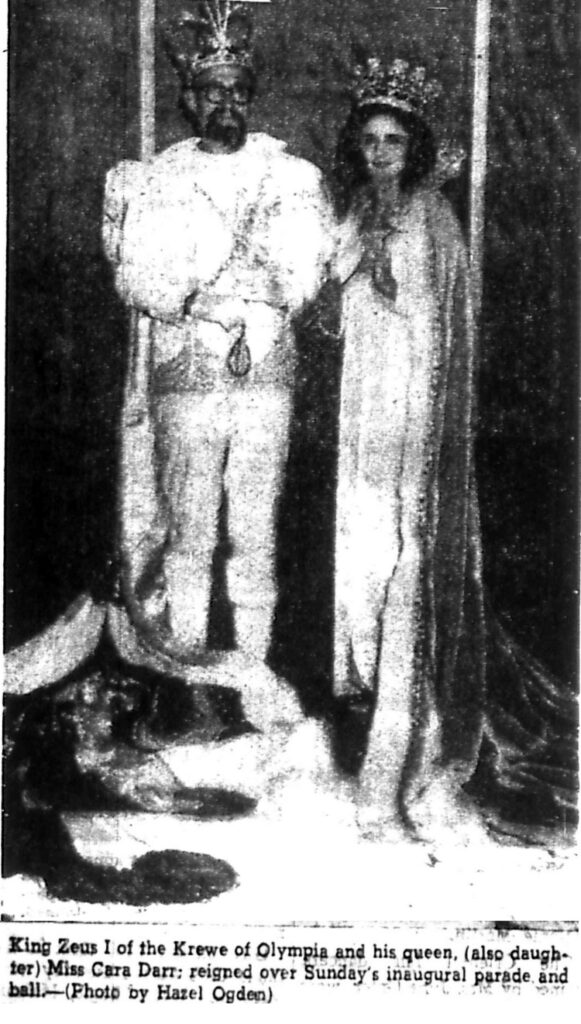 Here is the text from the newspaper article describing the inaugural ball 
Inaugural Ball Is Held Sunday
Article Written By Margaret Sloan
The Mystic Krewe of Olympia presented its first annual carnival ball Sunday night at the St. Paul's high school student union building after a glittering torch-lit parade through downtown Covington.
"The Land of Oz", theme of the parade, was carried out in an impressive tableaux enacted before a gold and red velvet throne backed by purple, gold and green swags gracefully draped from tall white columns.
Beginning festivities of the evening, Krewe Captain Earl Wilson, in glittering attire, made a spectacular entrance. His garb consisted of a gold and sequined satin coat with matching gold metallic trousers and rows of rhinestones extending the length of the pants legs. His cape was of white velvet, heavily-outlined in borders of gold and silver sequins, with rows of rhinestones within the outer border. Swirls of gold beautifully decorated the center of the cape, which was outlined with rhinestones and silver sequins.
His headpiece was heavily ornamented gold sequins, outlined in rows of brilliant rhinestones topped with white and blush pink plumes. Completing this magnificent attire were his boots of gold, trimmed with rhinestones. He carried a gold and silver jeweled scepter.
The krewe, dressed in costumes reminiscent of the lovable people of Oz, turned out en masse to join in the festivities and welcome the royal guests who had come to celebrate the occasion.
With fanfare and roll of drums, the captain presented George C. Darr, King Zeus 1, ruler of Olympia. attired in white satin Edwardian coat heavily ornamented in sequins and rhinestones. His trousers were of matching white satin and he wore white leather boots. The floor length mantle of white velvet trimmed in white mink and featured swirls of green, gold, yellow, pink, rose and orange velvet beautifully outlined in matching sequins.
Wearing a high arched silver crown of rhinestones highlighted with a jeweled Maltese cross in its center and carrying a jeweled scepter, he presented a magnificent figure.
First of the maids to enter was The Wise Witch of the South, Miss Maureen Helen Illing, daughter of Mr. and Mrs. Warren J. Illing, escorted by The Guardian of the Emerald City Gates. Her blush pink gown featured a collar of carnival purple highlighted with an emerald green midrift. She wore an elaborate purple headpiece outlined in green sequins with a matching flowing train sprinkled with rhinestones.
The Wicked Witch of the East, Miss Sheridan Marie Stewart, daughter of Mr. and Mrs. Lomis E. Stewart, was escorted by the Royal High Sheriff of Oz. Her bouffant gown of burgandy net over black peau de soie had a purple bodice and long sleeves.
A cowl neckline and high collar of forest green illusion highlighted her costume. Her headpiece was of lavender satin sprinkled with rhinestones.
Third maid to enter was The Green Maiden of Oz. Miss Elizabeth W. Baldwin, daughter of Mr. and Mrs. Lawrence Baldwin, escorted by The Wizard's Court Jester. She was beautifully attired in a gown of forest green net over white satin featuring a bodice of satin and matching green net puffed sleeves sprinkled with rhinestones. Her soceress headpiece was of green satin and chiffon.
Miss Freida Fusilier, daughter of Mrs 0. Fusilier, portraying The Beautiful Sorceress, Gavelette, was escorted by Prince Quelala. She was costumed in a gown of green satin featuring white mink trim about the coat and outlining her full floor-length skirt.
Her headpiece, in keeping with the character she portrayed, was of green and white sequins and had a floor length veil of olivette chiffon cascading from the center of the crown.
The fifth maid to enter was Glinda, The Good Witch. Miss Theresa Deano, daughter of Mr. and Mrs. Guy L. Deano, was escorted by The High Priest of Oz. Her gown was of daffodil yellow chiiffon and silk brocade emphasized by a full puffed skirt and elbow length sleeves beautifully trimmed in gold sequins. She wore a yellow tulle and gold sequined bakers hat.
Dorothy, portrayed by Miss Karen Louise Foil, daughter of Mr. and Mrs. Ray Foil, escorted by The Wizard of Oz, was the sixth and final maid to enter. Her white peau de soie and cranberry velvet bodiced gown featured a round neckline and elbow puffed sleeves. The white skirt was circled by eyelet entwined with cranberry ribbon and velvet bows scalloped about the hemline. Her headpiece was of white satin topped with a rich red plume.
Escorting the maids werel Messrs. Siegfried B Christensen, Lomis E. Stewart, Max J. Derbes, Jr., Guy L. Deano, Ray Foil and Dr. Lloyd M .Magruder.
As the much anticipated moment arrived, his majesty rose to welcome his daughter, Queen Carabel Darr, who was radiantly attired in a magnificent gown of white brocade fashioned along empire lines featuring panels of white satin over her floor length sheath skirt and wrist length sleeves, ending in a point over the hands.
Her elaborate mantle of rose pink velvet bordered in white mink, was centered with swirls of silver embroidery, outlined in brilliants and sequins.
Her circular crown was of silver and rhinestones and was beautifully tipped by teardrop crystals falling from its many spires. She carried a scepter of silver and rhinestones. Miss Darr's mother is the former Miss Ama Norfleet of Shreveport, whose grandmother. Mrs. Ama Ford Vance, ruled as the first queen of carnival in Shreveport The queen's aunt, Mrs. John H. Hearne, was the first Queen of Cotillion of Holiday in Dixie in Shreveport.
Pages to her royal highness were her sister, Miss Margaret Marion Darr and Miss Debra Ann Wilson, daughter of Col and Mrs. Earl Wilson. They wore identical ankle length white satin and peau de sole dresses and rhinestone tiaras.
Pages to his royal highness were Master Warren John Illing II, son of Mr. and Mrs. Warren J. Illing. and Master James Patrick Wilson, son of Col. and Mrs. Earl Wilson. Their costumes were of white satin bordered with rows of silver and gold sequins and matching canes lined with purple satin. Their hats were of white satin topped with white plumes.
Entertainment was furnished the court by Mrs. William Greer, who sang "Somewhere Over the Rainbow," the June Greer Dancing School performed "The Dancing Munchkins," and the Stevie Romano Dancers dancing "Stormy Weather."
Bouquets of red roses were presented to his majesty's wife, Mrs. George C. Darr and Mrs. Earl Wilson, wife of the krewe Captain.
Tableaux music was furnished by Jay Zainey, and his orchestra who also furnished the music for the revelry at Covington Community Center following the Grand March and several call outs.

Article published on Friday, February 25, 1966, in the St. Tammany Farmer newspaper.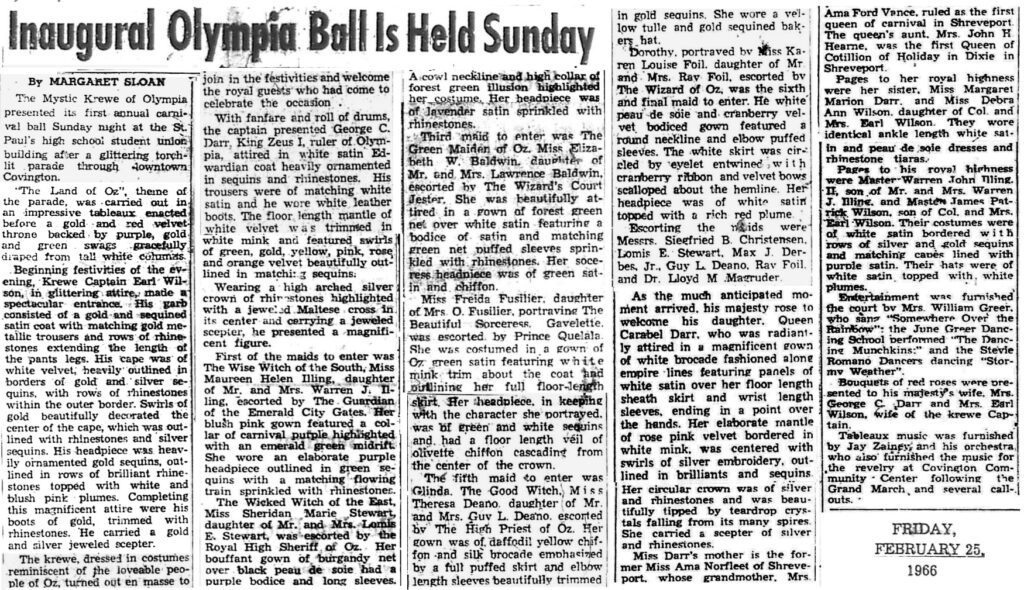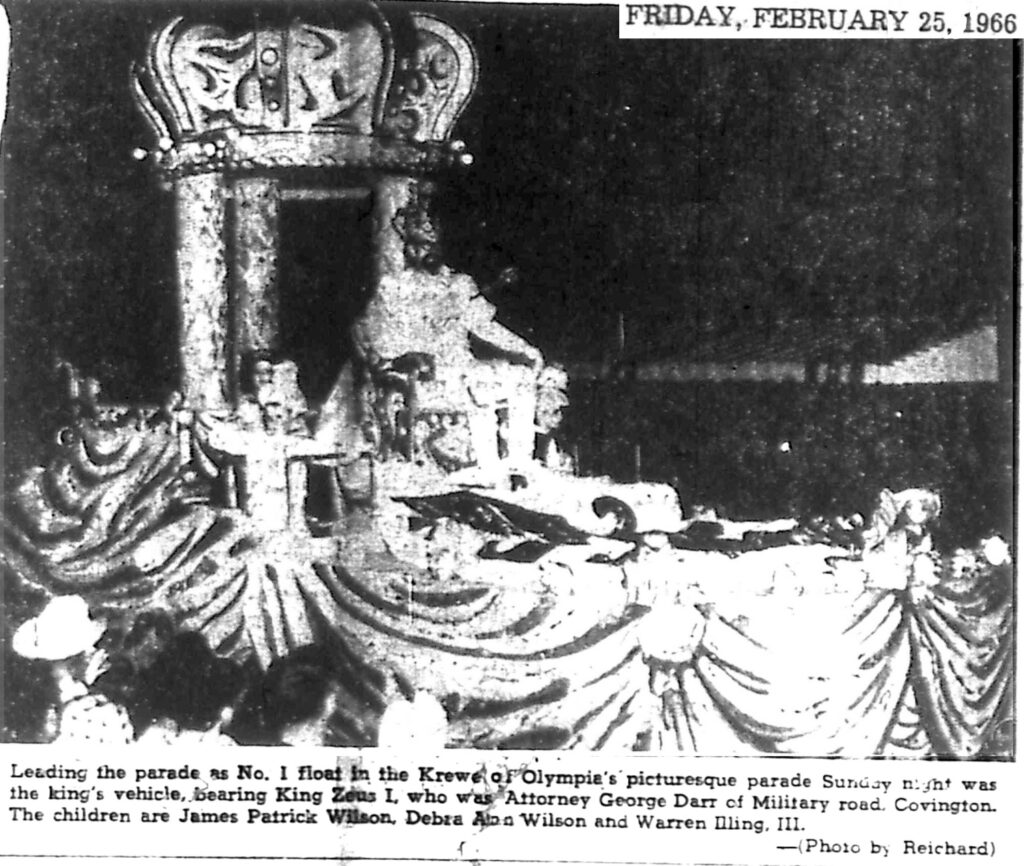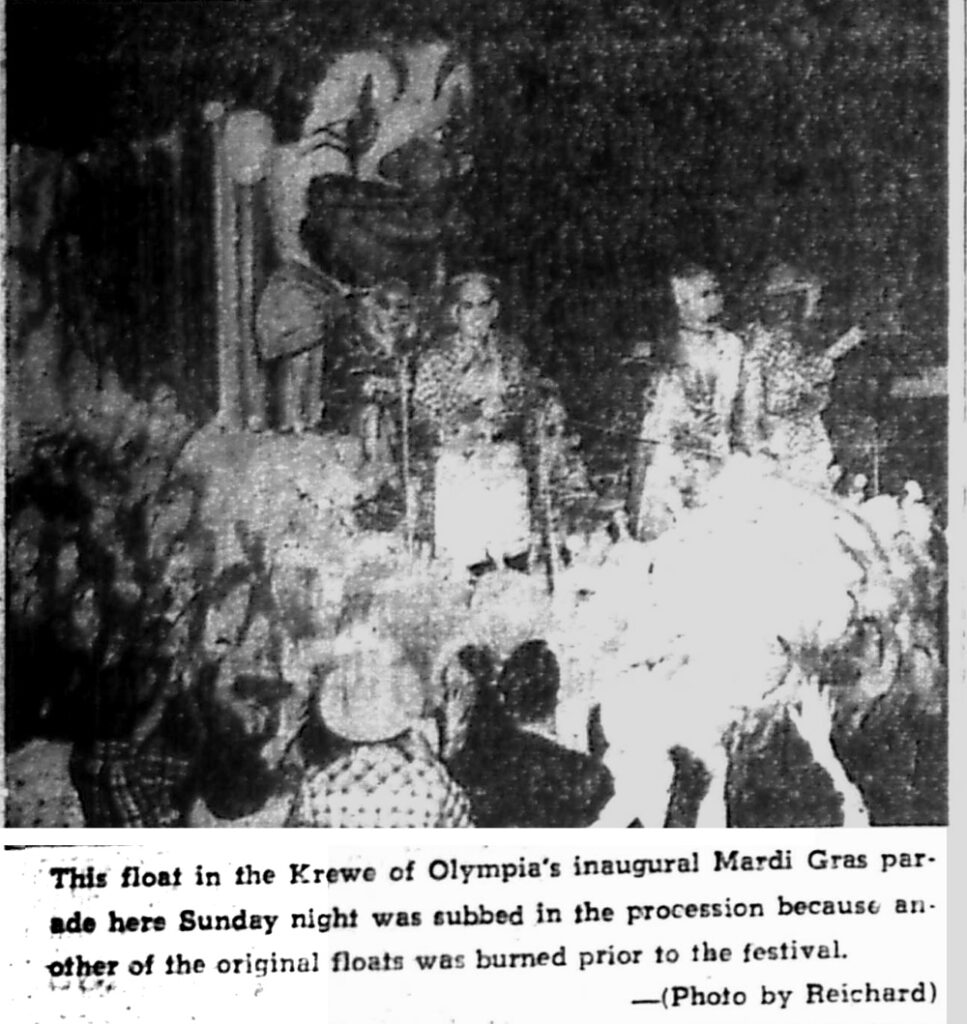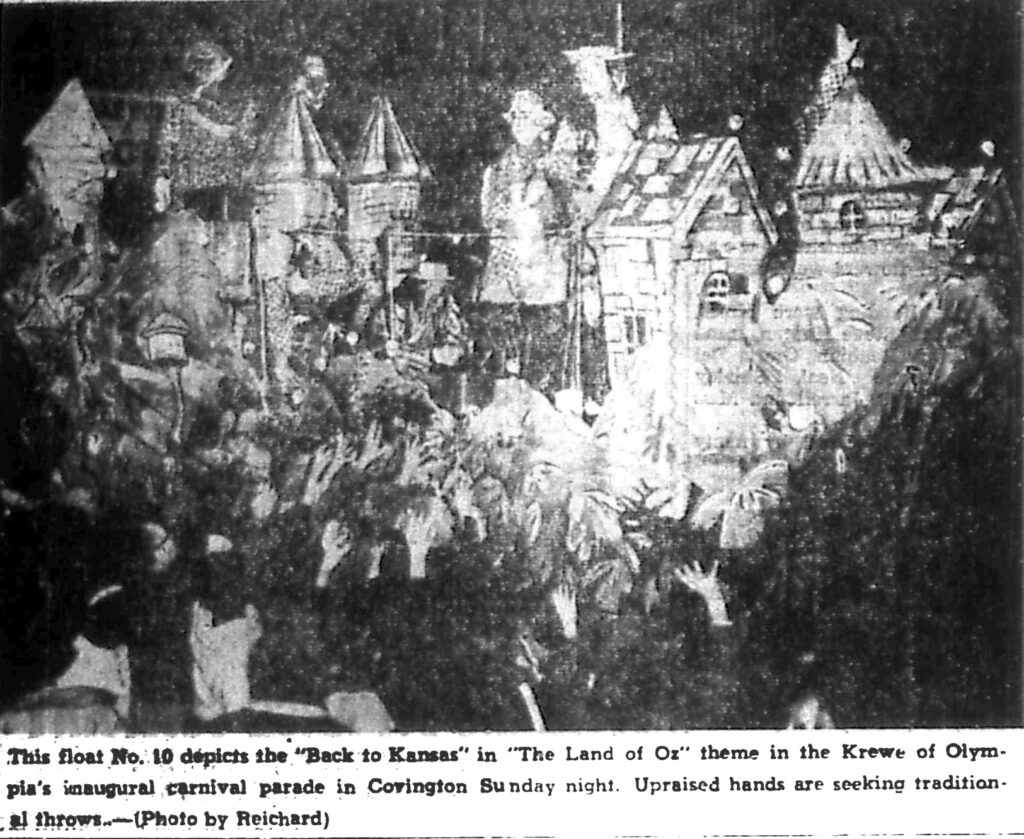 Over on the Krewe of Olympia website, this account is given of the group's history:
The History of the Mystic Krewe of Olympia
In 1965, a group of friends were having lunch at The Galley Restaurant across from the Covington Courthouse. Among them were Lieutenant Colonel Earl Wilson, Warren Illing, Sr. pharmaceutical sales manager, H. M. "Ollie" Olson, a Delta Airline Pilot, and James Heinritz, a local insurance agent. It was shortly after Mardi Gras, and the conversation turned to the Lions Club parade on Mardi Gras morning in Covington.
Colonel Wilson commented that many St. Tammany residents in rural areas probably had never seen a "New Orleans style" parade, adding "wouldn't it be great to bring one to the community?" By the end of the meeting, plans were under way to form a carnival organization in Covington. Each participant in the project was given the task of signing up 25 members for the organization. By the end of the week, approximately 100 enthusiastic members had formed the Mystic Krewe of Olympia.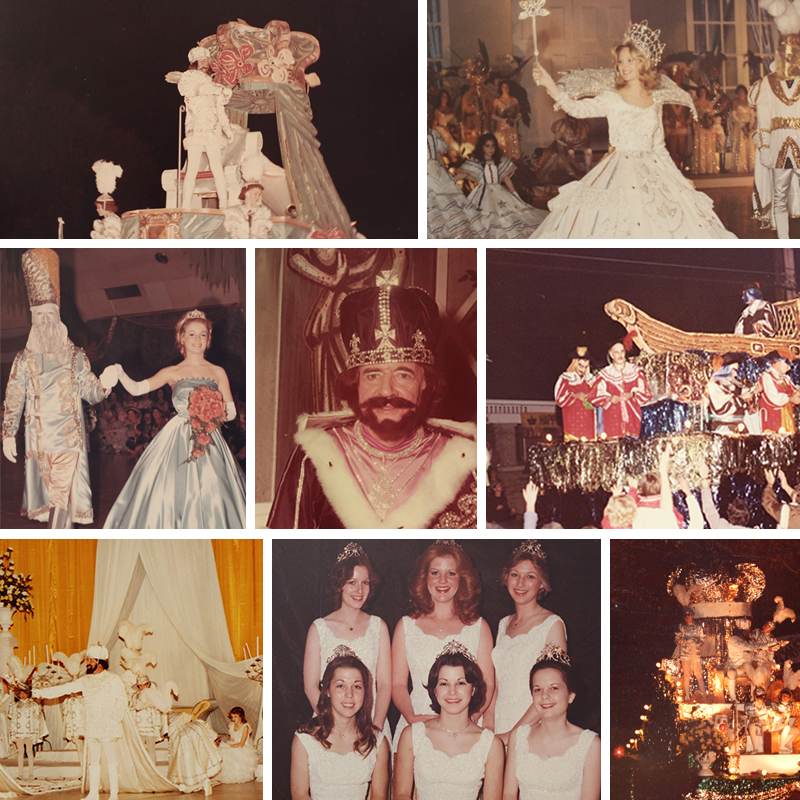 Read more local Mardi Gras history on the Tammany Family site: