Favorite Eggplant Side Dish from Slice of Heaven Farm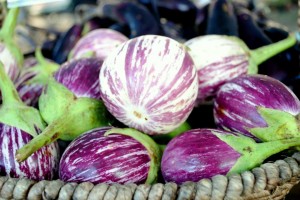 Ingredients:
4 cups of diced eggplant (Asian or globe) with skin on
1/2 cup water or 3 Tbsp of olive oil
1/4 cup soy sauce/tamari
1/4 rice vinegar
3 cloves of garlic, minced
Directions:
Heat up a wok on medium-high with either the oil or water (both work- I use water to make it a low-fat side dish). Add the diced eggplant and stir to coat. Let it cook and absorb the oil/water for about 5 minutes. Add the soy sauce, rice vinegar and minced garlic. Stir around to coat everything and cook for another 7 minutes or so, until the eggplant is cooked and has thoroughly soaked up the sauce. Serve hot.
Sign up for Slice of Heaven Farm's e-newsletter for more great recipes!  www.sliceofheavenfarm.com
Peach Scotch Bonnet Pepper Fermented Hot Sauce
Say that three times fast!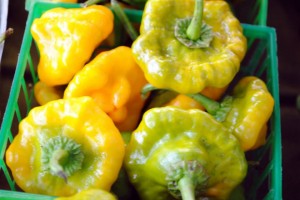 Ingredients:
18 fresh Scotch Bonnet peppers, sliced and seeded
1 large peach, skin & pit removed
6 fresh jalapeno peppers, sliced
6 cloves of garlic, crushed
1/2 onion, minced
3/4 teaspoon unrefined sea salt
live culture starter
Directions:
Take the peppers, peach, garlic, onion and salt and puree in a food processor, or mince by hand, to a nice thick mash. You can use a store bought culture, or if you have any non-pasteurized fermented products you can 'skim' a culture off of them. Prepare according to instructions and mix in a blender. Pour mixture into a jar or glass bowl and cover loosely. Set in a dark place for 5 – 7 days, stirring daily to keep it from separating. The mixture may expand up to 30% during fermentation, so watch for overflow! It should begin to produce a sour smell within the first couple of days. Pour the mixture through a course strainer and press to get the liquid from the solid. Bottle the liquid as the hot sauce, and save the paste in a jar refrigerated for use as a chili paste! Tips: When cleaning the peppers, cut the stems but leave about half of the peppers with their 'crowns'. This adds a complex smoky flavor to the sauce. Leave some seeds from the Scotch Bonnets for a hotter sauce (it will be pretty hot already!)  Learn more about fermenting! Class below!