By Chelsea Cochrane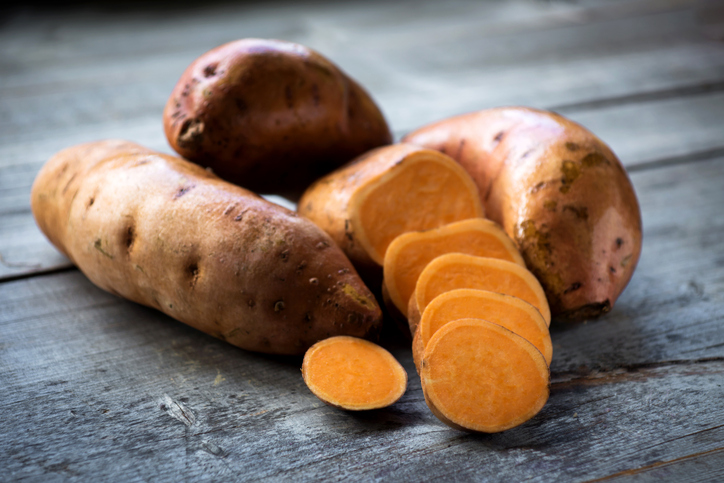 Bring on the fall veggies! Autumn harvests are full of warming foods, well-paired with rich spices like ginger, turmeric and cumin. Sweet potato is a favorite for a reason – its versatile flavor and texture can go sweet or savory and adds something special to almost any dish.
Try out this delicious recipe using fresh sweet potatoes from Grow.Farm, sweet bell peppers from Faust Farms and fresh turmeric from Sam Sprouts. All at the Covington Farmer's Market!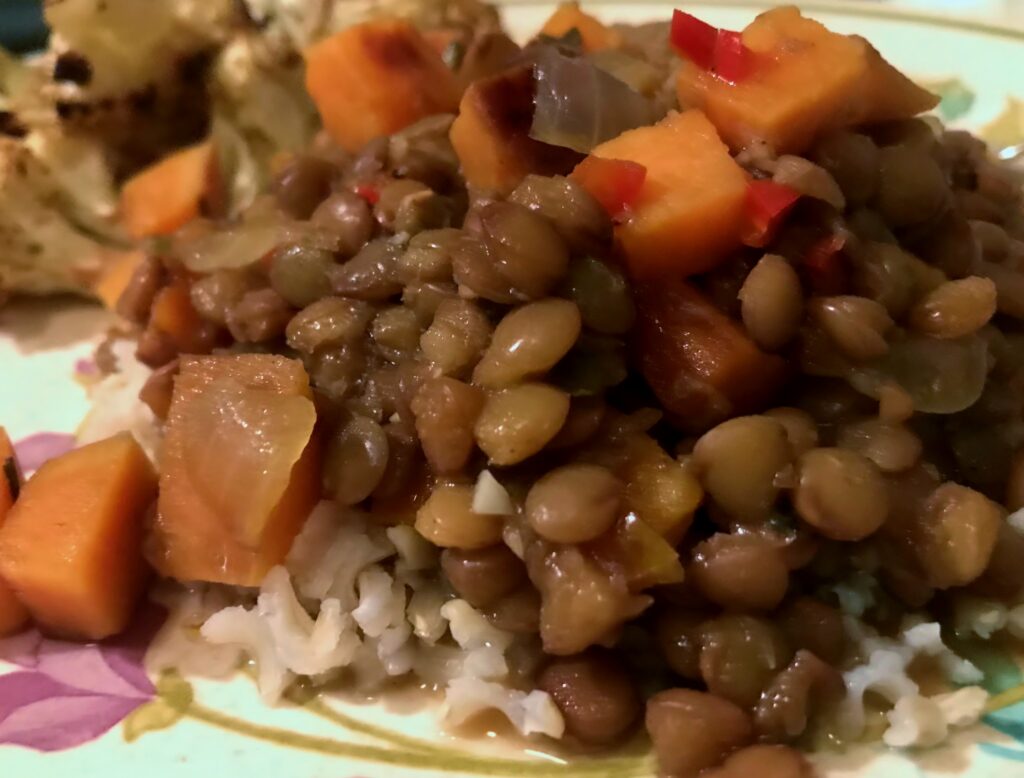 Sweet Potato Spiced Lentils & Cumin Roasted Cauliflower
Ingredients for the lentils:
1 cup dried lentils
2 cups vegetable broth & 1 cup water
1 bay leaf
1 Tablespoon cooking oil
1 lb sweet potato, cubed in 1/2 inch cubes – from Nick at Grow.Farm
1 medium onion, chopped
1/2 cup chopped sweet peppers – from Faust Farms
2 stalks celery, chopped
2 – 4 cloves garlic, minced
1 – 2 Tablespoons of minced fresh turmeric – from Sam's Sprouts
2 teaspoons paprika
1 – 2 teaspoons ground ginger
a dash of fresh ground nutmeg
1 Tablespoon dried rosemary
2 teaspoons dried oregano
sea salt & fresh ground black pepper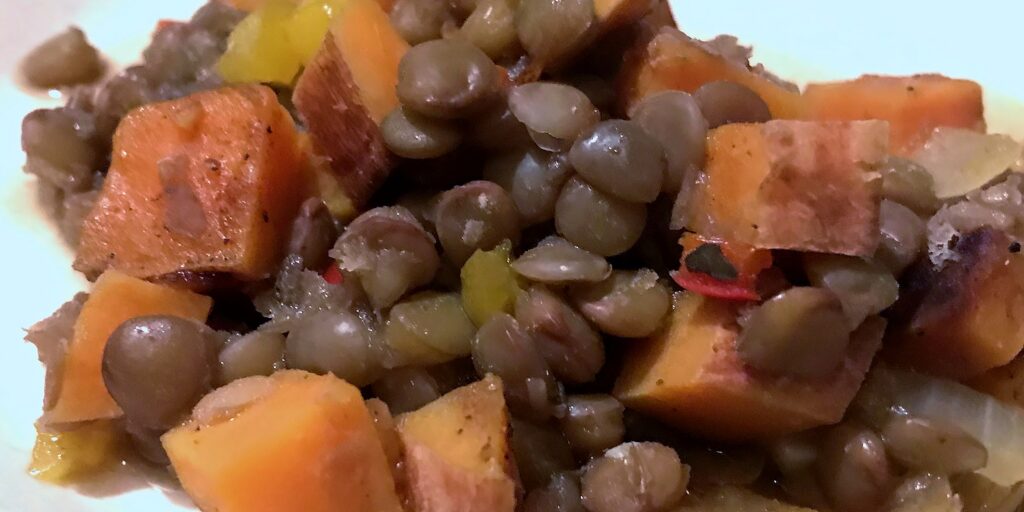 For the cauliflower:
1 whole head of cauliflower
4 – 5 cloves garlic, peeled, whole
2 – 3 Tablespoons of cooking oil
2 – 3 Tablespoons of cumin
1 Tablespoon course sea salt
2 teaspoons fresh ground black pepper
Directions for lentils: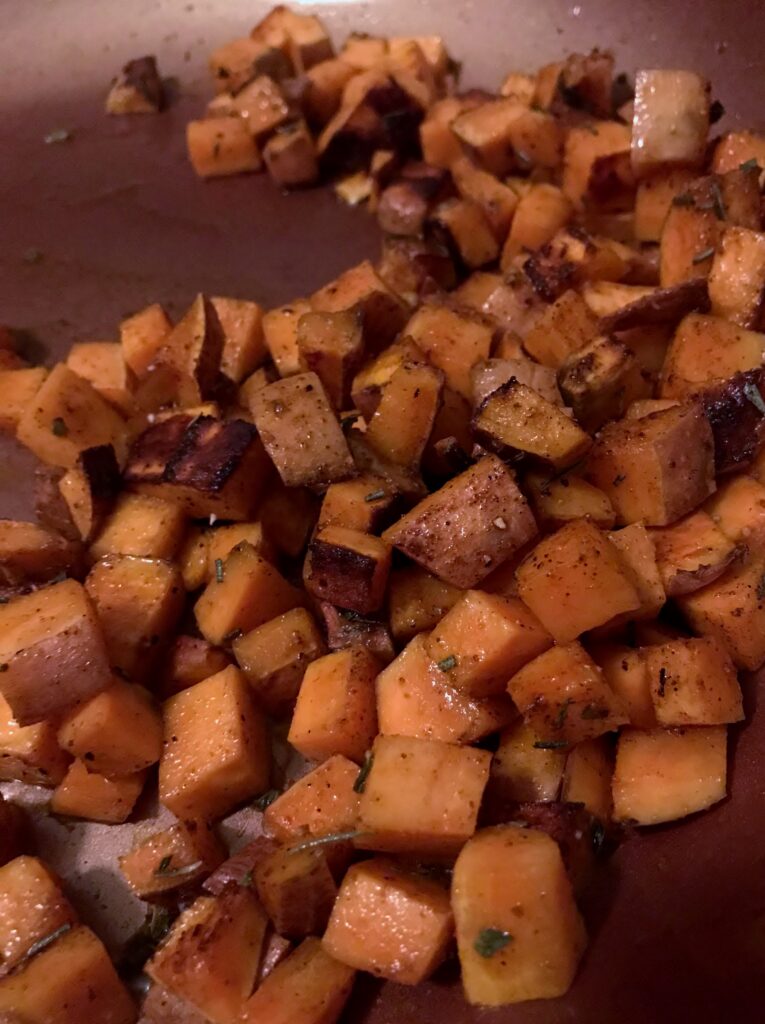 Bring lentils with bay leaf, broth, water & a little salt to a boil then reduce heat to medium low – simmer for 20-30 minutes, until lentils are tender. Drain most of excess liquid.
Heat a large skillet on medium high. Add oil and sweet potatoes with a little salt and pepper. Sautee, tossing occasionally, until potatoes are browned mostly evenly.
Lower heat to medium. Add in onion, peppers, & celery. Sautee until fragrant.
Add in garlic, spices & herbs. Add more salt & pepper to taste.
Once everything has cooked well together add to lentils. Let simmer on low covered for a few minutes for flavors to combine.
Serve like this or over rice.
Directions for the roasted cauliflower: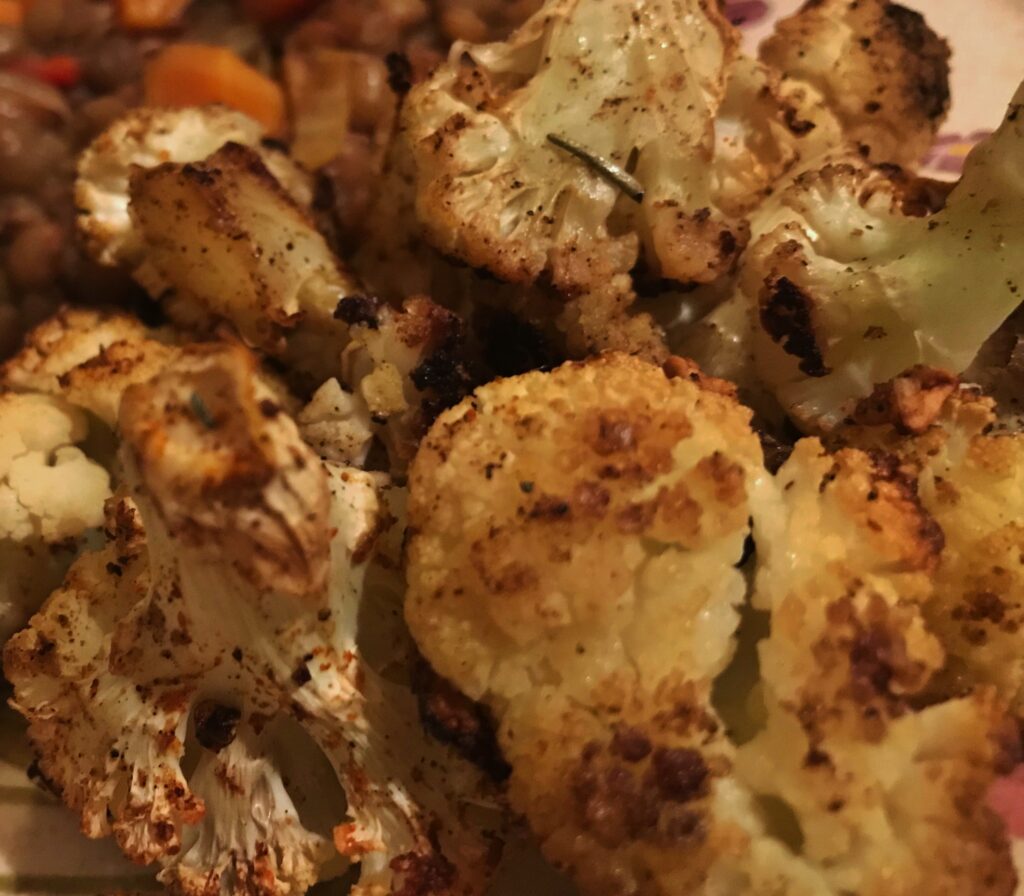 Preheat oven to 375 degrees.
Clean outer leaves off cauliflower head but keep head whole! Rinse well.
Shove whole cloves of garlic between cauliflower florettes.
Rub with cooking oil, covering entire head.
Sprinkle with cumin, salt & pepper.
Roast for 30 – 45 minutes, or until browned and beginning to get crispy.