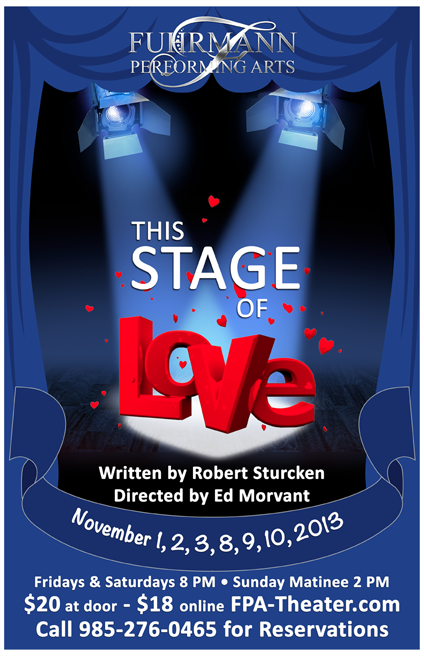 The Fuhrmann Performing Arts Society and Center Of Performing Arts (COPA) present an original musical production by Robert Sturcken called "This Stage of LOVE".
The play follows its cast through the experiences of taking part in a play inside of a play. When a once famous director wants to get back into the spotlight his cast learns more than they expected about theater and about themselves as well. From the auditions to curtain call we see the excitement, trauma, drama and most of all the LOVE that being in the theater provides.
Lead actors Thomas Braud and Mallory Bogle head a 21 person cast including performers from recent local productions of "Les Miserables" and "Jekyll and Hyde". This is the inaugural cast and run of "This Stage of LOVE", and promises to be a fun ride.
New Orleans theater notable Ed Morvant directs and choreographs "This Stage of LOVE" as part of the Fuhrmann Performing Arts Society's fall schedule. The show will run November 1 – 3 and 8 -10 at the Fuhrmann Auditorium, located at 317 N. Jefferson Ave. Friday and Saturday evening shows start at 8 p.m. and Sunday matinees will start at 2 p.m.
For more information or to purchase tickets, contact COPA at 985-276-0465 or visit the website, www.fpa-theater.com.