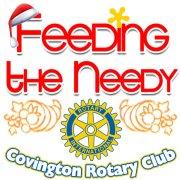 It is that time of year again when the Covington Rotary Club turns to the generous and faithful supporters of the Feeding the Needy program to ask for your time and assistance.  Each year the club delivers meals to families in need on Christmas.
The Club graciously asks for your help preparing the packages and delivering them. Once again St. Paul School has donated the use of their cafeteria where volunteers will work on December 23rd and 24th starting at 9 a.m. On Christmas morning volunteers should arrive at the cafeteria no later than 7:45 a.m. to deliver packages to the needy families. If you would like to register to work at the call center please sign in at www.covrotary.org.  It is not necessary to register to work at the cafeteria.
For more information contact John Baldwin at jbaldwin@baldwinmotors.com.