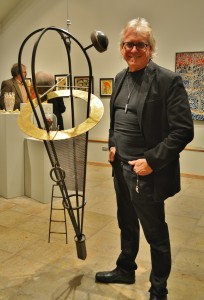 Now through January 25, 2014, art lovers can see an exciting show at the St. Tammany Art Association called Icons: Personal Visions. The show features ten Southeastern Louisiana artists who take a broader, secular approach to traditional icon imagery and processes, literally expressed by some and ambiguously approached by others.
On January 11 from 3:00 p.m. to 5:00 p.m., the public is invited to delve more deeply into this show with an exploration of the topic Byzantium to the American South and the migration of icons and iconography from the religious to the secular in contemporary art.
The program begins with an overview of the history of the icon presented by Francie Rich, MFA, artist/educator, who currently teaches art history and appreciation at St. Scholastica Academy and St. Joseph Abbey Seminary College. Rich and husband, Louisiana artist/educator John Hodge, MFA, conduct international tours focusing on visual arts.
Then, at 4:00 p.m., New Orleans Museum of Art Curator of Contemporary Art, Miranda Lash, leads an informal discussion with artists in the exhibition on their art and ideas relating to "icons" in contemporary art making.
The afternoon conversations will be followed at 6:00 p.m. by an opening reception—new selections for the new year—in the Members Gallery, with works on display January 11 – February 22, 2014.
Icons: Personal Visions features the work of Jacqueline Bishop, Douglas Bourgeois, Alan Gerson, Jessica Goldfinch, Christopher Guarisco, John Hodge, Thomas Mann, Francie Rich, Leslie Staub and Monica Zeringue. The show is presented by the St. Tammany Art Association and sponsored by Walter Mader and Catherine Deano, former STAA president, longtime supporter and co-founder of the Painting with a Twist family of studios.
All events are free and open the public and take place at the STAA Art House, 320 N. Columbia Street, Covington. For more information, contact STAA at info@sttammanyartassociation.org or call (985)892-8650. Visit STAA's website at www.sttammanyartassociation.org to learn more about upcoming shows, art classes, and the organization's "Masqued Ball," to be held during the February 22 Krewe of Olympia parade in Covington.
To view more photos from the "Icons: Personal Visions" exhibit opening, visit our new gallery page, "Covington Pics"