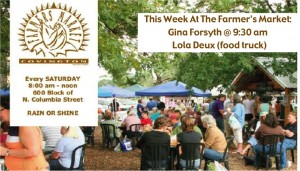 Happy Tuesday, friends! Another week has gone by already and tomorrow promises sunshine and blue skies – the perfect day to enjoy lunch at the market.
Cynthia is offering a Tuscan style meatloaf. Baked inside a tasty combination of ground veal, pork, and beef, you'll find a Mortadella wrapped boiled egg (surprise!) This week Jeff (Chomper's BBQ) will introduce a green bean salad with green beans (of course), grilled corn, and roasted red peppers in a light vinaigrette. I tasted the prototype last week and all I can say is DELISH! With the weather being so nice tomorrow, get there early. The vendors ran out of all my favorites last week. That sounds like a bad thing, doesn't it? Nah, I had the opportunity to expand my favorites list and maybe I'll get "lucky" again this week.
A cup of coffee and one of Suzie Bancks' faaaabulous Morning Glory muffins will pair very nicely with the lively music of Gina Forsythe on Saturday morning aannd – Lola Deux's Food Truck, complete with Parmesan fries and all sorts of other goodies. Yippee! I'm really happy for you and not myself since I won't be there. It's Easter this weekend and a big reunion weekend for my family. In fact, I've been practicing and I think I'm a shoe-in to win the annual egg cracking contest this year.
Lots of good things to find at the market these days.  Coast Roast always has a unique international coffee for your enjoyment. Kevin personally roasts those beans to perfection and is a wealth of information on coffee. Clara's adding catfish to her selection of fish, both saltwater and freshwater. She will also have fresh crabmeat but it's best to call and order ahead (504-669-4379). Hot Tamale Mama has added a Garden Vegetable Lasagna and Artichoke & Roasted Garlic tamales. WOW! Stop by and check it out. Betty Rue's offering a gluten-free chocolate pasta and a strawberry basil sauce with pink peppercorn and caramelized onion. She also has sweet potato gnocchi with a sage butter sauce. Frankie is making mini spinach quiches and Cynthia has striped pasta, three cheese ravioli. And let's not forget Dong's Buchimgae (savory Korean pancakes). It's the little things that make life interesting and we are certainly interesting at the Covington Farmers' Market!
Now, we need to get down to serious business. As you know, it's the time of year when women (and men) are trying on new swimsuits and moaning about how they are going to fit into them (please ignore the uncontrollable sobs). So, as you stroll around the market, think refreshing and light, such as cool summer soups (even in the spring) from Southy's Soups. I think you'll be pleasantly surprised at the selection. We like to keep you healthy and there are lots of gorgeous veggies for your salads too – spinach, mizuna, tendergreens, lettuce, Swiss chard… With carrots, radishes, spring onions, sprouts, and maybe some fresh strawberries to top off your salad, the possibilities are endless. Gina will have her famous Bechac's Bleu Cheese salad dressing to drizzle on top or choose Roasted Garlic & Tomato, or Honey Creole. Try something a little different on your salad, such as traditional tomato salsa or avocado salsa (Spanish R Us), black bean salsa (Hot Tamale Mama), or muffaletta veggies (Norma Jean). Nanette always has some incredible raw food wraps (you know…salad in a blanket). Healthy doesn't have to taste healthy.
There's a whole lot of delicious going on at the Market. If you're lucky, the Easter Bunny will bring you a few of Lolly Marie's gourmet chocolates, Betty Rue's devil's food chocolate cake pops, Teresa's decorated cookies, or Suzie's raspberry crumble. I love you, Easter Bunny.
Lots of love,
Charlene LeJeune
Abundant Life Kitchen
The Covington Farmers' Market is open each Wednesday, rain or shine, from 10 a.m. to 2 p.m. at the Covington Trailhead, 419 N. New Hampshire and every Saturday from 8a.m. to 12p.m. on the side lawn of the Covington Police Station, 609 N. Columbia St. Call (985) 892-1873 for information or visit www.covingtonfarmersmarket.org