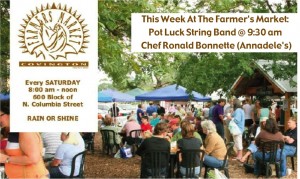 Happy Tuesday, friends! I've requested a lovely day for tomorrow and for the rest of the week, full of sunshine, blue skies, and soft breezes delicately scented with honeysuckle. I can't wait to get out there and I'll need all the great weather I can get since I'm nursing the sting of another year losing the annual Easter egg-cracking contest. I suspect the winner used a ceramic egg…but I can't prove it.
Alecia (Egg Ladies) will not have ceramic eggs but fresh green and brown ones, ready for the boiling pot or frying pan or cake pan, mmmmmm! And that's not fake BBQ you'll smell as you drive up; Jeff will have the smoker going to produce his incredible pulled pork. Check out his dinner-to-go deal on the menu. BBQ is not the only thing for lunch. Kandi has crunchy egg rolls and sweet jasmine tea and Cynthia's has plump cheesy ravioli and Bolognese sauce. Nanette has added a new salad with black beans & yellow corn, dressed a cilantro lime vinaigrette and served with a pepperjack tortilla. All you need now is dessert – fried fruit pies? mini fruit pies? luscious chocolate truffles? caramel apples? nut brittle? almond date bars?
Saturday morning will be popping up its lovely head once again so resist the urge to sleep in or you'll miss the delightful sounds of the Pot Luck String Band. Foot tappin' music, biscotti for dippin', fresh coffee for sippin', great food to be tastin'…who can sleep at a time like this? Especially when Chef Ronald Bonnette, of Annadele's Plantation Restaurant and B&B, will be in the demo tent with a sampling from his menu! What a day! What a day!
I know there were a lot of new and exciting things last Saturday at the market. There always is something new and exciting at the market but since I wasn't there, I'll have to wing it. I don't know about you, but all this fresh air and sunshine just makes me want to get out and grill! You did remember to get your BBQ sauce or rub on Wednesday? No? No prob… Jeff will be there Saturday with plenty for all. Ground beef, chicken, pork, lamb are all perfect candidates for the pit. Why not put a little sauce (or rub) into those hamburgers before you grill 'em. Yum! Of course, you know I can't be satisfied with that so, as an alternative, why not try adding Bechac's Bleu Cheese or Roasted Garlic & Tomato dressing to your ground beef or pork for a WOWEE burger. Or, a spoon of Robin's Rockin' Remoulade sauce (actually Grumpy makes it) in your burger mix for an outta sight burger. I tried it for lunch today and it was deee-lish! I'll bet marinating chicken in either the remoulade sauce or garlic & tomato dressing would make a great change-up from the traditional. Remember, your veggies grill up real nice, too.
OK, so now my mind is wandering around the barbecue pit (I'm counting on lots of good weather.) What could be better to go with your burger but a "bun"? Both Suzie (Windfield Farms) and Lena (7Grain) have amazing breads from which to choose. Slice a loaf, thick or thin – whatever your preference, spread liberally with a bit of Skordalia (Vincent & Mauricio) or Mauthe's sweet cream butter, and pop those slices on the grill. Don't forget the other side! Then, a few pieces of lettuce, tendergreens, or spinach leaves, maybe a few sprouts, a little dollop of Enton Farms brown mustard, and Voila! burger heaven. It doesn't matter if you're grilling chicken; the bread won't mind and you'll be mighty pleased. Finish that with a serving of fresh strawberries; what could be better? Well…cookies come to mind but….
Barbecue is not limited to meat and chicken but seafood goes great on the grill as well. Pick a fish (drum, seabrim, catfish) from Carla & Pete or a couple of pounds of Mr. Two's shrimp, a package of my Shrimp on the Barbie seasoning, and butter (Mauthe's) and…. Seriously, you forgot to grill the bread? Zucchini and yellow squash will be showing up soon and broccoli on the grill is so good even your kids can't say "no". Well, one of mine could but we'll just put sprouted peanut butter (Sam's Sprouts) on grilled bread and he'll be happy. No matter where your tastes lie, you'll find something to enjoy at the Covington Farmers' Market. Surely, you can't sleep in now?! Hmmm… I wonder how well chocolate chip cookies grill…
Lots of love,
Charlene LeJeune
Abundant Life Kitchen
The Covington Farmers' Market is open each Wednesday, rain or shine, from 10 a.m. to 2 p.m. at the Covington Trailhead, 419 N. New Hampshire and every Saturday from 8a.m. to 12p.m. on the side lawn of the Covington Police Station, 609 N. Columbia St. Call (985) 892-1873 for information or visit www.covingtonfarmersmarket.org