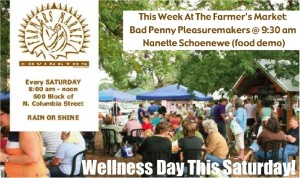 Happy Tuesday, friends!
Blue skies smilin' at me…nothin' but blue skies do I see. Good food singin' a song…nothin' but good food all day long (sorry I couldn't help bursting into song – it's gonna be a fantastic week!).  OK, so technically our good food doesn't sing; that's our magnificent Wednesday Gazebo Band at the Covington Farmers' Market. Why not stop by for a little of both? It'll put a song in your heart and a smile on your face.
We will have the usual line-up of deliciousness on Wednesday – smoky BBQ from Chompers, excellent raw food delights from Nanette, Kandi & Joe's exotic Vietnamese dishes, Cynthia's outstanding Italian raviolis and pastas… Frankie has been experimenting with quick breads and muffins with varying flavors each week. (My grandkids went for the chocolate ones last week.) Pam (Lolly Marie) has been playing with a new favorite – chocolate bourbon balls with dark chocolate or vanilla centers. No worries, you'll still pass the breathalyzer with flying colors and a smile on your face. Chocolate has been known to do that, you know. A box of red, ripe strawberries and a dozen yard eggs and you're set for the week (or at least until Saturday.) Is it any wonder why those blue skies are smilin'?
IT'S WELLNESS DAY AT THE MARKET!
Yes, that's right. I know it's been a while since we've had a Wellness Day but I'm so excited about it.  Many, many, many thanks to Jan and Nanette for organizing and inviting participants. Their efforts have yielded a variety of health and wellness advocates to share their knowledge with you. Floating from the gazebo will be the melodious music of the Bad Penny Pleasuremakers – kinda makes you want to get up early just for that. BUT…there's more. Market vendor, Nanette Schoenewe, will present A Taste of the Farmers' Market in the demo tent using only the bounty of our market vendors. I believe she is planning to show you how to make those lovely wraps without using bread!
Our Wellness Fair area will set up in front of the Police Department on Columbia Street. Take some time to see the wealth of information on staying fit and healthy. Heading up the "cast and crew" is the Covington Mayor's Council on Healthy Lifestyles, who will provide information on living a healthier lifestyle. Also featured are health care practitioners, fitness clubs, chiropractors, yoga instructors, massage therapists, Juice Plus vitamins, how to use essential oils, and our incredible local health food stores! It's a great day in the neighborhood!
​Once you've strolled through and absorbed more information than you can possibly process (don't forget to get business cards and handouts in case you have questions), you'll want to peruse the Farmers' Market regulars. Now, we have a lot of wonderful things in store but for brevity's sake, we'll just talk about the produce. As the saying goes, a picture is worth a thousand words (which is good since I don't think I could come up with that many.) Thanks to Michaela Lauer who took lots of great photos for me last week – about 9,000 words worth.
As you can see, we have a plethora of spring vegetables to tantalize you.  Oooouuu!  Aaaahhh!
(Just a few of her lovely pictures) Need I say more? There's a wealth of health and wellness at your fingertips (or rather, your footsteps) on Wellness Saturday. Come by and spend the morning with us. You can sleep on Sunday.
Lots of love,
Charlene LeJeune
Abundant Life Kitchen
The Covington Farmers' Market is open each Wednesday, rain or shine, from 10 a.m. to 2 p.m. at the Covington Trailhead, 419 N. New Hampshire and every Saturday from 8a.m. to 12p.m. on the side lawn of the Covington Police Station, 609 N. Columbia St. Call (985) 892-1873 for information or visit www.covingtonfarmersmarket.org