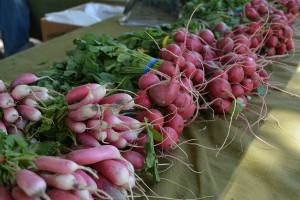 Happy Tuesday, friends! I know you're counting down the minutes to fresh vegetables, lively music, international flavors and tastes to delight your tummy. Our Wednesday vendors are busy as I type preparing delicious mouthwatering meals for tomorrow. The day will be lovely, one of those "I-need-to-get-out-of-the-office" kinds of day. So mosey on down to the Trailhead where Cynthia will have meatball sliders and other delightful Italian fare. Perhaps the scent of pork slow cooking on Jeff's smoker will draw you in. I thoroughly enjoyed Nanette's corn and black bean salad drizzled with a yummy lime cilantro vinaigrette – from real limes! It was sooooo gooood! Kandi's pan seared salmon salad hits the spot on a warm spring afternoon, especially accompanied by a cool glass of sweet jasmine tea. Frankie will be cooking up an old-fashioned banana pudding. That's right, real cream, milk, and bananas – no box! There's so much more, but you won't enjoy any of it unless you're there.
As we head into Saturday, thoughts will naturally turn to Mother – after all her special day is almost here. So, Mom, perhaps you should take things in hand, grab your coffee and a muffin or two and take a stroll around the Market. You can drop subtle hints as you go….or you may just have to come right out and tell them… or (my personal favorite) just buy it for yourself. Our special treat in the demo tent is Ox Lot 9. Chef and owner Jeffrey Hansell of this new restaurant, housed in the new Southern Hotel in Covington, will be preparing something wonderful from the menu. The lively tunes of Joe Barbara coming from the gazebo is icing on the cake. Icing…hmmm.
I hope you all enjoyed last week's Wellness Day. Thanks to all our wellness participants for making this a very special market. As I walked around the grounds, I was blown away by the beautiful bounty lining the tables. Vegetables such as fennel, heirloom squash, sunflower shoots, radishes, red spring onions, new potatoes, bright orange  carrots, cabbages were more than photogenic, they were downright nutritious! In fact, I caught Southy perusing the tables for this week's soups (heirloom squash; sunchoke). Robin tells me that she is making Mayhaw Pepper Jelly for this week. I didn't get a chance to check out other new flavors she may have but she is always developing new jellies and has recipes to go with them.
Thinking of mayhaw jelly puts me in mind of Rick Webb and I am saddened by his loss. He left us this past Thursday when he went home to the Lord at the age of 92. He had an interesting life as a radio operator, working at several local radio stations, but many of you remember Mr. Rick and his world class mayhaw jelly – both fixtures at the market for many years. He enjoyed being at the market and I enjoyed seeing his smiling face on Saturday mornings. Mr. Rick has left us a wonderful legacy through his son and daughter-in-law, regular market goers Russell and Priscilla, and his great granddaughter, Rebecca (Tabasco's best friend). We have missed him dearly.
I stopped by Mauthe's for butter last Saturday and walked away with a pint of Creole cream cheese; it was all Jamie's fault. She described a medley of green onions, boiled & chopped eggs, and boiled shrimp dancing in a cream cheese sauce and served over new potatoes or pasta (Cynthia's and Lena's pastas come to mind.) She also mentioned that she stuffs chicken breast with her garlic & herb fromage before baking. I was in heaven. I love new ideas. It's amazing what wonderful recipes our vendors have on how to use their products. You'll find a heavenly new pizza at Betty Rue – a savory, dairy- and gluten-free dough, spread with arugula & basil pesto and topped with hearts of palm, kalamata olives, and sundried tomatoes.
Back to Mom…Take a stroll over to the street side of the oak tree where Trudy's selection of house plants will give you some great gift ideas that will surely add to your home or garden. Then you can wind your way around to Alton and Sandra who have happy-faced sunflowers plants plus an assortment of aromatic herbs. You'll certainly want to check out the bougainvillea that Ms. Betty has – lovely shades of pinks and yellows. Dennis has some beautiful hydrangeas and Nancy's colorful cluster of zinnias will brighten up even the gloomiest days. How about a fresh bouquet of wild fig & cassis or lemony Gardener's Grits soaps from Aunt Bee or treat mom to natural ingredient lotions and skin care.
But you know me; my mind is not tiptoeing through the tulips, or the bougainvillea, or the fresh veggies, but tripping down Cookie Lane with large rounds of oatmeal raisin or chocolate chip cookies, crunchy dipping biscotti, wedding cookies, lemon squares, ginger cookies, pecan squares, anise cookies and those lovely raw almond butter cookies….oh, my! Mother's Day does have its perks, doesn't it? I'll definitely need help getting back to my table. Just push me past (but not too fast) Lolly Marie's white chocolate and ginger truffles, Frankie's famous nut brittles, Tiffany's goat milk and chocolate candies she's making especially for Mother's Day, Amanda's popsicles…. there goes my diet (surprise, surprise)!!?? Never mind. I'm going to have a really delicious Mother's Day!
Lots of love,
Charlene LeJeune
Abundant Life Kitchen
The Covington Farmers' Market is open each Wednesday, rain or shine, from 10 a.m. to 2 p.m. at the Covington Trailhead, 419 N. New Hampshire and every Saturday from 8a.m. to 12p.m. on the side lawn of the Covington Police Station, 609 N. Columbia St. Call (985) 892-1873 for information or visit www.covingtonfarmersmarket.org