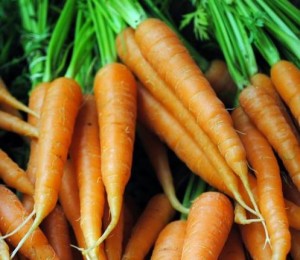 Happy Tuesday, friends! We're looking forward to a great day tomorrow full of music and fresh veggies and good food.  Mr. Houston's garden has been bloomin' with cucumbers (eatin' and picklin'), green onions, potatoes, squash, sweet corn, beets… Come and join us for a relaxing lunch of hot tamales, or a raw veggie wrap, maybe a little smoky BBQ, ravioli in Bolognese sauce, or sinfully delicious shrimp and cream cheese rolls – with dippin' sauce and a serving of old fashioned, homemade banana pudding. Don't forget some boiled peanuts for later. I know it's hard to decide what to get, but just pick up extra and you have dinner (or lunch tomorrow).
Make plans to come out on Saturday and enjoy the toe-tappin' melodies of the Last Chance Bluegrass Band coming from the gazebo. So grab your coffee and enjoy the music while you do your shopping. Then, get ready for some barbecue because Chompers BBQ will have the smoker going and serving that phenomenal pulled pork, coleslaw, and macaroni 'n cheese. I know you're going want to pick up a rub or sauce for your own barbecues at home. Remember, they're great on veggies as well.
Spring (that's right, it is still spring) is the perfect time for grilling and BBQ'ing and you'll want to make sure that you don't tire of the same old, same old stuff on the barbie. For burgers, we have a terrific selection of ground beef, pork, and lamb, so start with whichever is your fave – or make a combination of all three. Season with a bit of pink salt and ground black pepper and then start to build on that. Add some of my Moroccan Melody with your lamb burgers, OR a tablespoon or 2 of Hot Tamale Mama's spinach artichoke dip with ground beef or pork, OR a splash of one of Chomper's BBQ sauces, OR snuggle a spoon of Farmhouse Dairy's Garlic Chevre into a burger, OR add a tsp of Chomper's Pork or Beef Rub and generously top with Bechac's Bleu Cheese Dressing after grilling!
Burgers are done, but what about the chicken? I've never grilled duck (Enton's) or goose (Two Kids Farms, Enton's) but I imagine you would do it the same as chicken….anybody?…anybody? Of course, the obvious go-to would be Chomper's BBQ sauce or Chicken Rub. But what about using some Lemon Pepper Jelly or Garlic Pepper Jelly as a glaze at the end of grilling? Hmmmm. I think I might like that. OR, marinate that chicken (duck or goose) in Bechac's Roasted Garlic & Tomato or Honey Creole Dressing for an hour or so before grilling. YUM! Serve with Hot Tamale Mama's Twice Baked Potatoes.
Sliced tomatoes also make a lovely topper for a burger along with sliced onions. And, with me being me, I probably will eliminate the burger and just have a tomato and onion sandwich. (I may have mentioned before that it's my all-time favorite sandwich). If you haven't had one, now is the time to try it because we have both fresh tomatoes (Cleckler) and beautiful onions (Brandon, Bardwells). Brandon had both red and yellow onions. Of course, the key to the sandwich is fresh bread (Windfield Farm and 7Grain) and the perfect homemade basil or garlic mayo (email me if you are interested in mayo).
You won't want to stop there; there's so much more out here – a beautiful spring breeze, delightful music, great food. What more can you ask for? Well…I can think of one thing but Mr. Wonderful just laughs when I mention Hawaii. See you at the Market!
 I know it's a little early, but it takes time for geese and turkeys to grow large enough for a holiday meal. So, with that in mind, Two Kids Farm is planning ahead for the holidays. They are offering pasture and corn raised geese and turkeys – fresh, not frozen. If you are interested, stop by their tent, email them (brucejudo@live.com), or call Bruce at 504-455-9882. 
Lots of love,
Charlene LeJeune
Abundant Life Kitchen
The Covington Farmers' Market is open each Wednesday, rain or shine, from 10 a.m. to 2 p.m. at the Covington Trailhead, 419 N. New Hampshire and every Saturday from 8a.m. to 12p.m. on the side lawn of the Covington Police Station, 609 N. Columbia St. Call (985) 892-1873 for information or visit www.covingtonfarmersmarket.org