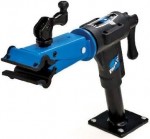 Brooks' Bike Shop reports an unfortunate incident: "Please keep on the lookout for this bike stand which was stolen in front of Brooks bike shop along with a rubber mat. Cash reward offered for information leading its recovery."  Contact:  985-237-3658
Around the same time of the incident at Brooks' Bike Shop, two concrete benches were taken from the front of Mattina Bella, right across the street.  The nature of the items indicates that the perpetrator(s) were probably not professionals reselling on the underground market, but likely the work of bored, irresponsible teenagers.
While a seemingly harmless prank, it reveals a severe lack of understanding of how the real world works.  Downtown Covington is home to some of the friendliest and most outgoing business owners around.  They pay there share to operate, and the equipment they use is their livelihood.  To the would be pranksters, please have some respect for the businesses that make up the core of our community.