Each year, the Covington Rotary Club, with the assistance of hundreds of community volunteers and donors, leads Feeding The Needy, a project initiated to ensure that school children are fed while school cafeterias are closed for the long winter break at Christmastime.
Feeding The Needy does more than provide a Christmas meal.  Every year on December 23 and 24, volunteers from all over the area come together to prepare Christmas boxes that include:  a 12-14 pound cooked turkey with 6 side dishes and dessert.  Each box has enough food to feed a family of four.  Larger families receive additional boxes.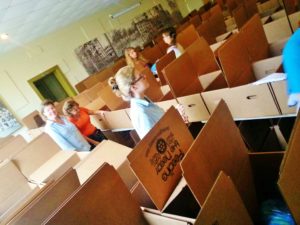 On Christmas morning, Rotarians and other community volunteers hand deliver the boxes to the homes of the identified families. Each family only needs to heat the food and it is ready to serve as a substantial Christmas Day meal and leave plenty of extra to help on the days leading up to school reopening. Find Rotary Club of Covington, LA on Facebook, with a link to their page at clubrunner.ca that contains more detailed information.