After a year at a shelter, an 11-year-old Pitbull is reunited with her family from Facebook!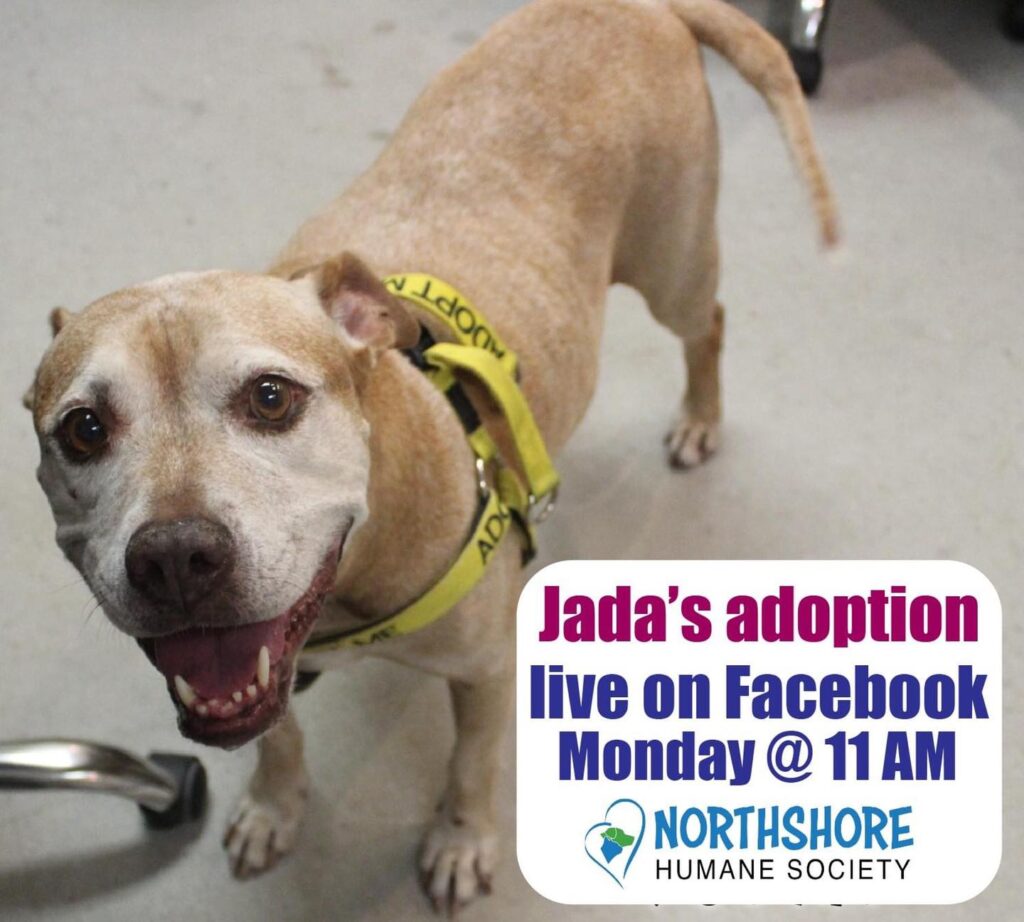 Covington, LA – On Monday, September 7th at 10:30 AM, an 11-year-old Pitbull named Jada will be reunited with her extended family after being homeless for over a year. The special dog adoption will take place at Northshore Humane Society located at 20384 Harrison Ave. in Covington.
After the passing of one of her beloved owners, filled with overwhelming grief and life-style changes, Jada's mother surrendered her to a municipal shelter in Plaquemines Parish, a decision she deeply regretted later. The family followed Jada's journey, but when the shelter shut down for financial reasons, they thought Jada had been put down. Euthanisia is often the outcome for so many "pitbull-type" breeds in our state. What the family didn't know was that a no-kill rescue located in Covington, Northshore Humane Society, had saved her and five other pets and placed them into their adoption program.
Eight months later, Jada still had not been adopted and so the group turned to Facebook for help. In a video capturing Jada's uneasiness at the shelter, Northshore Humane Society pleaded for someone to adopt her. The video posted on September 1st was seen by over 30,000 followers and caught the eye of the extended family of Jada's original owners.
Danielle Bondi of Venice, LA recalled seeing the video for the first time, "I couldn't believe it. Jada was alive! We were shocked when my mother-in-law gave her up and it's been heavy on our hearts ever since. My father-in-law died and that dog meant the world to him."
The Bondi family including her husband and 10-year-old daughter will travel from Venice to become Jada's new family. "The power of social media is unreal and it continues to amaze us everyday," stated Northshore Humane Society Director of Marketing, Susie Kaznowitz. "This is a one-of-a-kind adoption and the Labor Day holiday isn't going to stop us from capturing and sharing it with the world!" Northshore Humane Society is videoing the moment live on their Facebook page and inviting the community to join on Monday (Labor Day), September 7th at 11:00 AM.
LINK TO ORIGINAL POST ON FACEBOOK: https://www.facebook.com/NorthshoreHumaneSociety/posts/10158671499021788
UPDATE – Link to Jada's reunion video: https://www.facebook.com/NorthshoreHumaneSociety/videos/771543276993438
Visit www.northshorehumane.org to learn more about the Northshore Humane Society.