Covington History segment provided by local historical writer Ron Barthet.
View his blog Tammany Family here.
Early in 1992 the City of Covington renamed a short street between Lee Lane and Boston Commons shopping village as "Abadie Lane." It was a proud moment for the Abadie family who had lived in the area for decades, as well as an important moment in Covington history. As it turns out Abadie Lane was at one time the main entrance into Covington.
History writer Todd Valois of Covington wrote a detailed account of the event, which was published in the Times Picayune. Here is the text from that article:
Street Named In Honor of Illustrious Local Family

by Todd Valois
Among the well-known byways of downtown Covington there are six lesser-known thoroughfares.
Hotel Alley stretches from New Hampshire to Vermont streets. Courthouse Alley runs from Boston Street to Gibson Street along the side of the St. Tammany Parish Courthouse.
Walker Alley goes from Lee Lane to Florida Street; Badon Alley from Gibson Street to Lockwood Street; and Holden Alley from Boston Street to the closed section of Rutland Street.
The newly named Abadie Lane runs from Lee Lane to the Boston Common shopping complex. The long street had been unnamed until December, when the Covington City Council unanimously voted to give it a name.
---
Here is a 1934 Map Showing "Abadie Lane" as the road leading to the old Bogue Falaya Bridge. Kemper Street has since been renamed as Lee Lane.
---
Valois' article continues: The Abadie family has been associated with the property and the history of Covington for more than 100 years.
In 1885, Bertrand Abadie bought three lots in square 21 of the Division of St. John in Covington. On Dec. 15, 1887, Abadie died, leaving his home and store to his son, Louis, and daughter, Bertha, who later became Mrs. William Hanhart.
Louis opened a bakery in his father's old store on Kemper Street, now Lee Lane. He later opened a bakery on Columbia Street, on the site of the present Sore Thumb Tavern, where he displayed and sold the confections he baked on Kemper Street.
On March 2, 1886, he married a woman of French descent named Marie Honorine Parisy. In the 30 years they were married, Louis and Honorine raised six children: Hyacinth Louis; Blanche Marguerite, who married Claude Henry in 1907; Edward; Jeanne, who married James Connaughton in 1920; Louis II, who was killed in 1905 at the age of 11 when he fell under a moving log train on the tracks that ran beside the family home; and Neomie.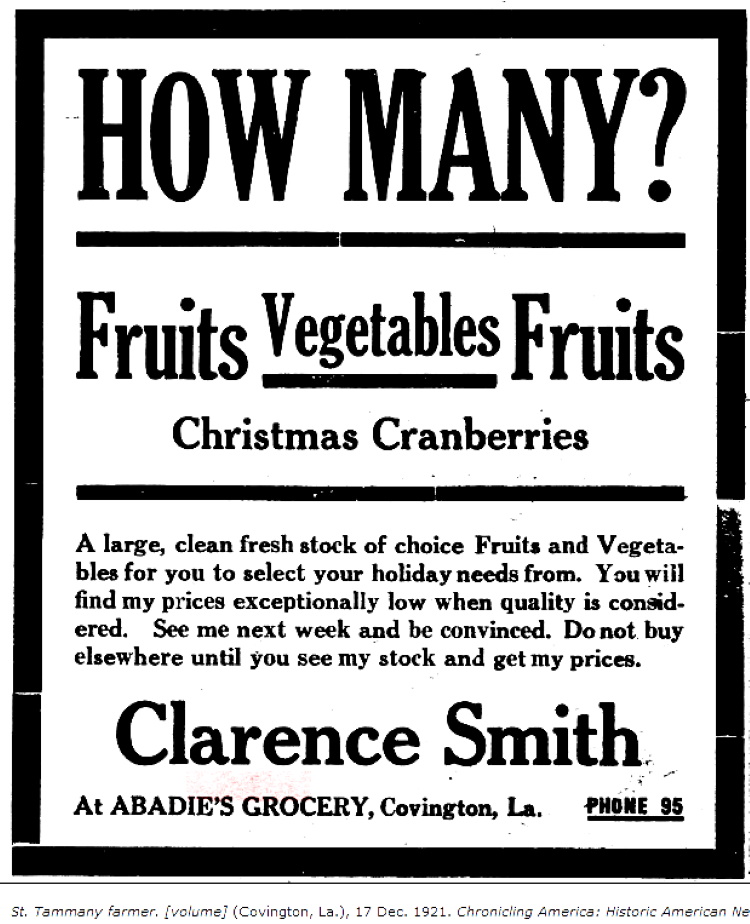 As a young man, Hyacinth Louis, known as H.L., helped his father in the bakery, delivering bread as far away as Abita Springs by horse and buggy. Later, H.L. moved to New Orleans and for a time worked as a conductor on the New Orleans streetcars.
On Oct. 26, 1916, Louis died at the age of 53. That same year, H.L. returned to Covington to care for his mother. It was not long before Honorine joined her husband in the hereafter on Nov. 19, 1917.
H.L., who was not interested in the bakery business, bought out his siblings' shares of the property, tore down the bakery on Kemper Street and used the shop on Columbia to open the Abadie Grocery in 1922. The store was open for 37 years.
On March 19, 1915, H.L. married Lillian Pauline Connaughton of Lewisburg. She was a sister of James Connaughton, who later would marry Jeanne Abadie in 1920.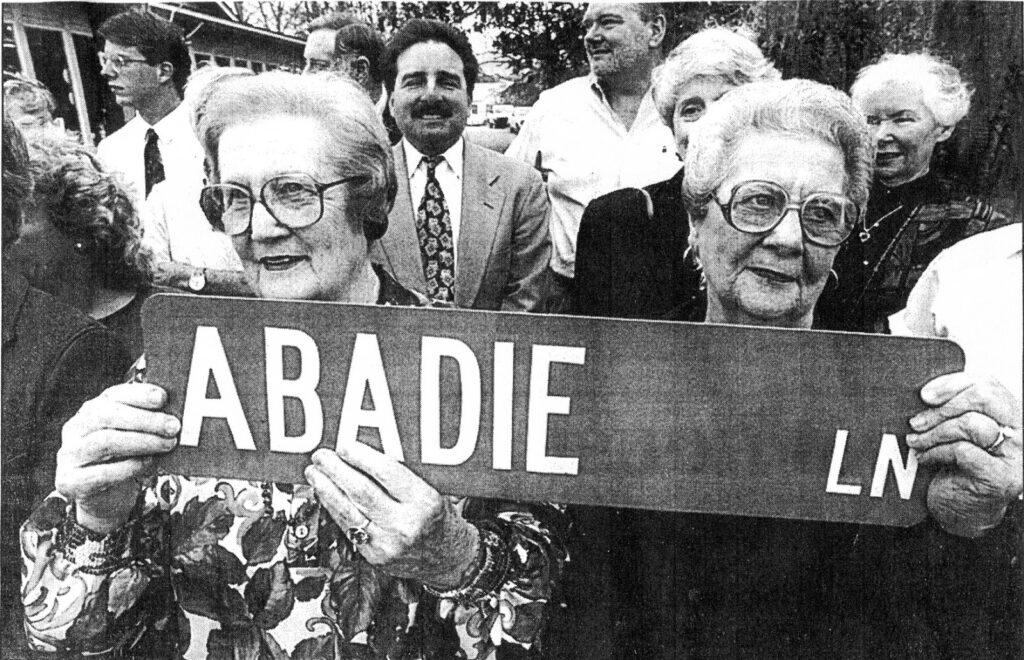 Mercedes, left, and Lillian Abadie, right, hold the street name sign which designated Abadie Lane. They gathered with family, friends and public officials to dedicate and rename Boston Commons Drive to their family name, Abadie Lane. A longtime Covington family, the Abadies have owned property on the street for more than 100 years. The sign was installed after the ceremony. City Council members Matt Faust (back row, center) and Patricia Clanton, back row far right, were in attendance. Photograph by David Grunfeld/Times Picayune
The Connaughtons raised five children in a rambling wood-frame home on Asia Street near St. Scholastica Academy. The eldest child, Earl, was a son from James Connaughton's first marriage to Marguerite Champagne.
The first Mrs. Connaughton died in the great flu epidemic of 1918 at the age of 29 while she was expecting her second child. In 1925, H.L. Abadie built a new home on Kemper Street that is known as the Abadie home. There, he and Lillian raised their three children – H.L. Jr., Mercedes and Lillian.
The house was a wonderful place to grow up, since it was in town but far enough from the business area to remain tranquil. H.L's property was known throughout Covington for its beautiful gardens.
Mercedes and Lillian continued to live in the family home after the deaths of their parents. But upkeep of the old home proved too much for the sisters, and they sold the property in 1981.
Lillian and Mercedes continue to live in Covington with their brother, H.L. Jr. and his wife, the former Ellen Hebert.
Naming the street next to the Abadie home is a fitting tribute to a family that has made its homes and businesses Covington landmarks for more than 100 years.
Abadie Lane will carry on a community's fond remembrances of this illustrious family for many years to come."

End of Valois Article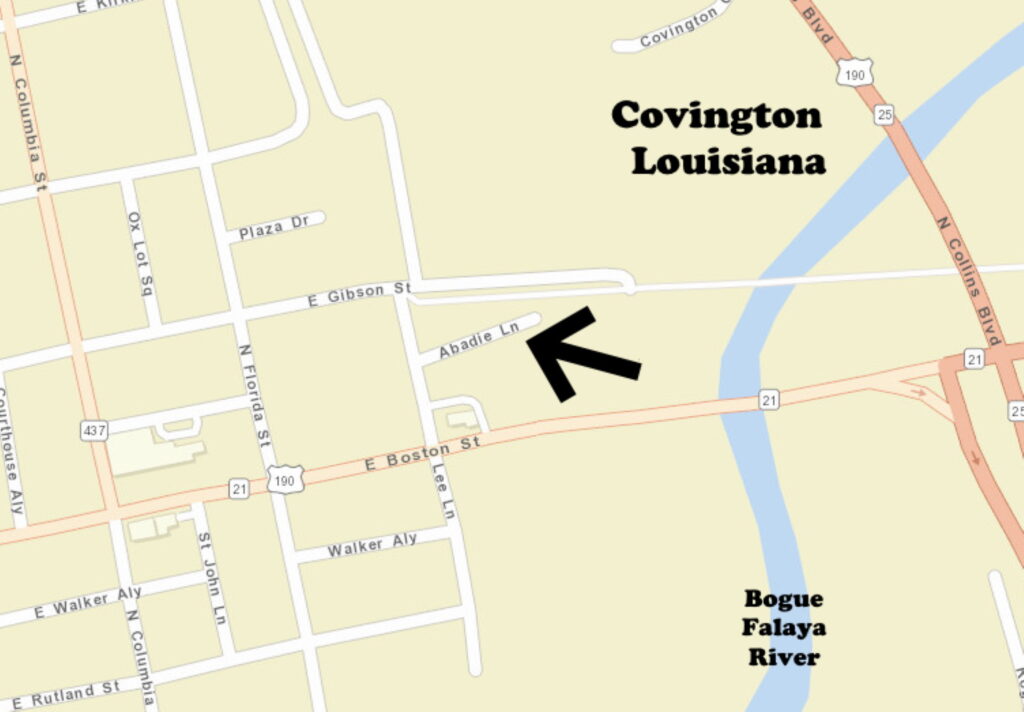 Check out Ron Barthet's blog Tammany Family for more great local history! More photos related to this post here.