From St. Tammany Parish Government 9/22/2020: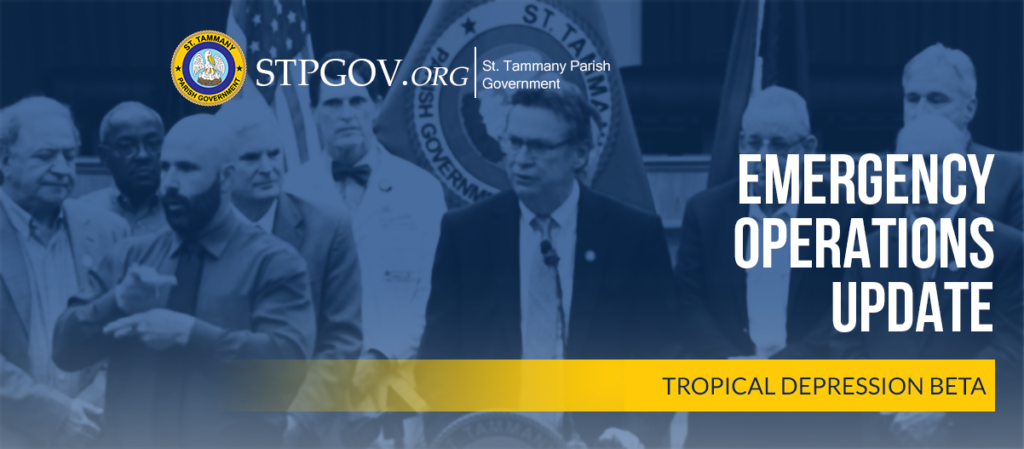 St. Tammany Parish President Mike Cooper and the St. Tammany Parish Office of Homeland Security and Emergency Preparedness (OHSEP) are closely monitoring Tropical Depression Beta, expected to move over Louisiana later this week. St. Tammany Parish is currently under a Coastal Flood Warning. According to forecasters, Tropical Depression Beta is slow-moving and the prolonged persistent onshore flow of tidal water will continue to produce above normal tides and coastal flooding.
"As we continue to see the onshore tidal flow, we ask citizens who live in low-lying areas to stay tuned to the weather forecast and to prepare for a prolonged event with periods of rainfall. We ask all citizens to please adhere to roadway signage and to refrain from unnecessarily driving through neighborhoods with water in the streets to prevent the movement of this water into homes," Cooper said. "We are prepared and we ask residents in these impacted areas to stay vigilant. We ask everyone to drive with consideration for others in these impacted areas."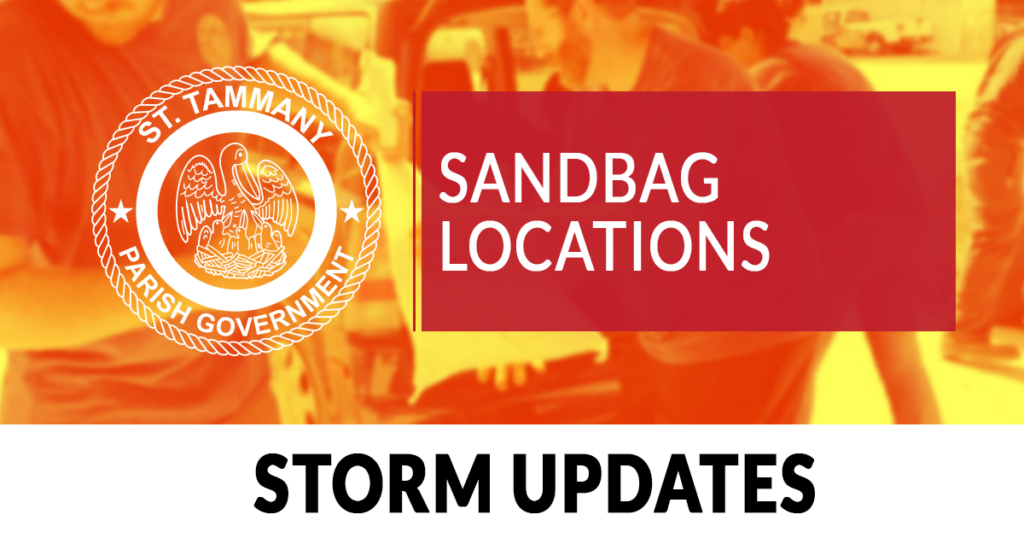 Self-serve sandbag locations will open today, Tuesday, September 22, 2020 until 3:30 p.m., Wednesday, September 23, 2020 and Thursday, September 24, 2020, as required. All locations will have sand and bags provided. Residents are asked to bring their own shovels in case all shovels provided are in use. In addition, residents are asked to limit the number of sandbags to 15 per vehicle. There will be someone on-hand to assist the elderly and/or disabled at each location during the hours of 7 a.m. – 3: 30 p.m. at the following locations:
St. Tammany Parish Government- Building
21410 Koop Dr., Mandeville
 
St. Tammany Parish Public Works- Airport Road Barn
34783 Grantham College Rd, Slidell, La

The Old Levee District Site
61134 N Military Road (Hwy 190) Slidell, La.

St. Tammany Parish Public Works- Fritchie Barn
63119 Highway 1090 in Pearl River

St. Tammany Parish Public Works Barn- Keller Barn
63131 Fish Hatchery Road, Lacombe

St. Tammany Parish Public Works Barn- Covington Barn
1305 N. Florida Street, Covington
Parish Government will announce any emergency preparedness information to the public, contingent on the forecast, through the local media, our website — www.stpgov.org/storm , and through social media on Facebook and Twitter. Citizens can also sign up to receive automatic email updates from the Parish by visiting www.stpgov.org.
Sign up now for ALERT St. Tammany, here. This is the Parish-wide emergency notification system for St. Tammany Parish Government. If we can't reach you, we can't alert you.