Covington History segment provided by local historical writer Ron Barthet.
View Ron's blog Tammany Family here.
On Tuesday, December 5, 2017, Mayor Mark Johnson, then president of the Covington Heritage Foundation (CHF), presented a detailed account of the history of the Talley's Feed & Seed Store, complete with family history and photographs.
Johnson's speech entertained more than 100 members of the group in attendance, including three members of the Talley family who were surprised and appreciative when they found out that their parents were the subject of the 30 minute presentation.
Here is the text and photos from Johnson's presentation at the recent CHF Membership Gala held at the Southern Hotel, reprinted with his permission. Ted Talley Jr. has made some additional remarks in the text. Click on the images to make them larger.
The title of the talk was "Good People: A Family Tale of the 20th Century"
The following picture shows the Covington Coca Cola bottling company about 1918. Notice the low-pitched roof. The two-story building was located on North Columbia Street.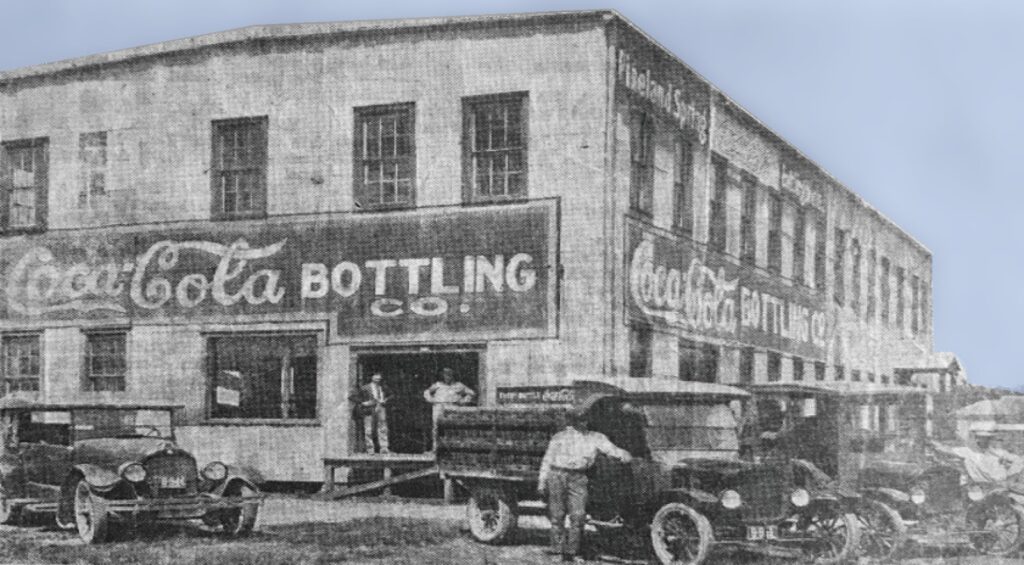 This current day photograph shows the O'Keefe Feed and Seed in Covington.
It's the same building.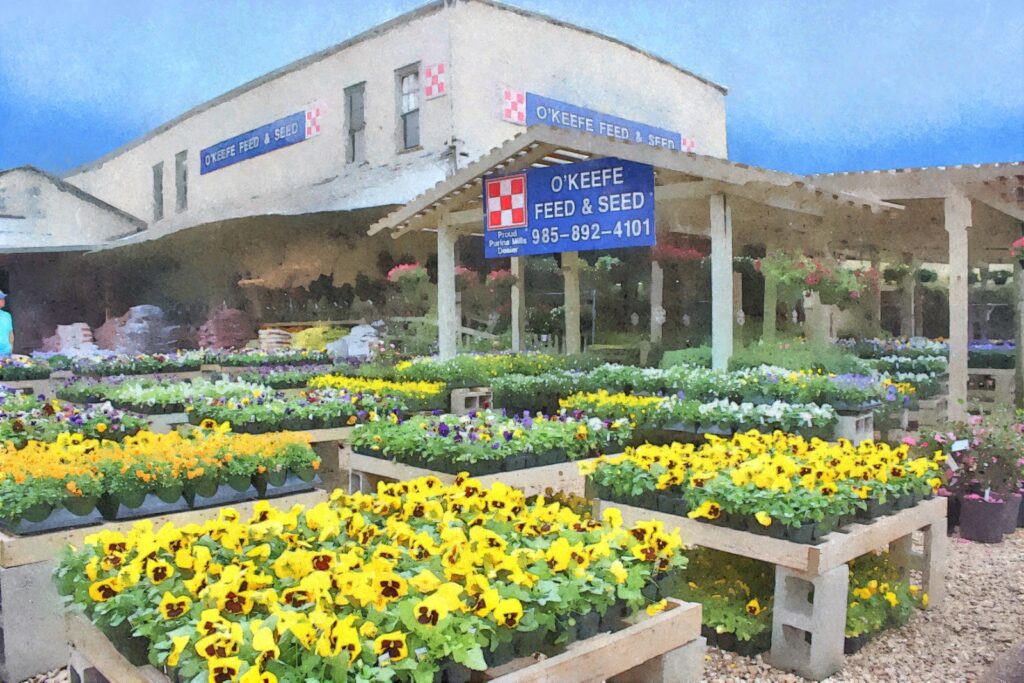 That building plays an important part in this story.
Our story actually begins in 1918 in war-torn France, the war to end all wars. It brought death and injury to thousands of American soldiers. One of the injured was Claudis Simpson of New Orleans, who suffered severe leg injuries. He was brought to the U.S. Army Hospital in Fort McPherson, GA, where, over time, he gradually recovered.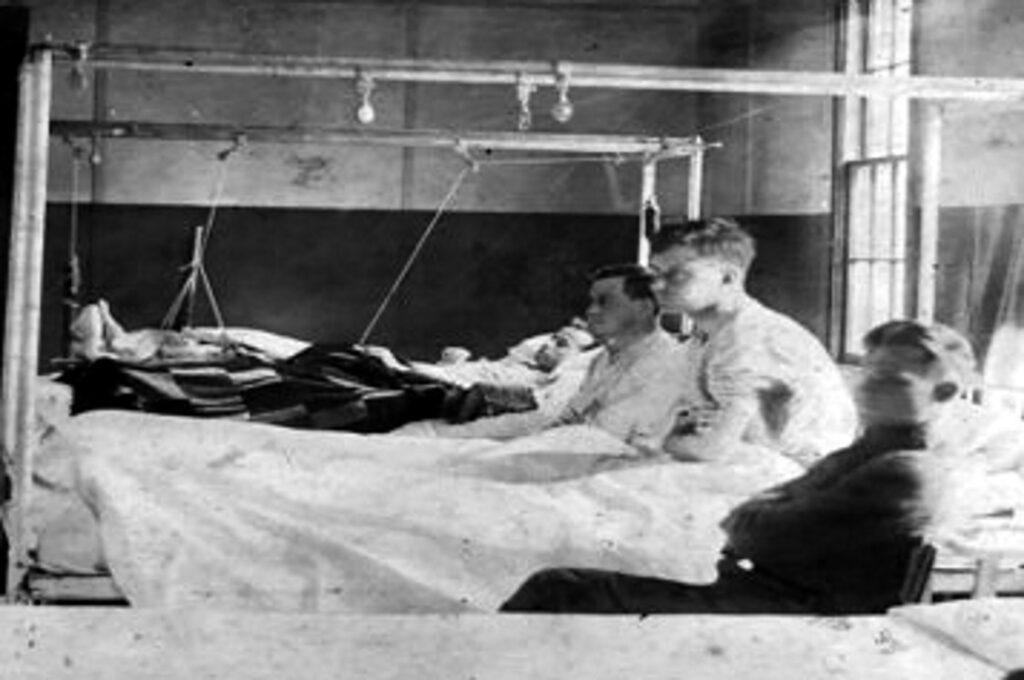 He can be seen in the photograph above, lying down in the background with the sling around his leg. In the next photograph he is seen on the hospital grounds.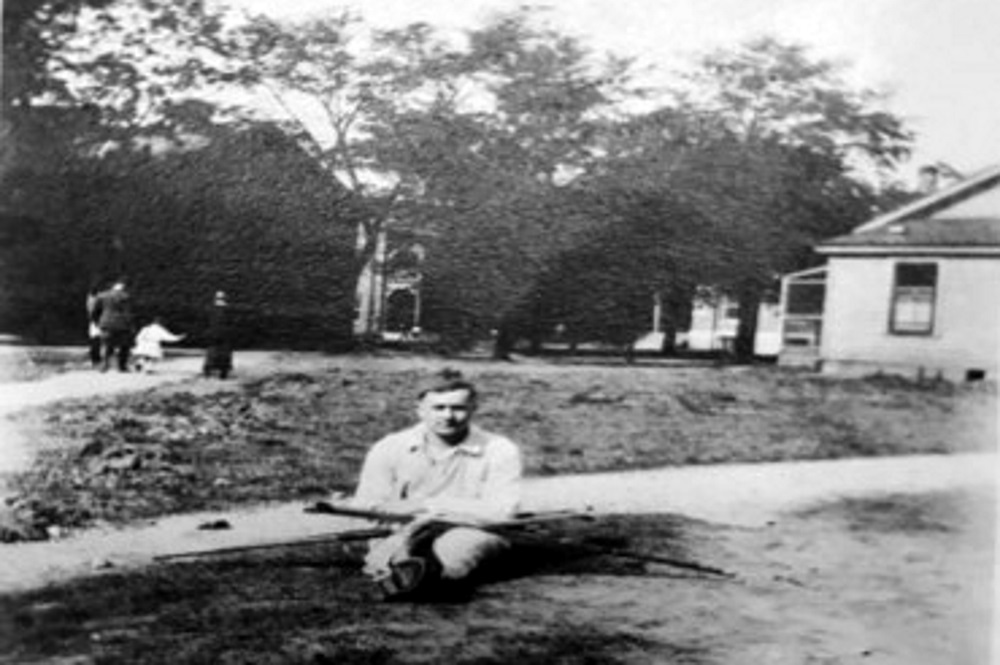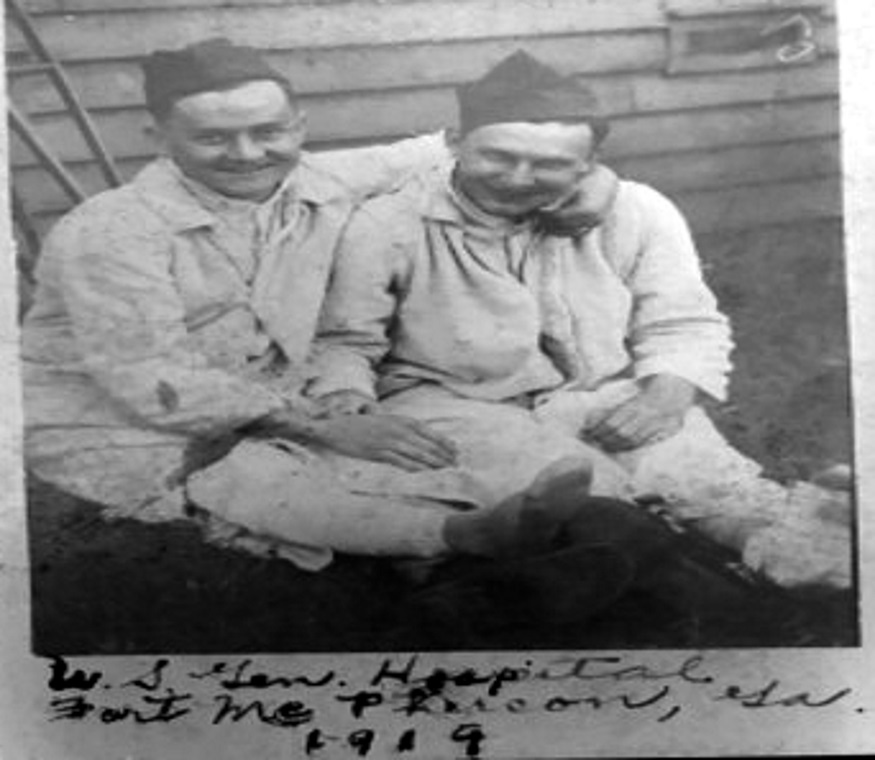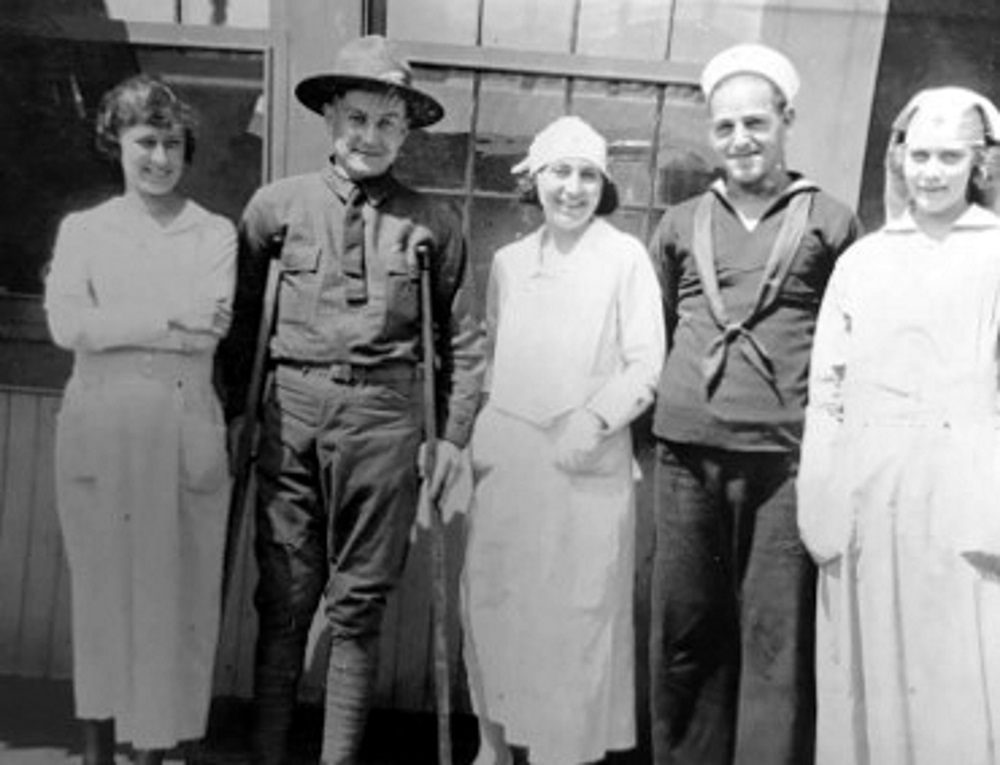 After he recovered, he went back to New Orleans and started a service station. At that time, operating a service station was a big deal and since it was located near a large hospital, it was very successful.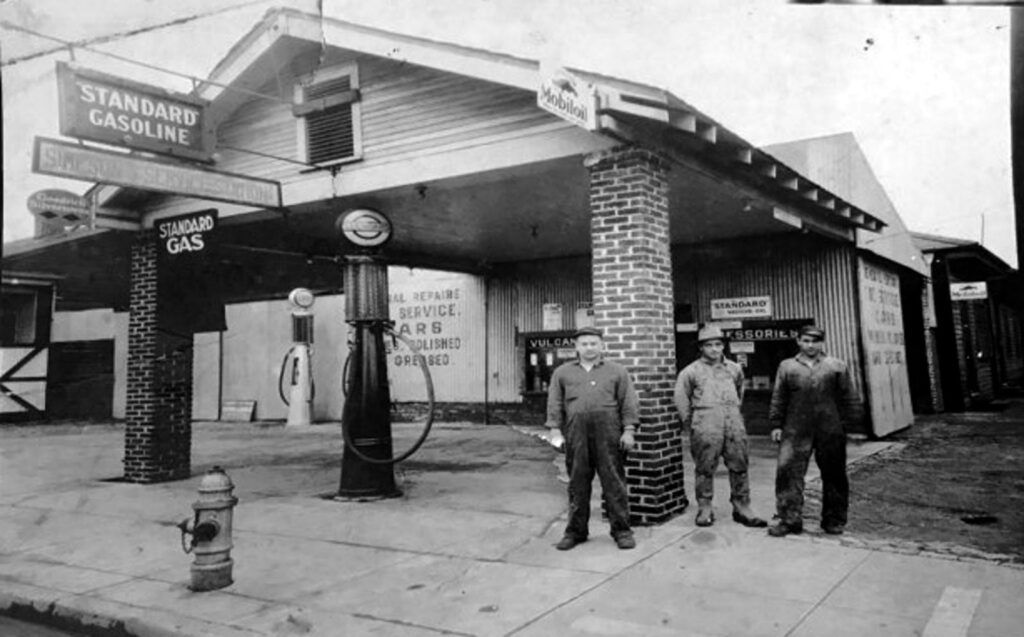 The service station featured classic gas pumps, displayed a Standard Motor Oil sign, and, as we can see by the fire hydrant in front, had running water, indoor plumbing, and electricity.
He got married and in 1924 had a daughter named Evelyn.
Doctors eventually told him that if he stayed in New Orleans, the pollution would kill him. So he traded the service station for 60 acres in Bush. He and his wife and his daughter moved to Bush and lived in a house where there was no electricity and no indoor plumbing.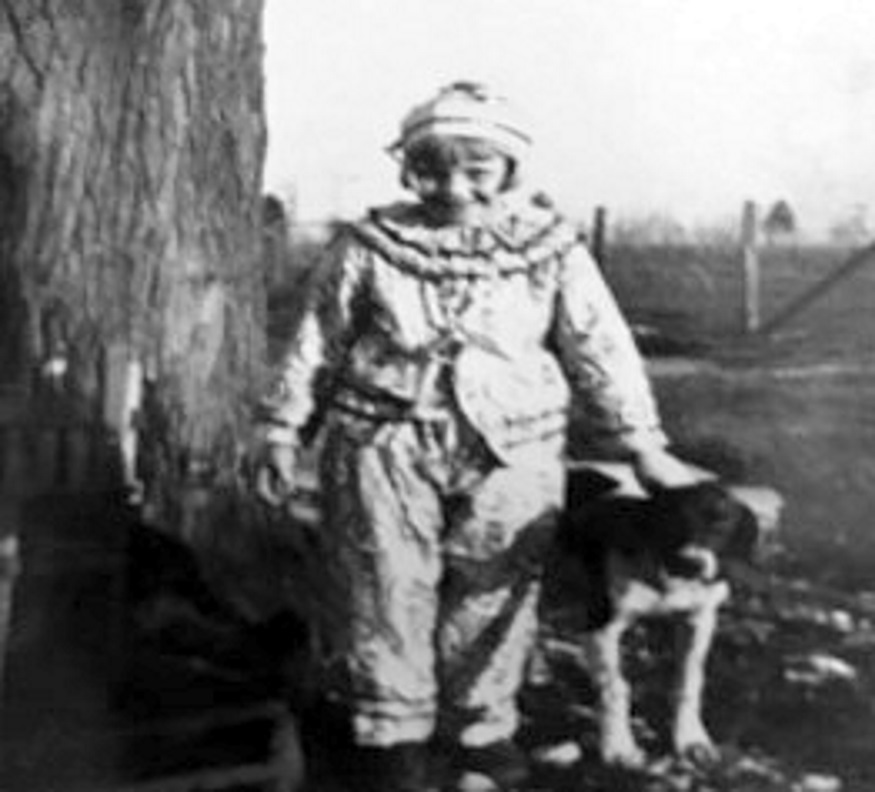 The photograph here shows his daughter Evelyn in her Mardi Gras costume. She would tell about going to Mardi Gras in New Orleans, leaving Bush early in the morning, going to Slidell and then to New Orleans, seeing the parades, then coming back through Slidell to Bush, all to return home in time to milk the cows.
She also recalled the story of when a new highway came through Bush, and since her father wanted the house to face the highway, he got together some of his friends, jacked up the house, put some logs under it and rotated it 90 degrees. Since there wasn't any plumbing or electricity, it was a pretty easy thing to do.
 As she grew up in Bush, Evelyn studied by kerosene lantern, learned to play piano, went to high school in Covington, and joined the marching band.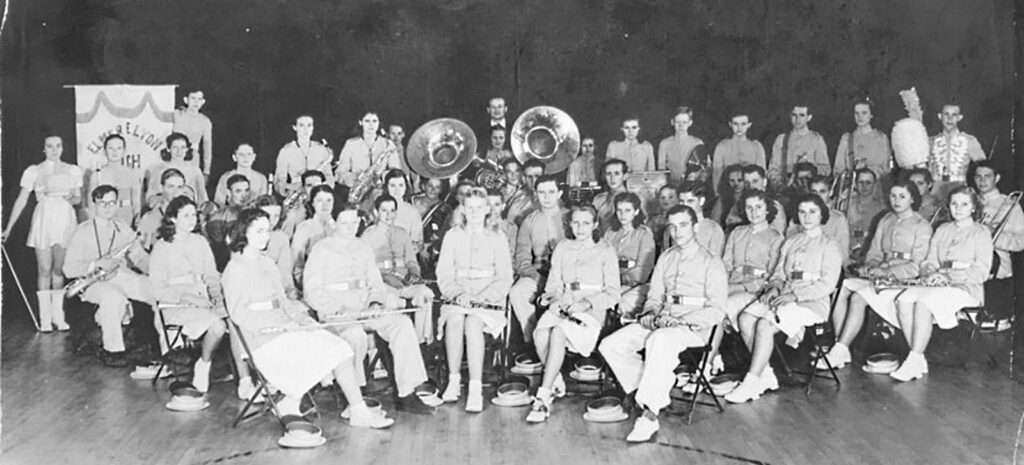 The Lyon High School Marching Band in 1940
Evelyn Simpson played trumpet, and she was so good at it the instructor Phillip Pfeffer would often leave her in charge of the group when he had to leave the room. She even helped conduct the band.  Pfeffer, a future Covington attorney, was the husband of Rosemary Pfeffer (long-time teacher of English and Latin at Covington High) and father of Elizabeth Pfeffer Williams and Susan Pfeffer Latham.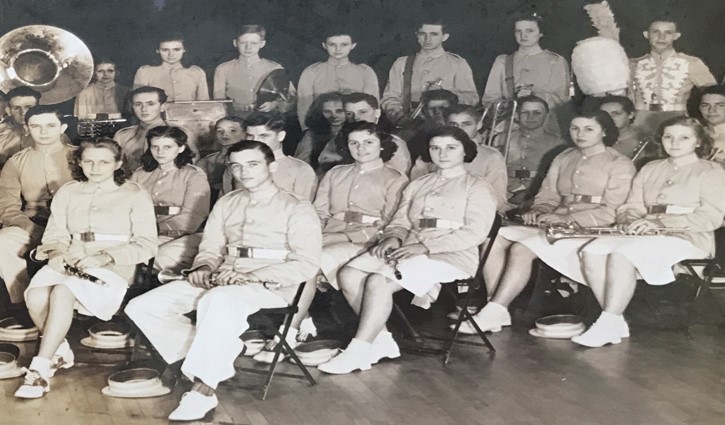 Evelyn Simpson Talley is far right, seated on the end with trumpet. On the far left front row is Clare Cooper Drinkard (elder Mayor Cooper's sister, current Mayor Cooper's aunt) and to her left is future husband Everett Drinkard. In center left, in front of the cymbals, is junior high student Ralph Menetre.
Menetre would walk from the junior high down Jefferson Avenue, past the St. Peter's Catholic Church under construction to the high school to take part in rehearsals. After high school he went to LSU, and became a running back for the LSU football team.
Evelyn's teachers all knew that she was a smart student and encouraged her to go to college. She graduated in 1940, but instead of going to college, she married Theodore Broughton "Red" Talley. Here's a photo of the young couple.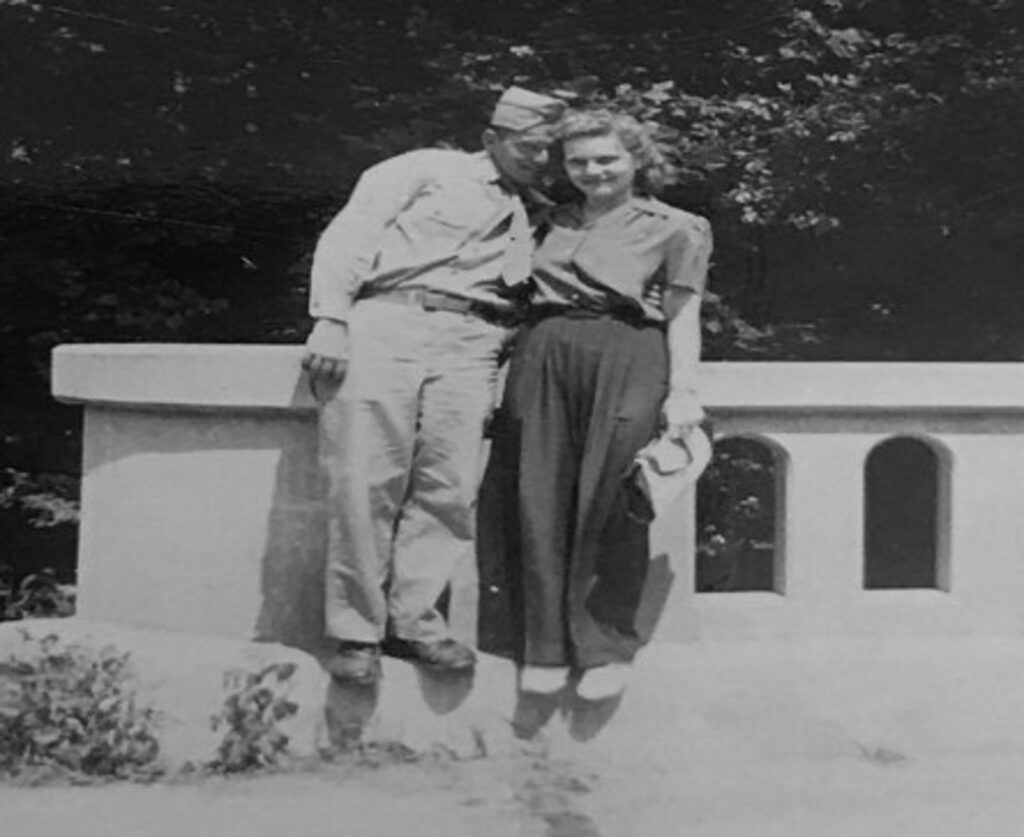 Shortly after they married, Red joined the army and went through basic training in Durham, NC. While he was away, Evelyn earned $10 a week as secretary and lived in a rooming house for $10 a week. Times were difficult, but as she recalled, she had a roof overhead, food, indoor plumbing and electricity. "Life was good," she said, recalling the hardships of her childhood home.
Red Talley was soon deployed to Europe, and Evelyn got the news that she was pregnant.
Red Talley became a member of Patton's 4th Armored Division, and was a part of Operation Bodyguard. He went on to France where he took a number of pictures.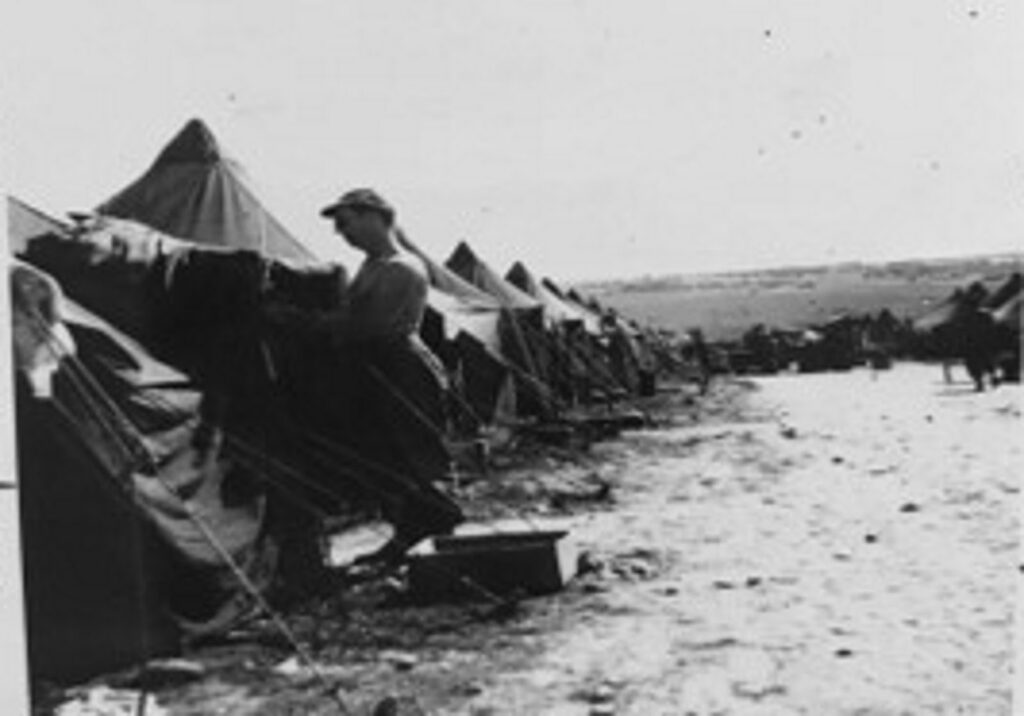 Thirty-three months in Europe's mud and snow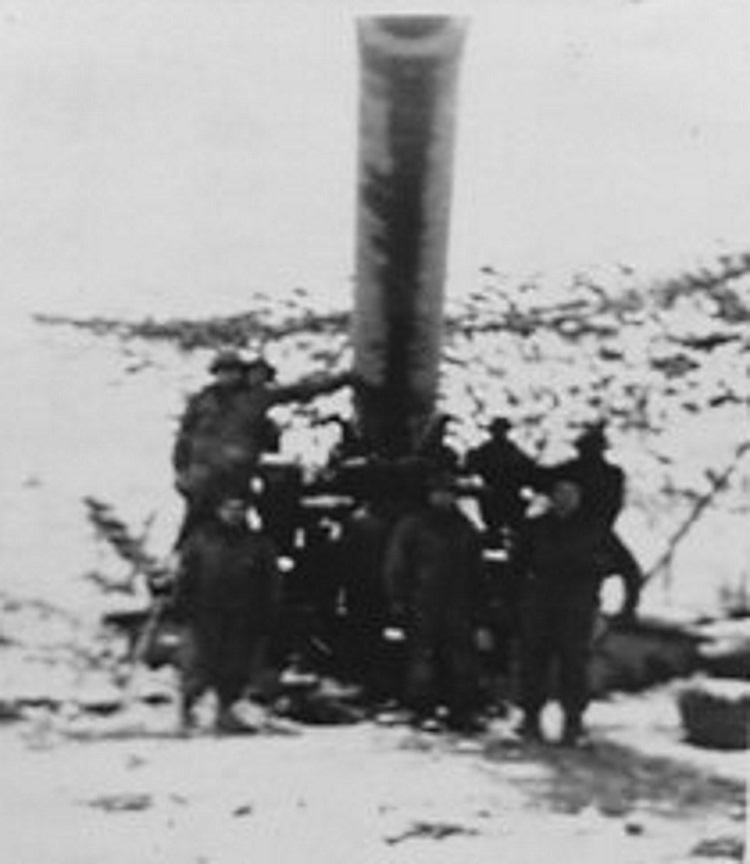 He served on a howitzer team.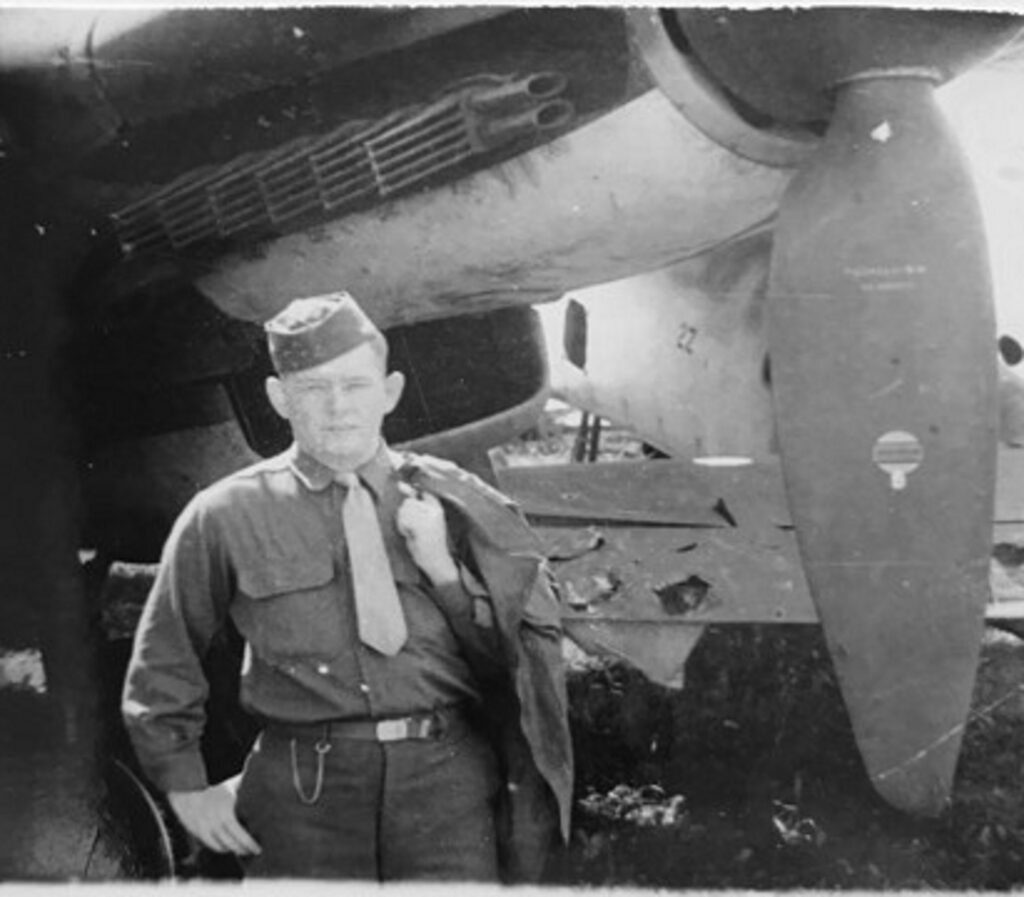 The photograph above shows him on his way home after the war.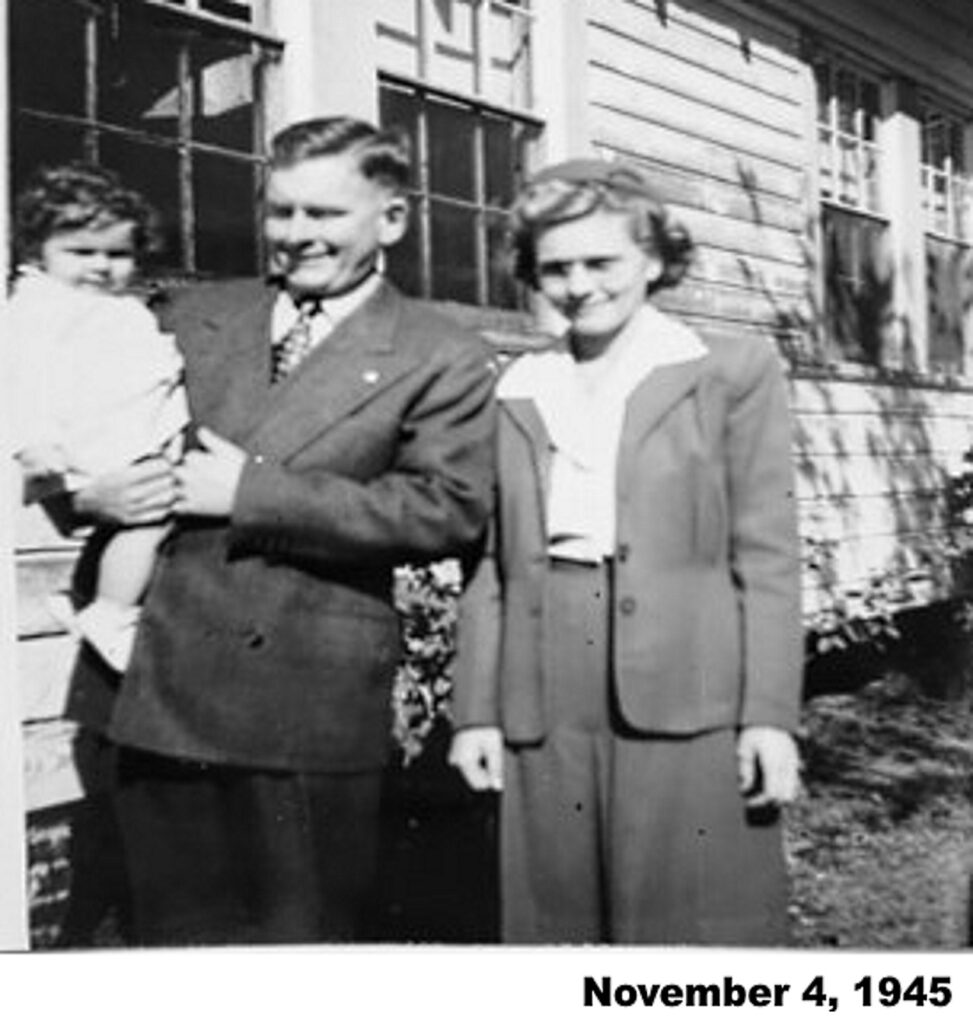 Here is Red and Evelyn Talley on November 4, 1945, with him seeing his daughter Carolyn Talley for the first time.
Red Talley then went to work for the Great Southern Paper Mill in Bogalusa.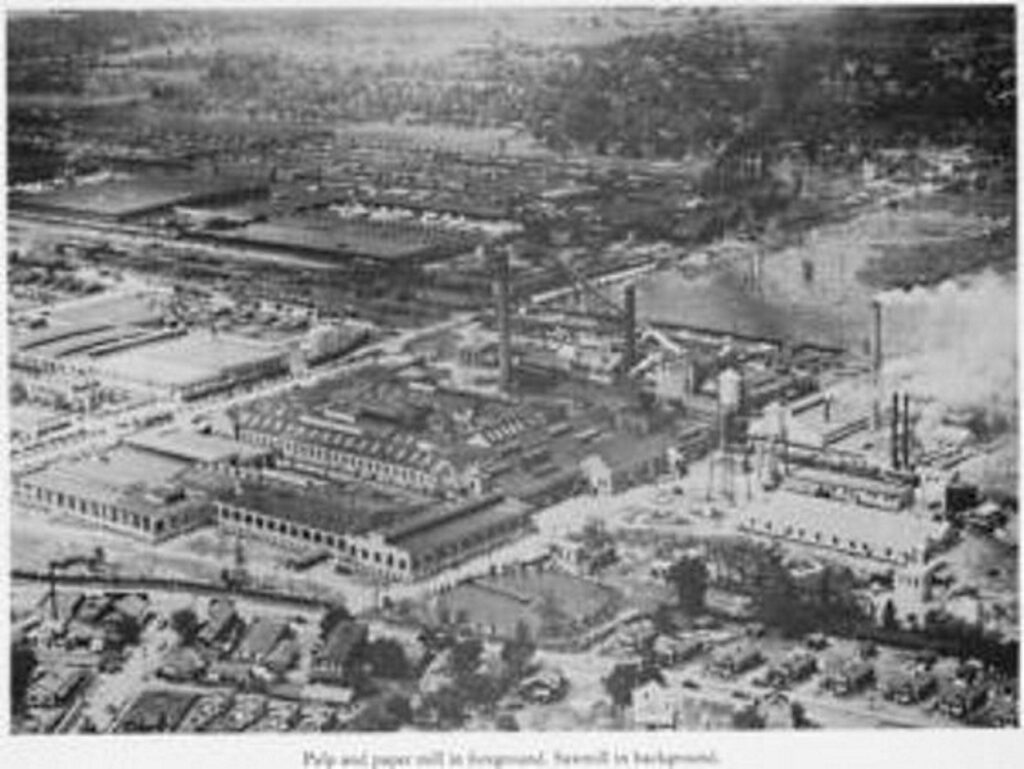 He hated working there. Evelyn stayed on the farm in Bush. She hated farming. But then Red bought a truck and modified it to deliver seeds to farmers to plant in their fields. He also delivered chicken feed. The name of the business was Talley's Feed in Bush, which operated between 1949 and 1951.
In 1951 Talley's Feed moved into an old building at the corner of Gibson and Vermont Sts. in Covington. It was there for three years. Today that location is occupied by a parking lot west of Marsolan's Feed and Seed which is pictured below.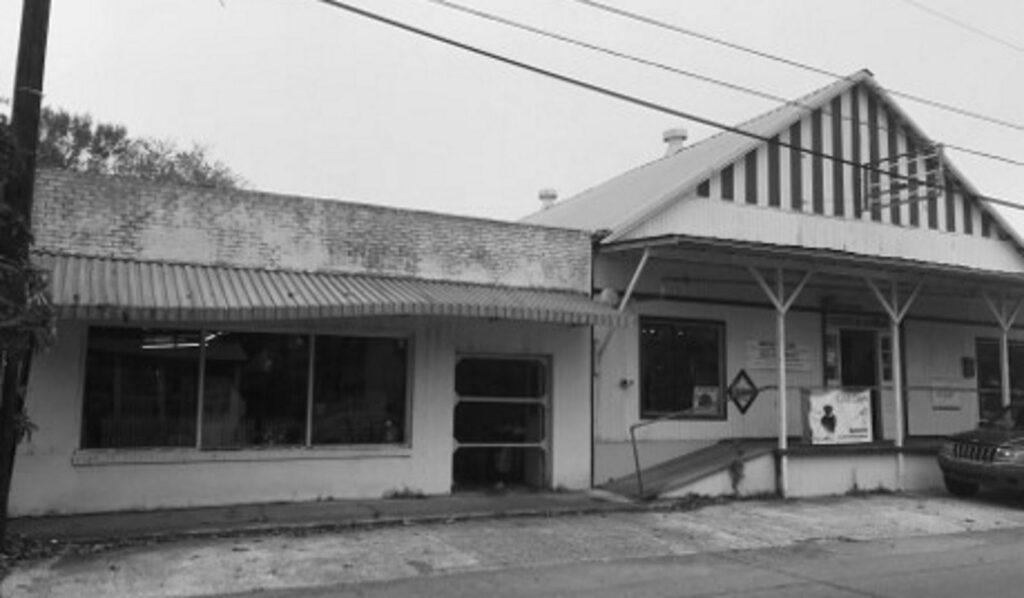 "Retail was much better than farm life," Evelyn said.
In 1953 the business moved to old Coca Cola bottling plant on North Columbia Street.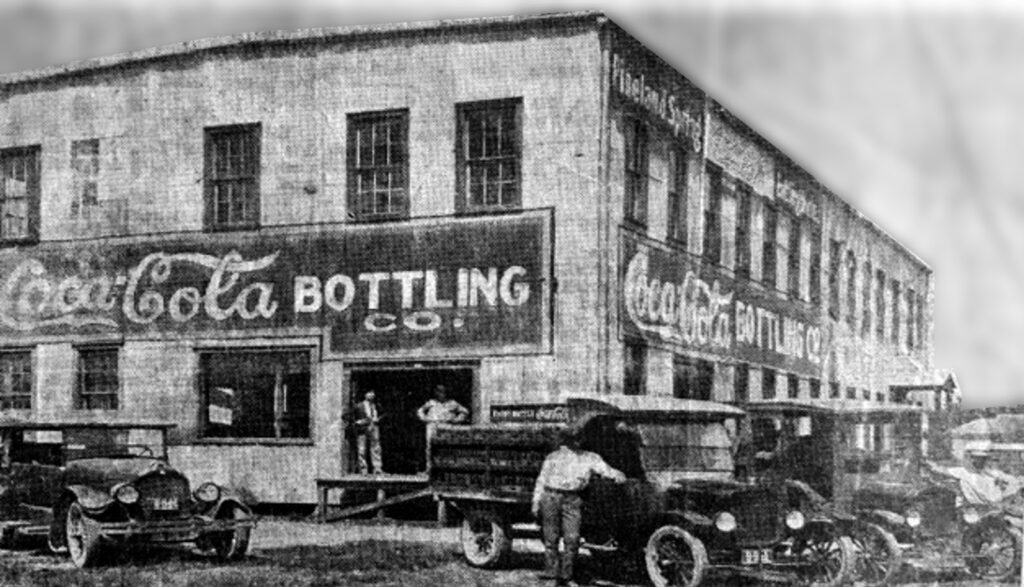 The caption to the above photograph included the following: The old Coca Cola Bottling Co. building is still standing, but has been converted into Talley's Feed & Seed Co. on North Columbia Street. The two old trucks shown are Model T Fords. Standing in the door, left to right, are Bennie Aouielle and his father J. M. Aouielle. Standing by the trucks are Willie Bickham and Sonny Brown. The elder Aouielle owned the building and the son managed the plant.

The grand opening picture below shows the newly-repainted Talley's Feed and Seed building, complete with loading dock and people attending the opening ceremonies.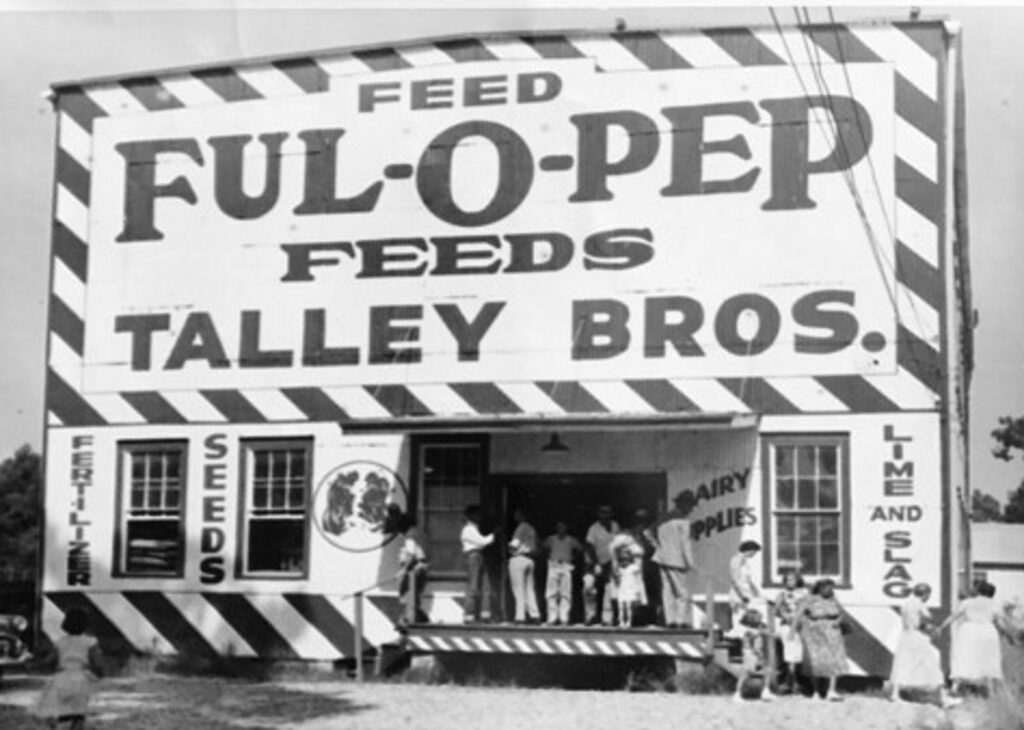 In the 1954 photo above, the tall man in front of "Dairy Supplies" lettering was Red's father, Theodore Talley of Bush. The two ladies to the far right, making their way to the side of the building are probably Red's mother Rosa Corkern Talley (Theodore' wife) being led by her daughter Lydia Talley Mitchell.

Shown below in this interior grand opening picture are the Grand Ole Opry singers providing the music for the festive occasion. Notice the milk cans lining the wall on the right, a sign of the active dairy industry in the area.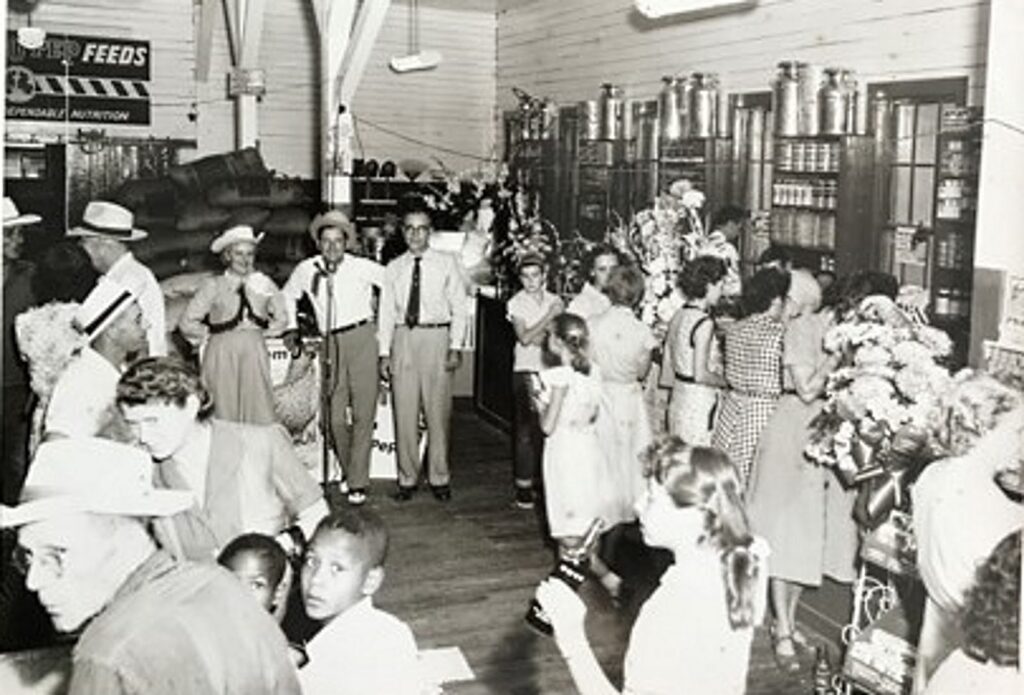 St. Tammany Parish was still quite rural in nature at this time with many poultry operations, cattle ranches and dairy farms. In fact, the area now occupied by River Forest Subdivision in Covington was at one time the location of two dairies.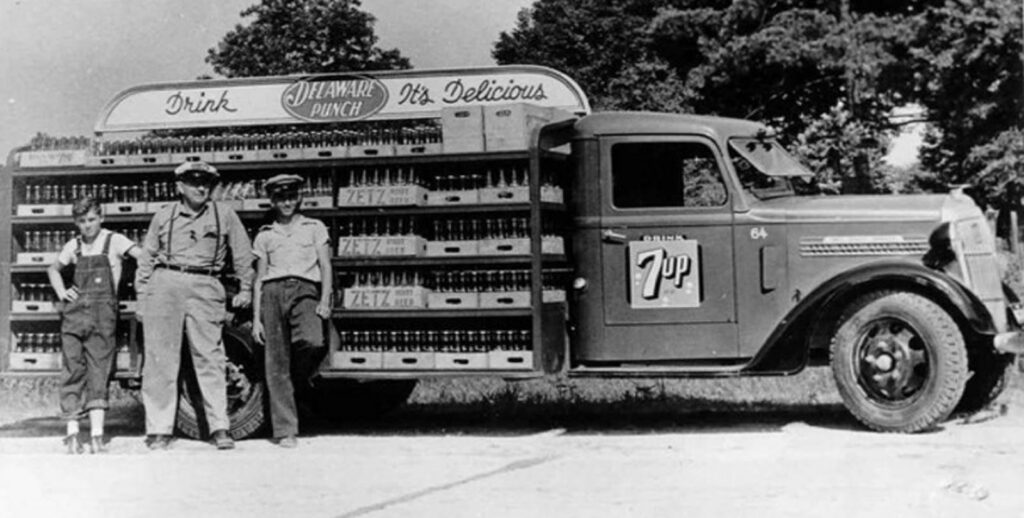 Claire Cooper Drinkard wound up working at Talley's Feed and Seed, and her husband Everett Drinkard is shown above with his Zetz-7up truck, with Troy Jackson and his son Troy Jr., at left, who grew up to become a principal of a Covington area elementary school.
In 1955 Talley's started mixing their own feed after constructing a two ton feed mixer and elevated storage tank.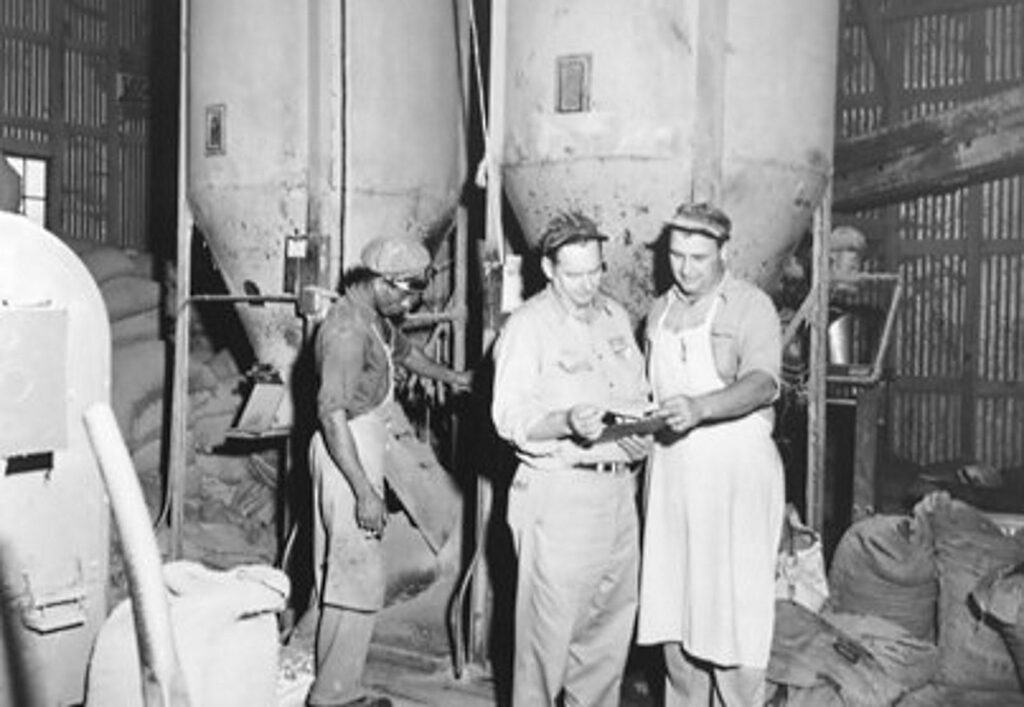 The man to the far left is Oscar Franklin, long-time Talley's employee.  To the right is Sydney Thompson of Bush, Red's nephew. 
In 1955 a feed mill was added to the business, with the equipment to include two 2 ton feed mixers, a hammer mill for grinding and a molasses mixer.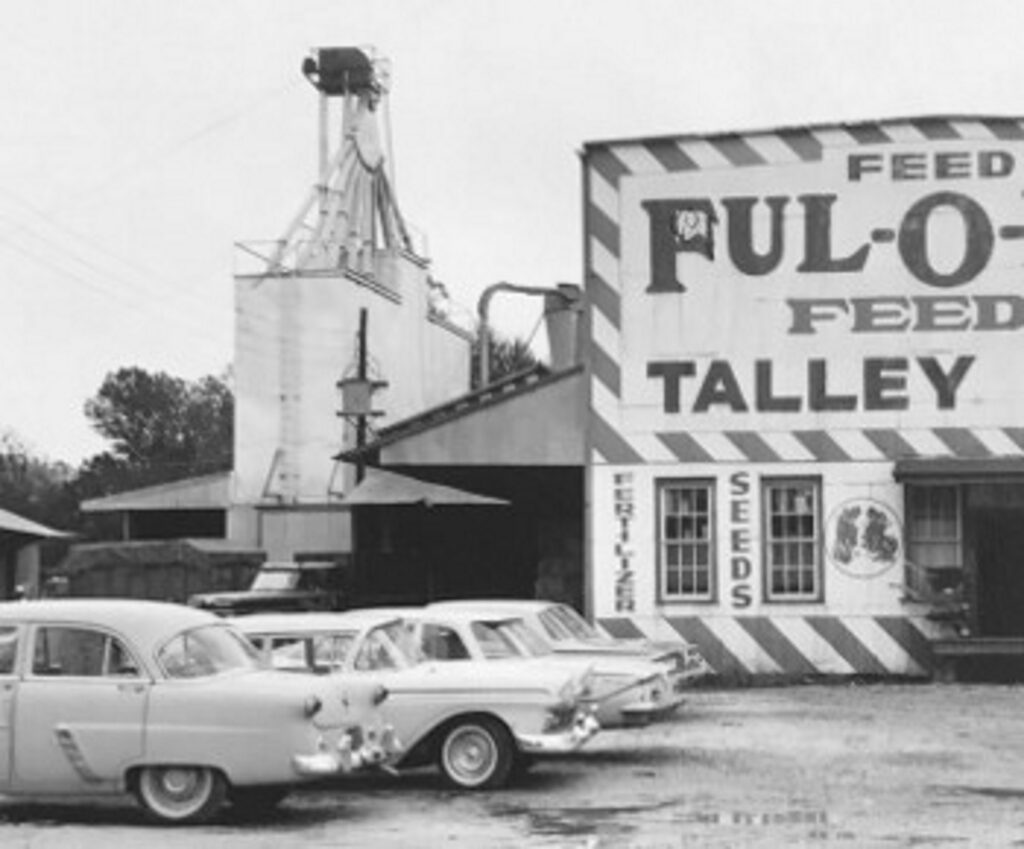 The elevator storage tanks. 
In 1959 the Talley mill was expanded to include a 250 ton capacity grain storage elevator and a 100,000 pound capacity truck scale.
In the photograph below, from left to right, is Branker Talley (Red's brother from Bush who was then a partner in Talley Bros.),  Red Talley, his son Ted Talley and Evelyn Talley.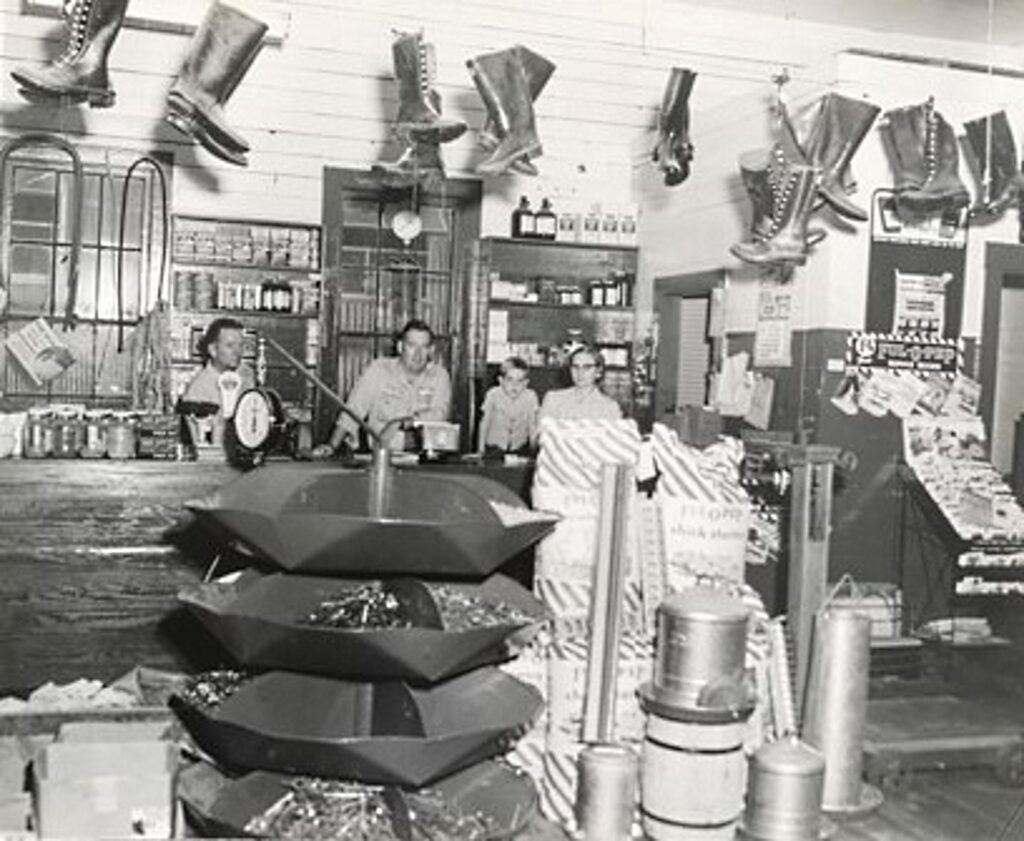 The large nail and fence staple lazy-Susan bin in the foreground was one of the first non-feed purchases made by the feed store.  It was at the old store location on Gibson Street and stayed on Columbia Street until the feed store was sold and became Spencer's.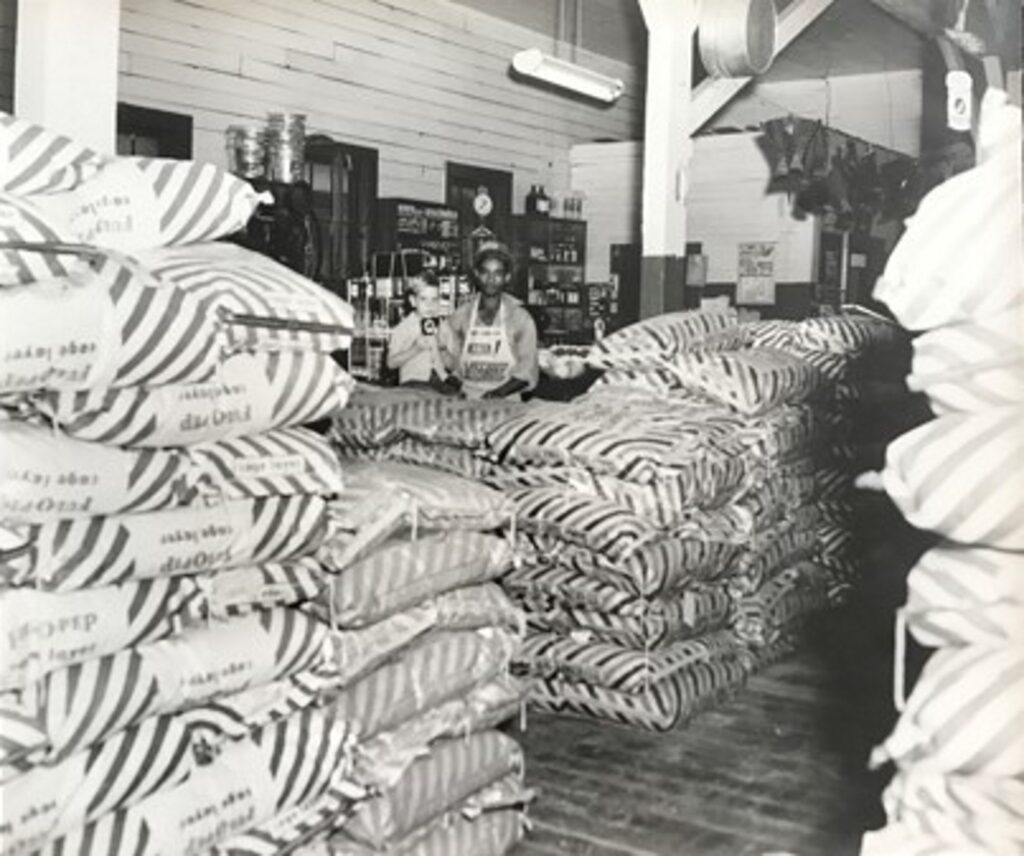 The picture above shows Oscar Franklin and the young Ted Talley, at left. Franklin was an important part of their operation for many years.
The picture below shows the Talley Brothers truck parked on the scales in front of the store, heading out to fill chicken feed tanks at poultry farms.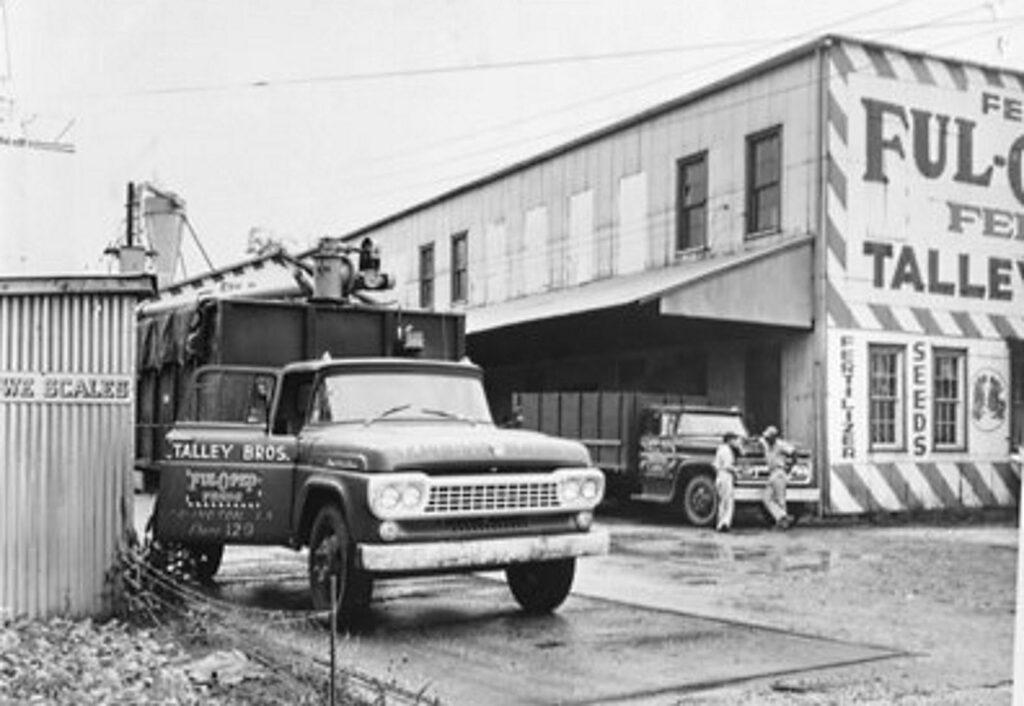 The truck could pump feed from the storage area on the truck directly to a hatch in the chicken house feed storage area.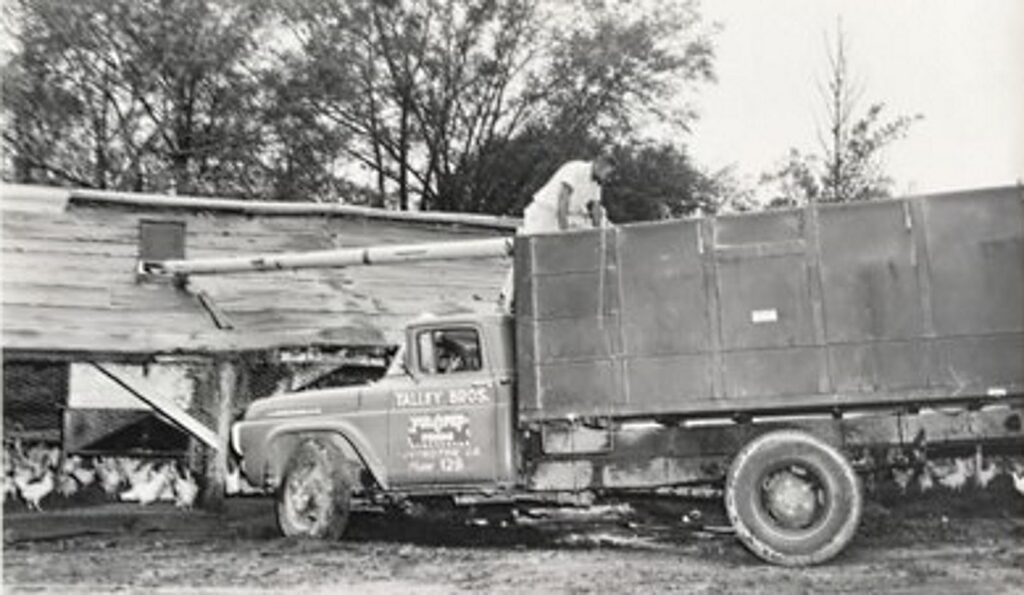 In 1960, Talley's became the authorized dealer for Ralston-Purina livestock and specialty feeds and animal health care products, switching from Ful-o-Pep Feeds.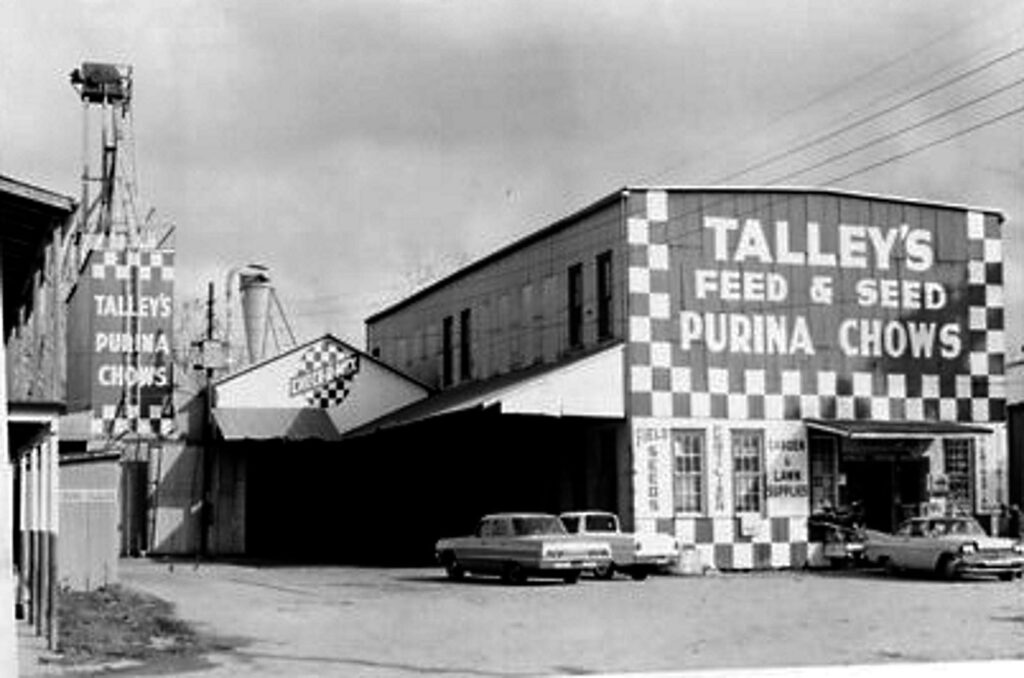 In 1965 Mr. and Mrs. T. B. Talley were recognized by the Ralston-Purina Chairman's Honor Council. It was one of four times that Talley's was recognized as an outstanding Purina dealer.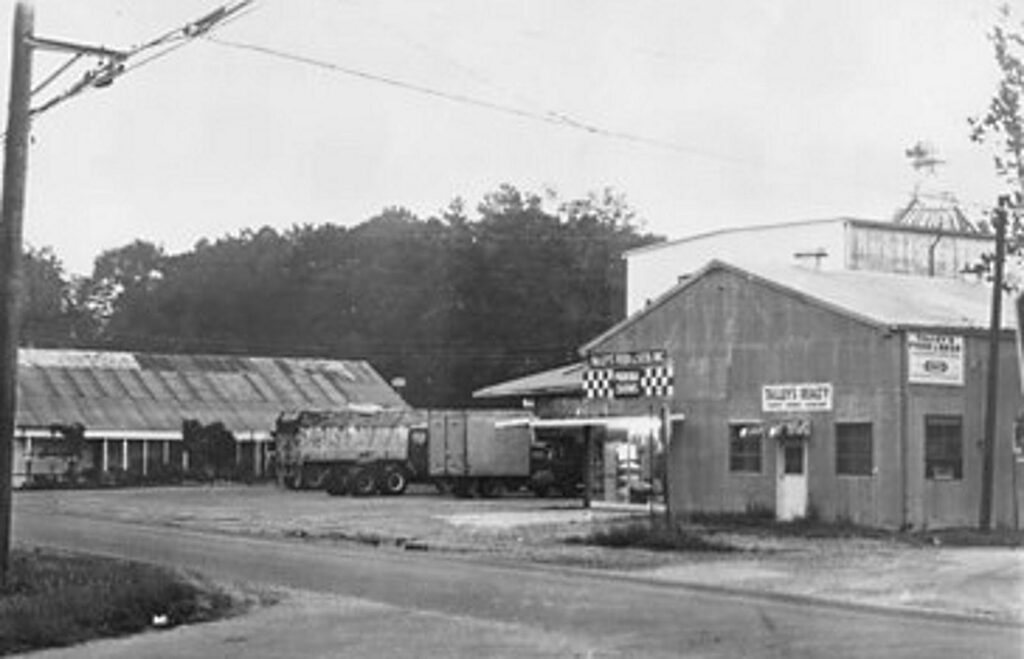 Not long after, another building addition made room for a clothing section and western wear store.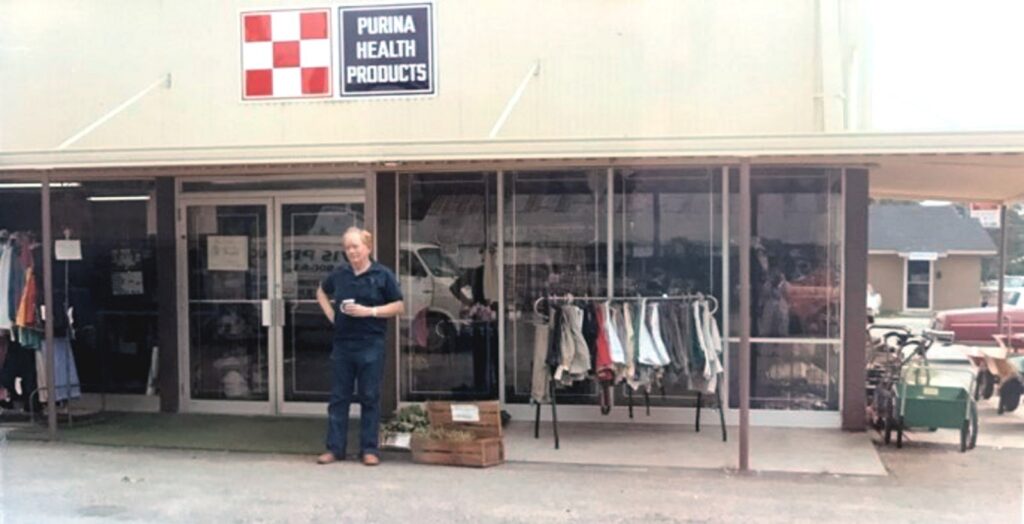 When the courts ordered the de-segregation of area schools, Red Talley, as a member of the school board, worked for the peaceful integration of the two separate school systems. As a result, those who vehemently disagreed with his efforts repeatedly smashed the windows of his store, roofing tacks were spread over the gravel of his parking lot, and his phone would ring all hours of the night, with no one on the line when it was answered.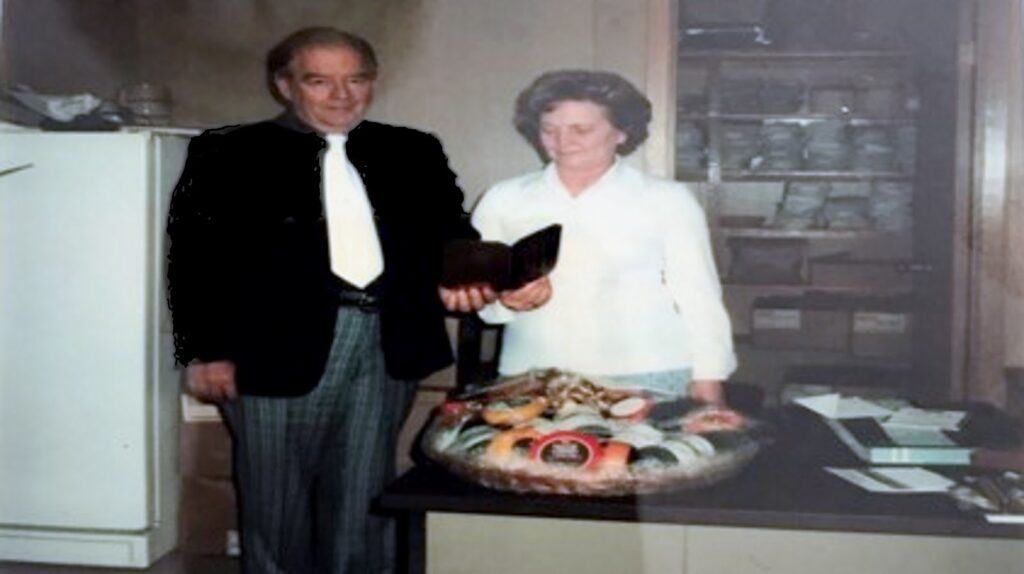 The photo above was taken in December of 1974, the year that the Farnam Horse Care Center was added to the many expanding areas of the Talley retail business department.
The picture below shows the Talleys celebrating the store's 25th anniversary.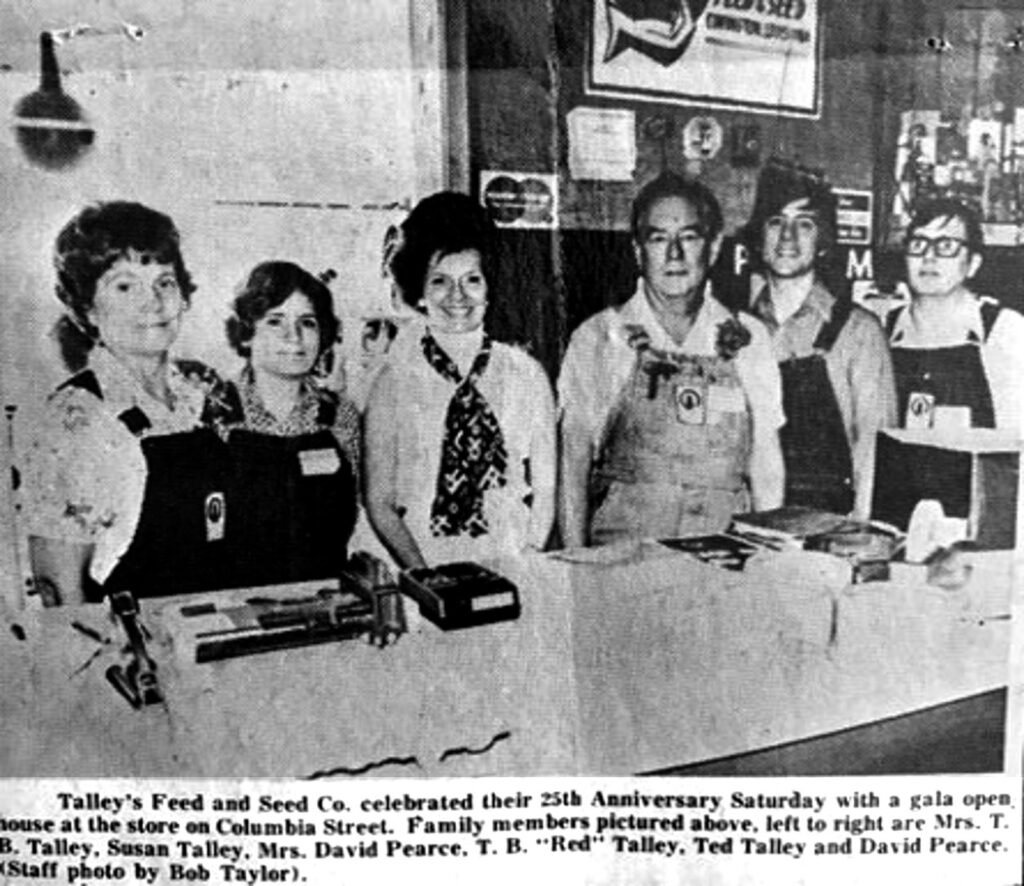 Theodore "Red" Talley died on February 1, 2012.
Mark Johnson ended his presentation by reading a newspaper column written by Ted Talley Jr. detailing his final Father's Day visit with his dad Red Talley.
"They were our parents, the greatest generation, they were good people," Johnson concluded.
Following the Covington Heritage Foundation presentation, Carolyn Talley Pearce thanked Johnson for doing the research and telling the story of her parents. She went on to tell the audience: "This has been really special for our family. My mother and dad, they were not in the old Covington family group, but we were part of St. Tammany Parish for eight generations. That's pretty incredible.  We enjoyed being a really big part of this community, and I think our parents taught us to contribute and to be a part of everything that was going on around us. I'm so glad Ted and Susan are here tonight. The presentation surprised us. He (Mark Johnson) and mother had some great visits, and mother was so happy when she got to go ring the bell at the Bell Tower dedication ceremony. I took her out to Covington High, and they looked at her and asked can she ring this bell? CHS was such an important part of her life. Thank you all for being here and sharing all these memories with all of us tonight."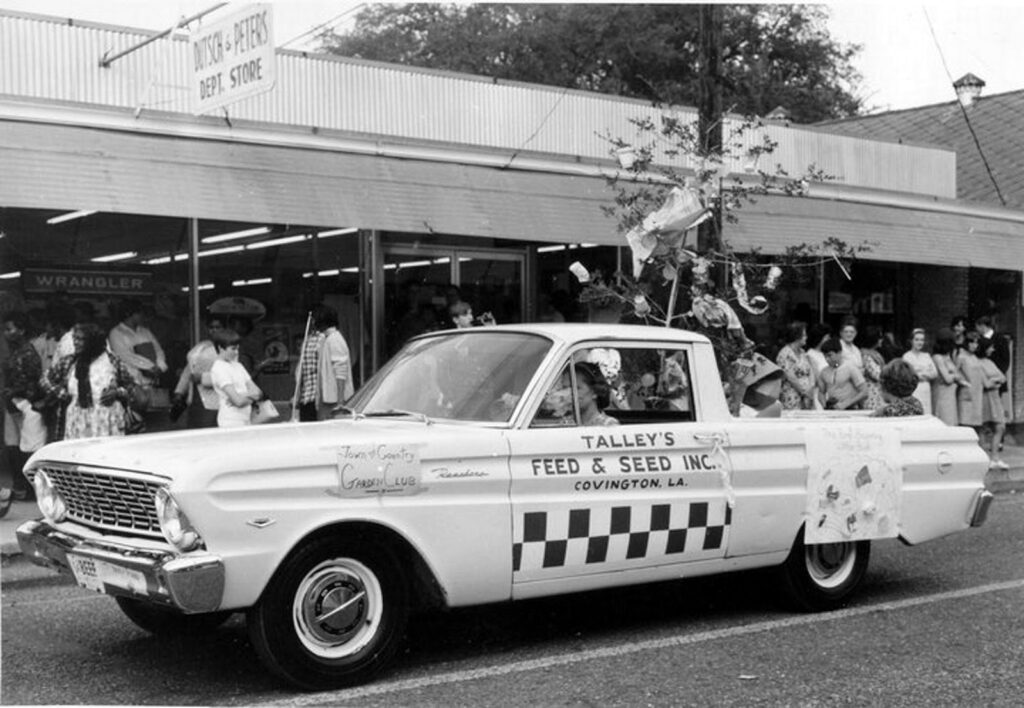 Ted Talley Jr. said, "There's been a lot of new things going on in Covington in the last couple of decades. You see art galleries and music events going on Boston and Columbia Streets and at the Trailhead. The photo showed this couple standing in front of feed sacks on a dusty floor in the old feed and seed store, but in 1955 (when the store was just three or four years old), they became part of a community effort to bring cultural arts to Covington.  The year 1955 was a significant year in the birth of the Arts in Covington.  The little theater Playmakers began that year, the St. Tammany Art Association was getting underway, and my dad helped support the Covington Symphony Society in its attempts to hold concerts for the students and adults of the area.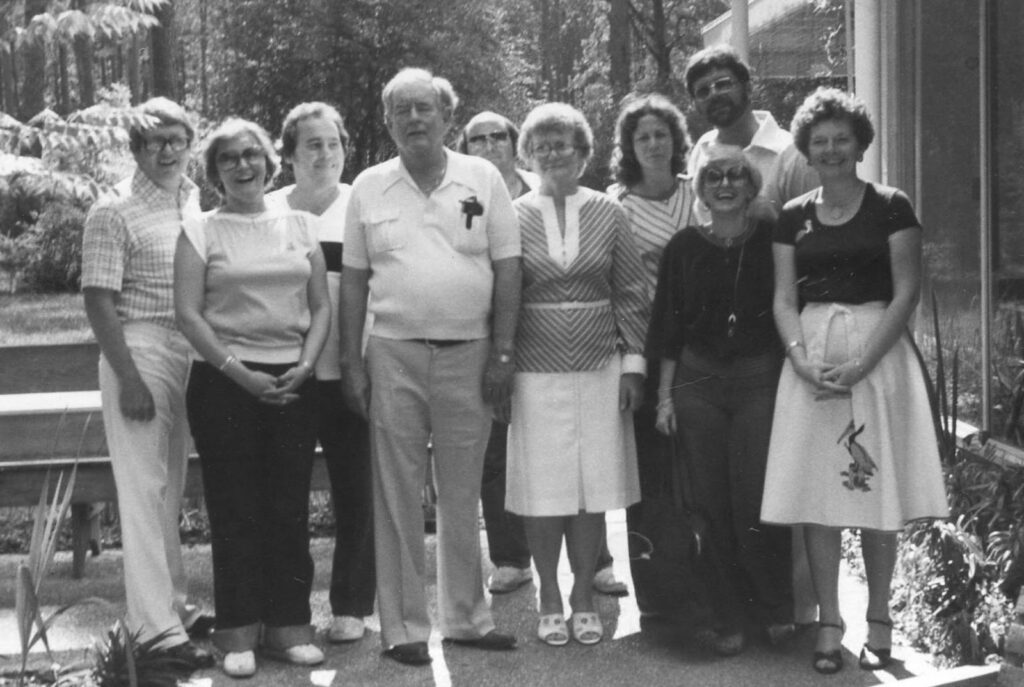 Talley's Feed and Seed was one of the first guarantors of the efforts to fund the New Orleans Philharmonic Symphony Orchestra when it came to Covington for annual concerts. He and other businesses made sure that the orchestra would have the money to make the trip in the event ticket sales were not quite enough. Mother and father were both a part of symphony arts appreciation and development."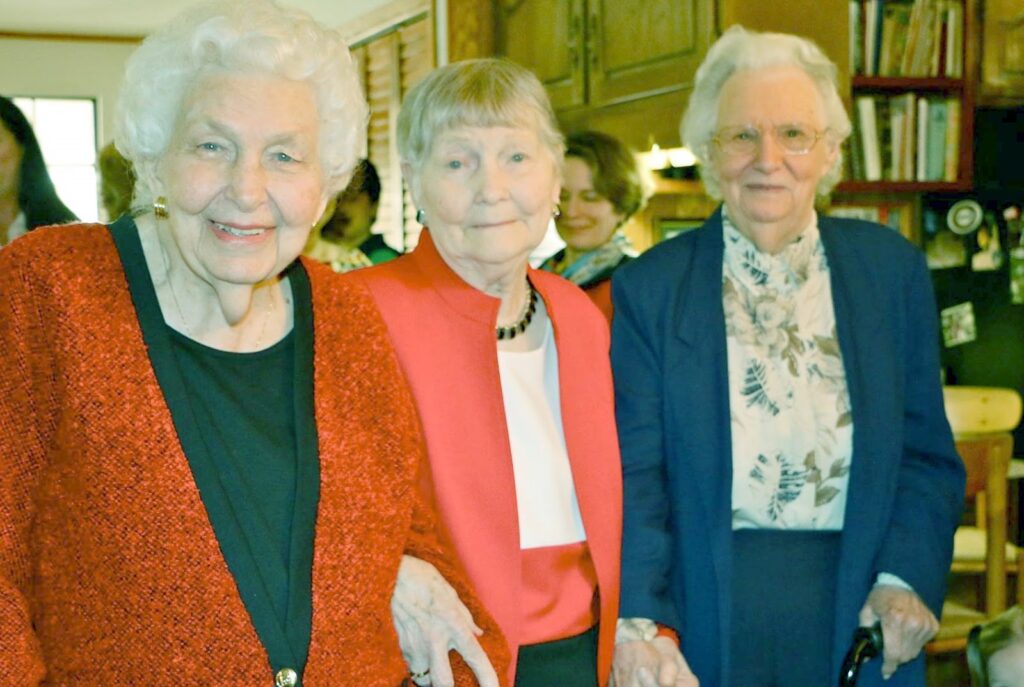 Three Lyon High classmates and pillars of Covington community. All celebrating 90 years of age in 2014. From left to right are Clare Drinkard, Evelyn Talley, and Audrey Oalmann.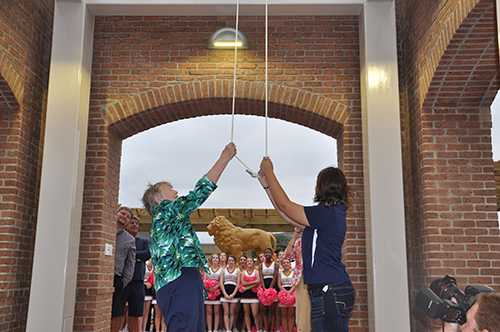 In October of 2013 Covington High School celebrated its Centennial, 100 years of serving the community. Special guest was Evelyn Talley, and she was given the opportunity to "ring the bell" that had been saved from the 1984 fire that burned down the school building on Jefferson Ave.
She passed away on July 19, 2017, at the age of 93.
See more great photos from this article here.
Read about the original presentation here: