Local History segment provided by local historical writer Ron Barthet. This article has been broken up into 4 parts for ease of reading.
View his blog Tammany Family here.
Historical Markers
According to the Historical Marker Project website, there are 45 historical markers in St. Tammany Parish. They share a variety of historical highlights across the area, giving us an idea of the people and places that contributed to early St. Tammany. Here is their list.
Historical Markers of St. Tammany – Part 1
Historical Markers of St. Tammany – Part 2
Local History: Historical Markers of St. Tammany –
Part 3:
The Southern Hotel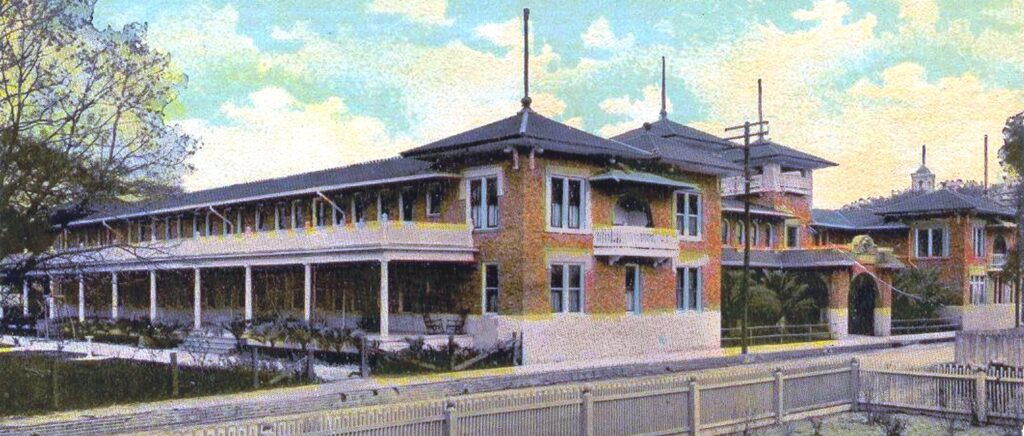 At the turn of the 20th century, Covington was famous for its healthful, healing environment. Excursionists came by schooner and by rail to breathe the pine-scented air and drink the pure waters. To accommodate the many guests, Covington, like other towns on the north shore, offered a selection of hotels and home-like resorts. The Southern Hotel opened its doors on June 1, 1907. The hotel, designed in the shape of the letter "H," was constructed at a cost of $100,000. The chef and his assistants were formally in the employ of first class hotels and restaurants in New Orleans. There were 200 feet of galleries overlooking New Hampshire Street, a formal garden and a tennis court. Tame and exotic animals resided in cages in the central lobby surrounding an artesian fountain. The building houses government offices from the 1980's until a few years before its restoration began in 2012.
John Slidell
John Slidell was an American politician and diplomat. Born in New York City in 1793, he later moved to New Orleans, where he practiced law from 1819 to 1835. He married Mathilde Deslonde, a member of a respected family. A member of the state House of Representatives, John Slidell unsuccessfully ran for Congress in 1828, but held the office of U.S. District Attorney from 1829-1833.
He was then elected as States Rights Democrat to the 28th and 29th U.S> Congress and served from March 4, 1843 until his resignation on November 10, 1845. In 1850, Slidell was elected to the U.S. Senate. He was reelected in 1853 and became a major influence in the administration of President James Buchanan.
At one point, he was known as "the most powerful man in the United States"Upon Louisiana's secession from the Union, Confederate President Jefferson Davis appointed Slidell as a special envoy to France with a mission of seeking diplomatic assistance and procuring war resources. While on his mission, Slidell was taken from the RMS Trent, which was seized by the U.S. After his release, he arrived in Paris in January 1862.
Through the banking house of Baron Emile Erlanger, Slidell arranged a major bond issue for the Confederacy. He remained in Europe after the Civil WAr. He died on July 29, 1871, in Cowes, Isle of Wight, England.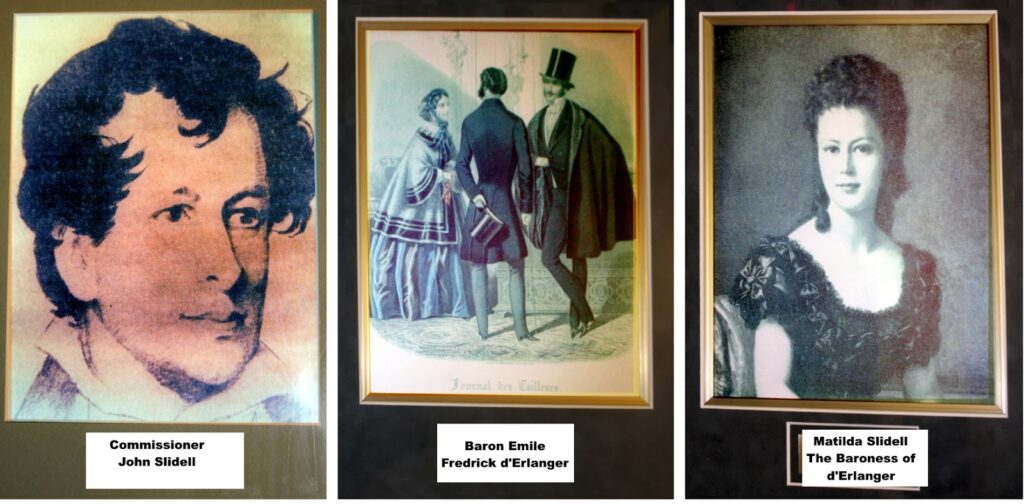 In the course of Slidell's diplomatic and banking transactions, his daughter Mathilde met and married Baron Emile Erlanger's son, Frederick. Frederick Erlanger succeeded his father as Baron and participated in building the New Orleans and Northeastern Railroad. He named the first settlement in honor of his father-in-law, John Slidell.
Slidell: An Overview
Slidell, Louisiana was founded in 1883 during construction of a major new railroad from New Orleans to Meridian, Mississippi. The New Orleans and Northeastern Railroad established a building camp at first high ground north of Lake Pontchartrain which eventually grew into the city. Slidell was chartered as a town in 1888 by the Louisiana Legislature.
The town was named after John Slidell, a prominent state, U.S. and Confederate political figure. Sometime prior to Slidell's formal incorporation in 1888, its first streets were laid out in a grid pattern. The north-south streets were Bayou (now Front), First, Second, Third and Fourth. The east-west streets were Fremaux, Erlanger, Bouscaren and Cousin.Erlanger, slightly wider than the others and designated as an avenue, was named after Baron Frederick Erlanger, John Slidell's son-in-law and head of the banking syndicate which financed the railway.
Col. Leon J. Fremaux, a prominent Louisiana engineer and planter, drew the original plans for Slidell and named Fremaux Avenue for himself. Bouscaren Street was named for G. Bouscaren, the chief engineering officer of the railroad. Cousin Street took its name from the locally prominent Cousin family.
In the thirty or so years after its founding, Slidell developed a creosote plant, one of the country's largest brick manufacturing facilities, a large lumber mill, and a shipyard. The Slidell Shipyard contributed significantly to the nation's effort in both World Wars. Slidell residents worked in a local ship, tank and airplane construction during World War II.
In the 1960's Slidell began to assume its modern profile as one of the major sites for NASA's lunar landing program. In the 1980's and 1990's Slidell became a regional retail center.Slidell is located at the southeastern tip of St. Tammany Parish in Louisiana's famous "Ozone Belt." It is about three miles from the north shore of Lake Pontchartrain and is surrounded by rivers and bayous.
The largest municipality in the Parish, Slidell has grown from a population of 364 in 1890 to 24,142 in 1990. Slidell's 1999 population is estimated to be 32,000. Today, Slidell continues to deal with urban growth while preserving a sense of its history.
Flags Over Slidell. The United States of America 1810-1860:1865-PresentII. The State of Louisiana 1812 – PresentIII. The City of Slidell 1888-Present1. The Kingdom of France 1682-17632. The United Kingdom (Great Britain) 1763-17833. The Kingdom of Spain 1783-18104. The Republic of West Florida 18105. The The Republic of Louisiana 18616. The Confederate States of America 1861-1865.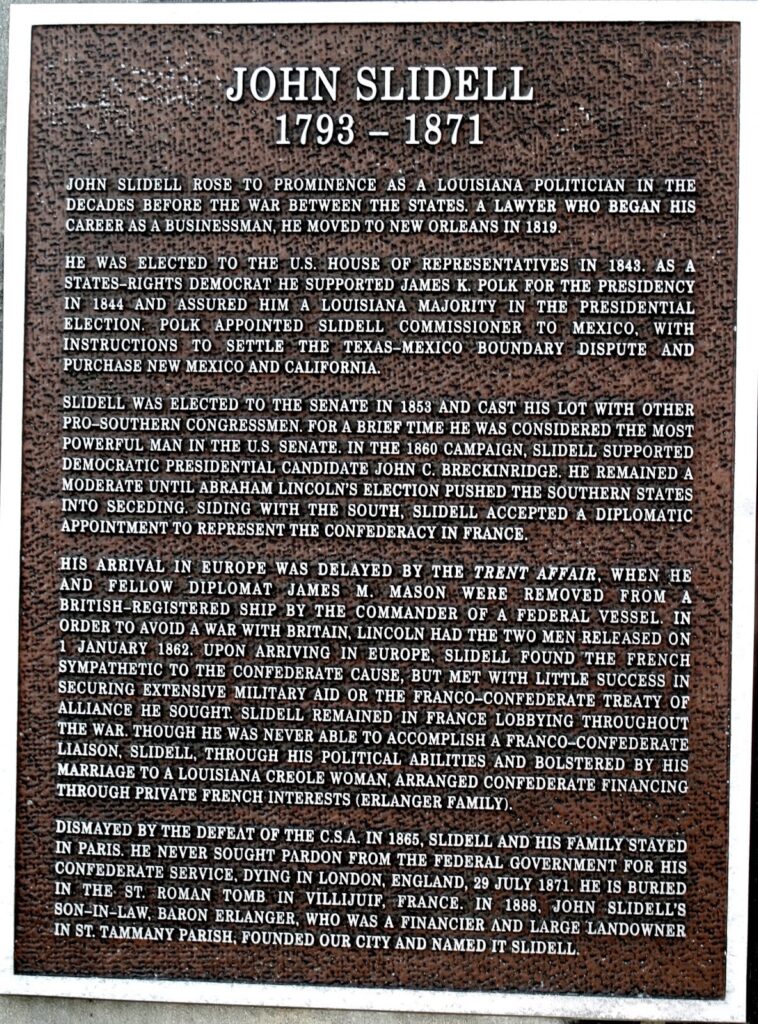 1st United Methodist Church
Oldest Methodist Assembly in Slidell. Founded in a brush arbor on Sept. 26, 1887, as Methodist Episcopal Church South. Joined the Louisiana Conference in 1894. Present site dedicated July 16, 1961.
John Slidell
In 1883, Baron Erlanger named our city in honor of his father-in-law, John Slidell. Slidell had been a confidant of two American Presidents and a powerful member of the U.S. Senate from which he resigned in 1861, when Louisiana seceded from the Union. Confederate President Jefferson Davis appointed him commissioner to France. Slidell nearly succeeded in bringing France and England to the assistance of the Confederate States of America. Had he been successful, the war between the States would have taken a different course. After the collapse of the C.S.A., Slidell never returned to Louisiana. He and his family are buried in Villijuif, France.
City of Slidell Centennial
Named for diplomat and U.S. Senator John Slidell of Louisiana by son-in-law Baron Frederic Erlanger, one of the financiers of New Orleans and Northeastern Railroad. Incorporated Nov. 13, 1888.
Slidell Town Hall and Jail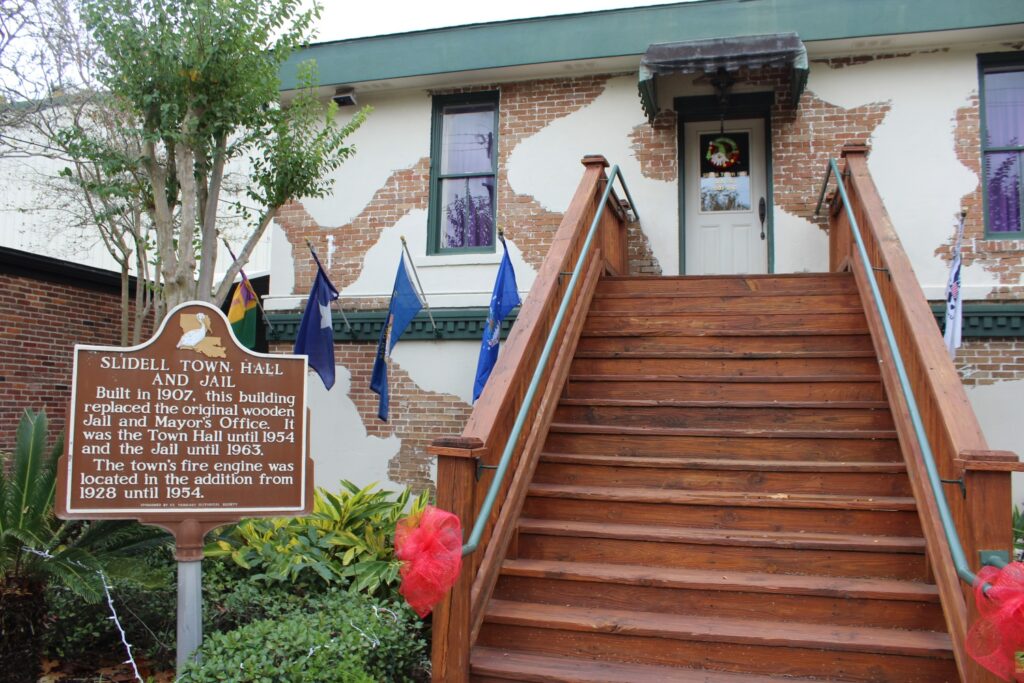 Built in 1907, this building replaced the original wooden Jail and Mayor's Office. It was Town Hall until 1954 and the Jail until 1963. The town's fire engine was located in the addition from 1928 until 1954.
Fontainebleau Plantation Sugar Mill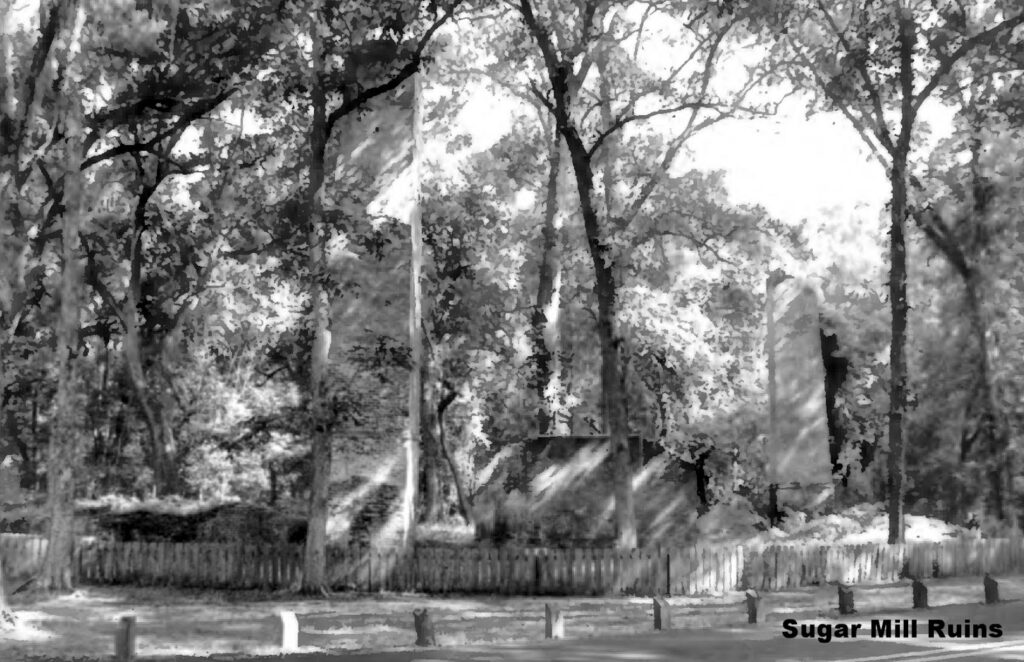 These ruins are all that remain of Fountainebleau Plantation, once the summer home and plantation of Bernard de Marigny. Born in 1785 to a family closely tied to the earliest colonial efforts in Louisiana, Marigny accumulated and lost a fortune in his lifetime. The grounds that make up Fountainebleau State Park are just a part of the vast land holdings he acquired on the north shore of Lake Pontchartrain. He operated Fountainebleau Plantation, brick kilns and a sugar mill between 1828 and 1852.
Although his major residence was in New Orleans, he chose to spend much of his time at his summer residence, cooled by the breezes of the lake and free to enjoy the simple pleasures of life. During his ownership of the plantation he participated in the early development of sugar cane and the refinement of sugar. The nearby town of Mandeville was owned and developed by Marigny as part of his extensive real estate interests. An unsuccessful candidate for governor three times, he remained active in politics until his death in 1868.
Read more great local history articles at TammanyFamily.com!