Covington History segment provided by local historical writer Ron Barthet. View Ron's blog Tammany Family here.
Back in the 1970's Covington had its own shopping mall, the Bogue Falaya Plaza. It was a medium-sized all indoor shopping center with a number of shops, among them a Beall's clothing store, a National Supermarket, a Merle Norman, Photo-Sonics, Eileen's Expressions (a gift and greeting card store), The Toggery Shop, Commercial Bank (later known as First National Bank) and travel agent service with Don Phillips, and Murphy's Restaurant (inside the Morgan and Lindsey variety store).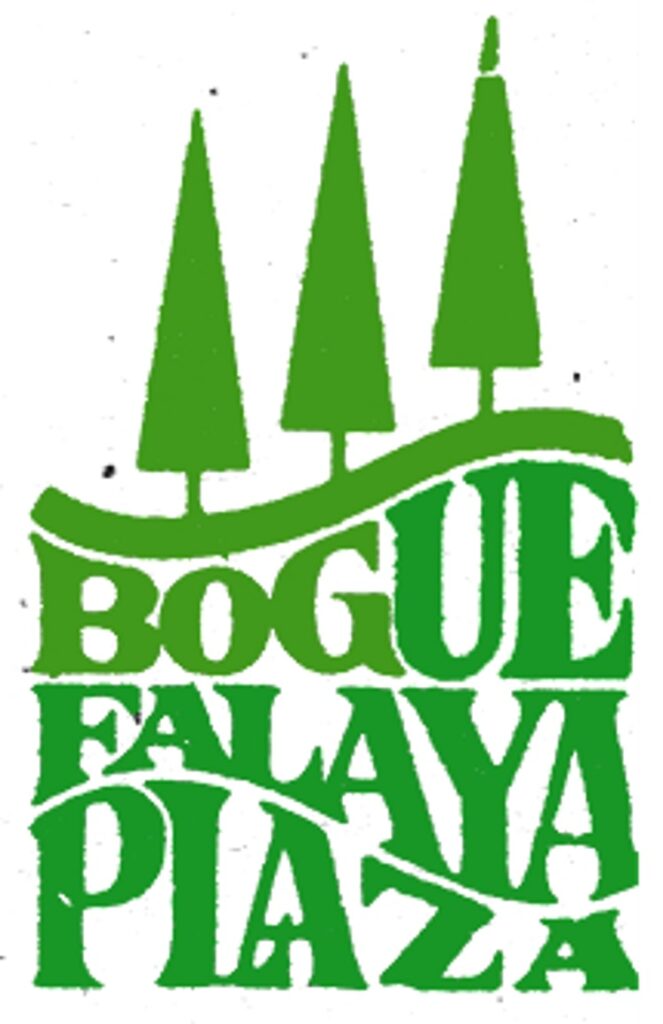 Other businesses located in the mall were Little Villa, Bruhn Jewelry, Montgomery Ward, Mall Mart, Video Showplace, Red Carpet, a Numismatics store, Tillie's Shirt Shop, Sound Trak, Covington Sportsman, Ken Nolan, Northlake Vision Center, Mall Mart, Both of You Hair, Bogue Falaya Hairdressers, Video Showplace, Fox Photo, Shoe Town, S&H Greenstamps store, and two attorneys offices. 
Some of the stores in the mall area included Sherwin Williams, Otasco's, Gibsons, Pasquale's Pizza, and Fox Photo.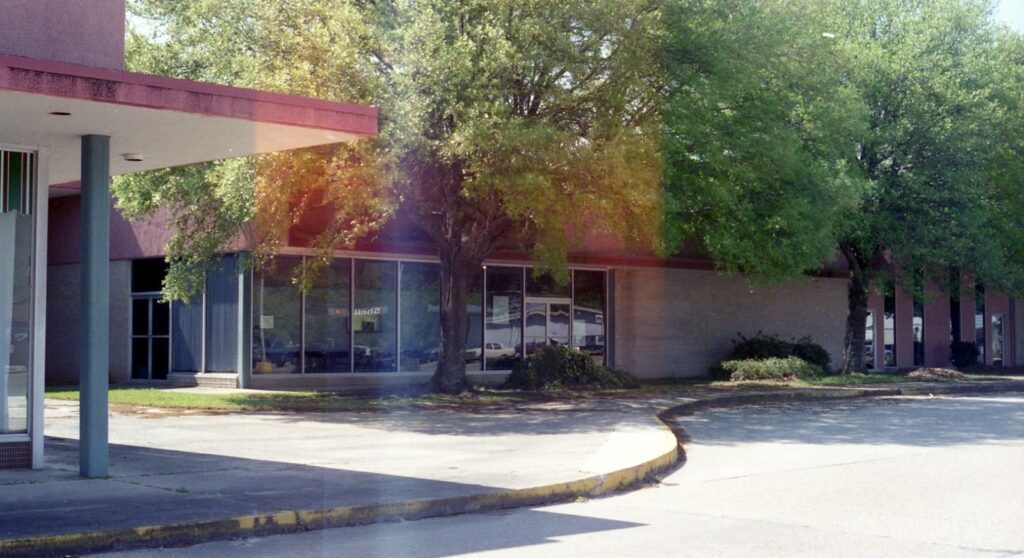 The east side entrance, Morgan & Lindsey at left.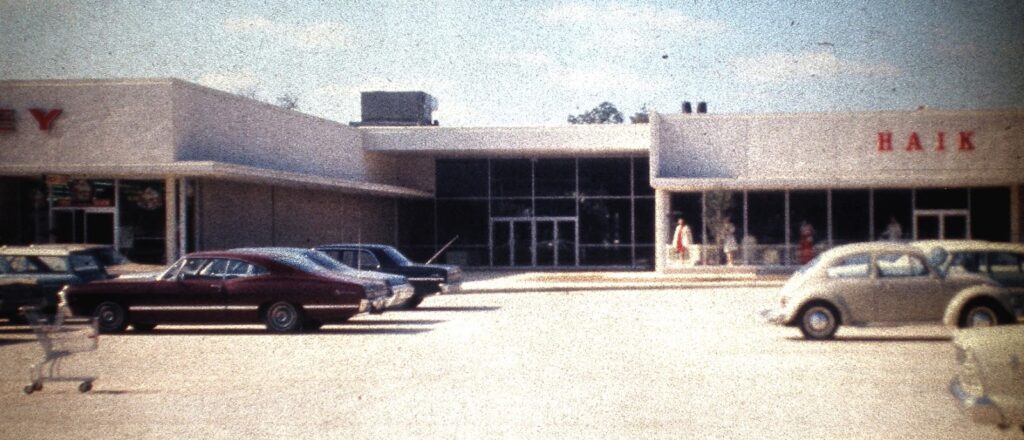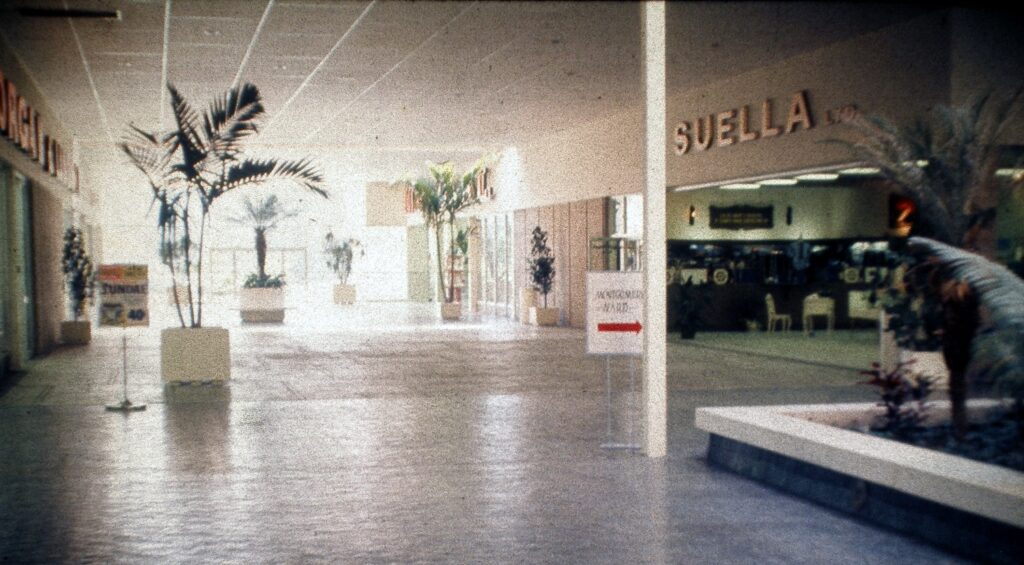 The mall featured a center courtyard and reflecting pool, a landscaped exterior, big parking lot and a busy schedule of community-based events. Something entertaining for the shoppers was always going on. The mall featured a variety of community events, from fashion shows to milk drinking contests.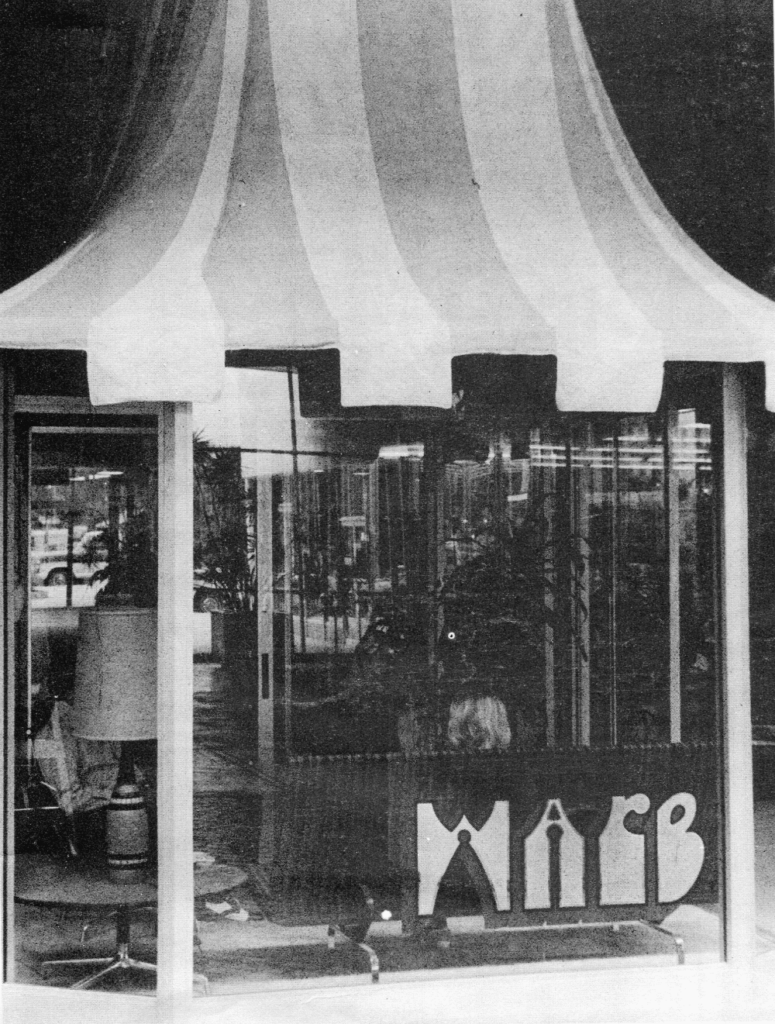 There was so much going on that WARB radio station even had a permanent remote broadcasting booth set up in the mall, with live broadcasts from 3 p.m. to 4:30 p.m. every afternoon so people could stop by and visit while at the mall. It was called "The MusicCube," and it is pictured above. For more information about WARB, click here and click here.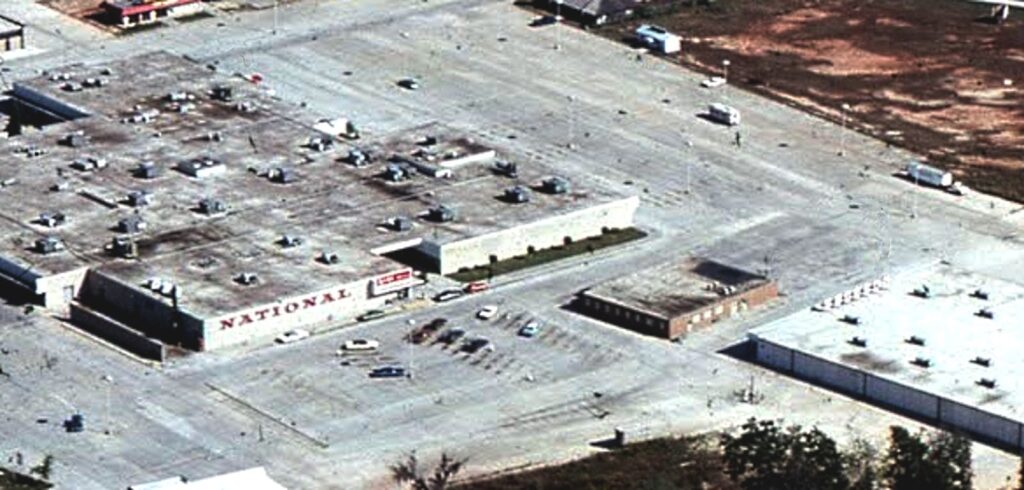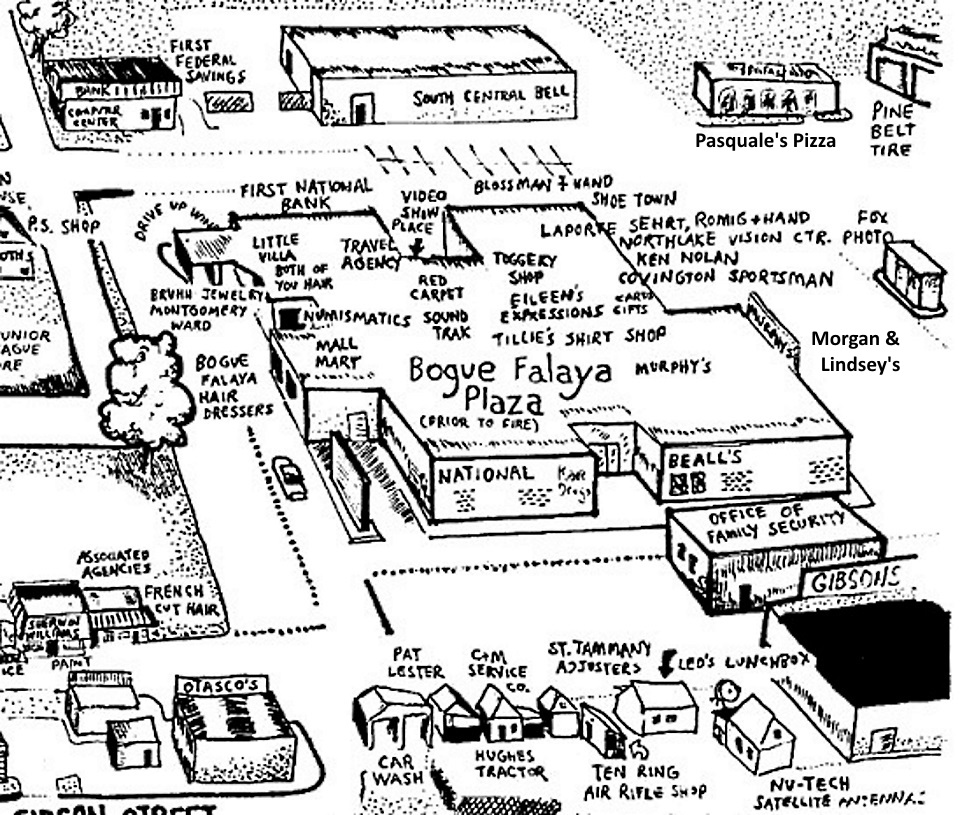 What was where in 1983. Click on above map to enlarge.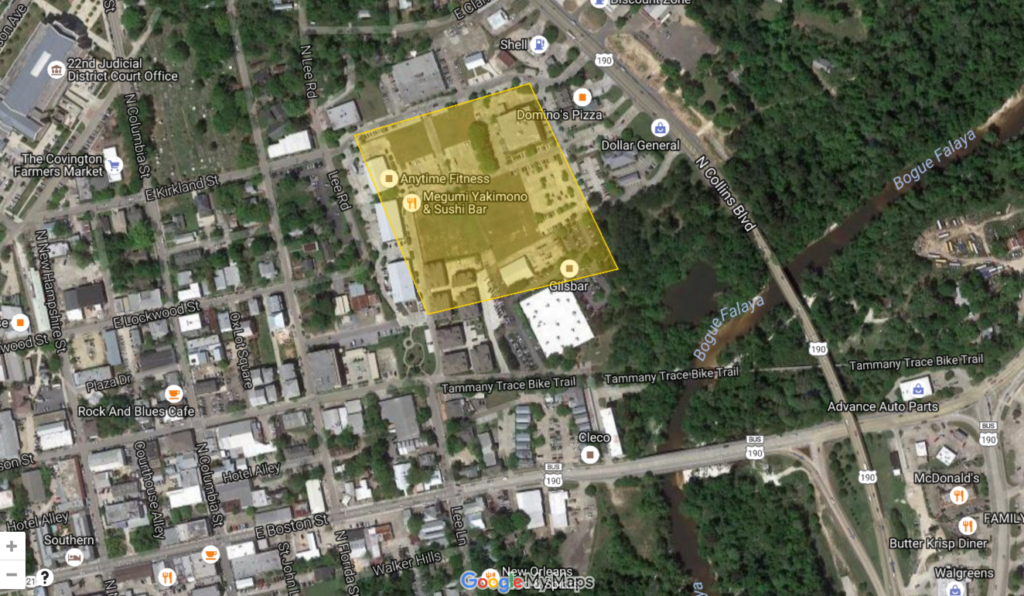 A Google Maps Image with outline of the former shopping center.
Here are a few photographs of the inside of the Mall taken during a fashion photo shoot by Art Lemane in 1972 for Pathways Magazine.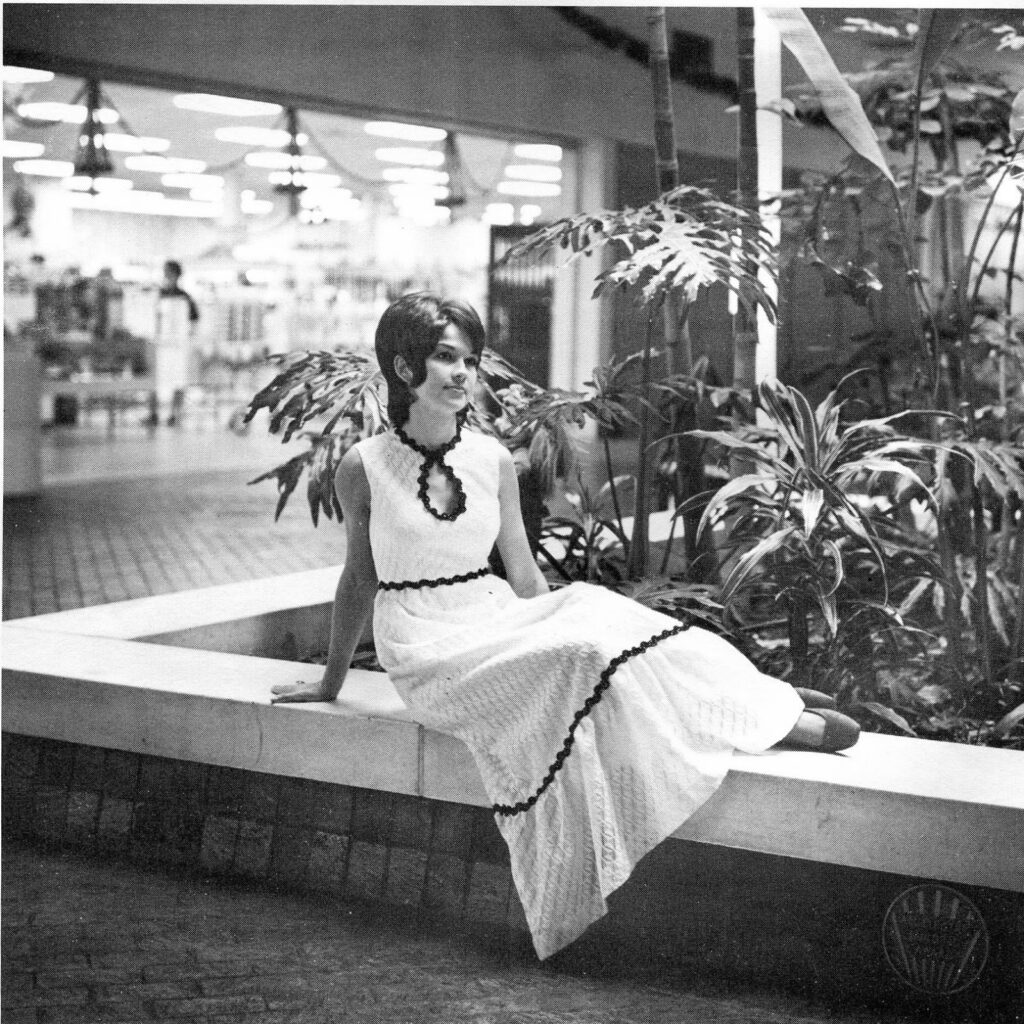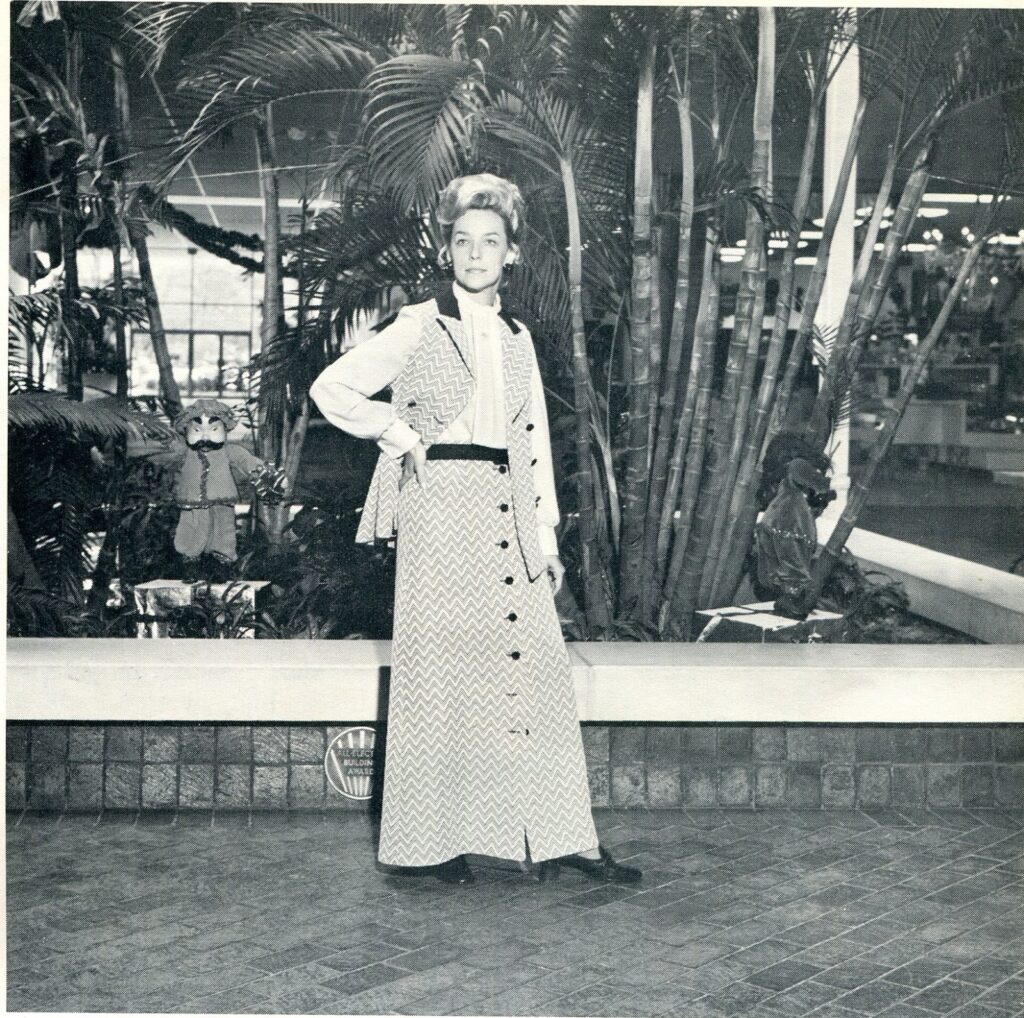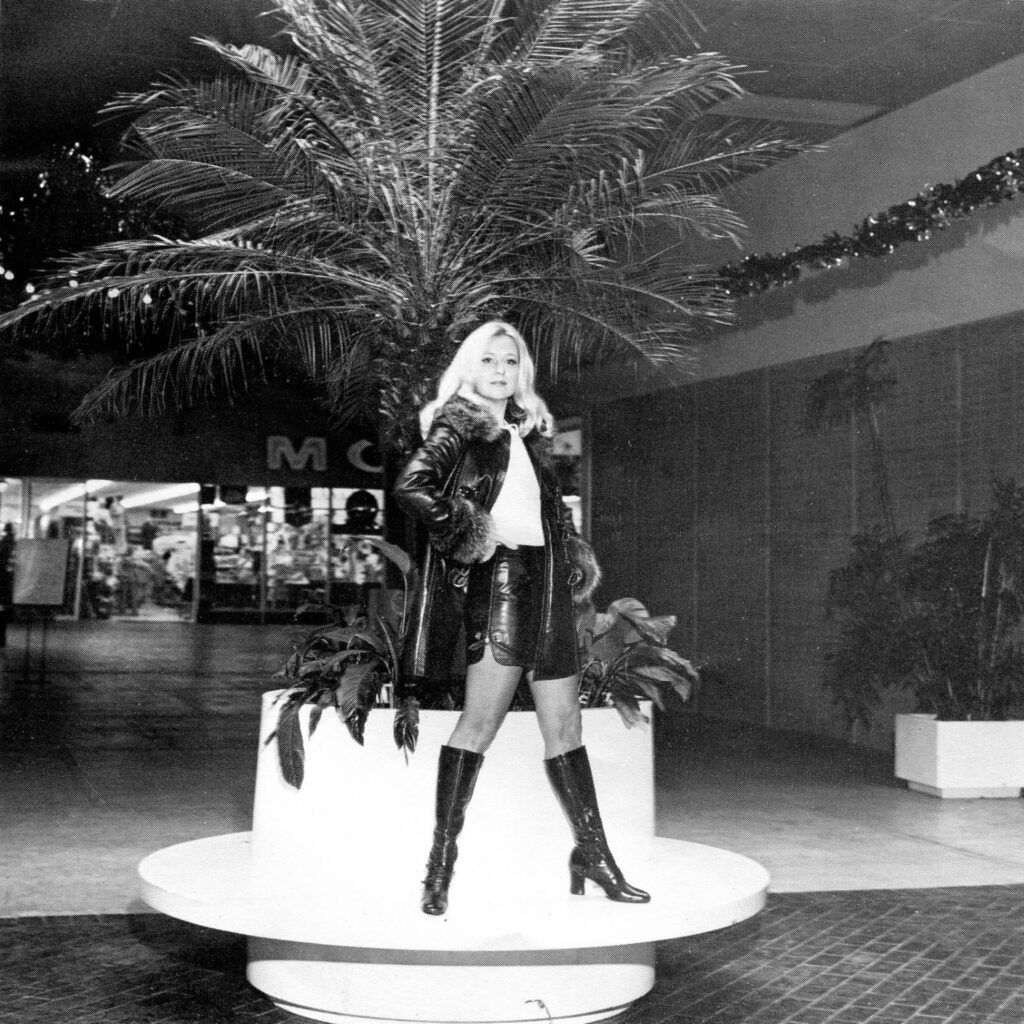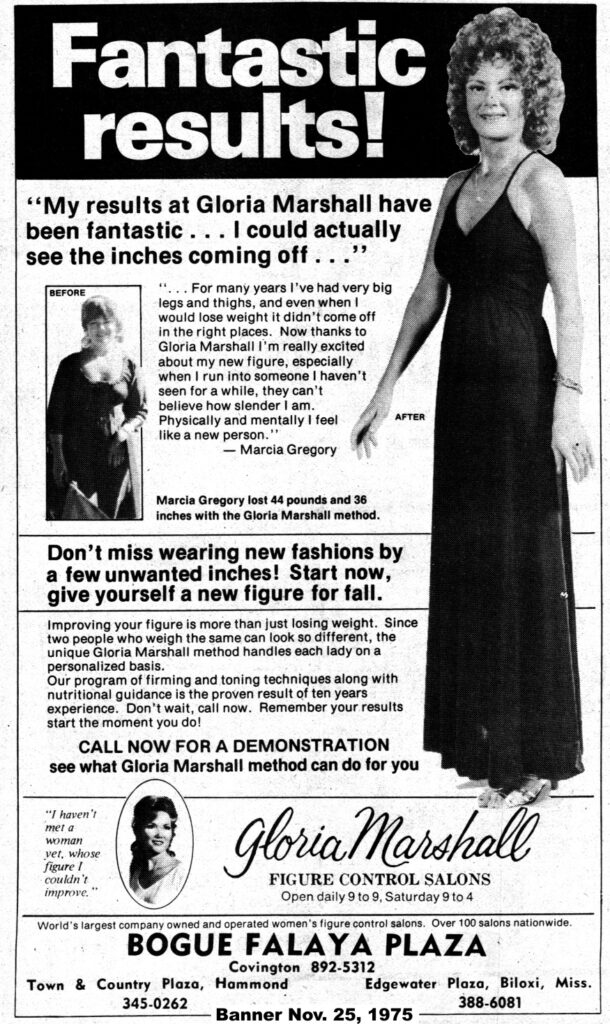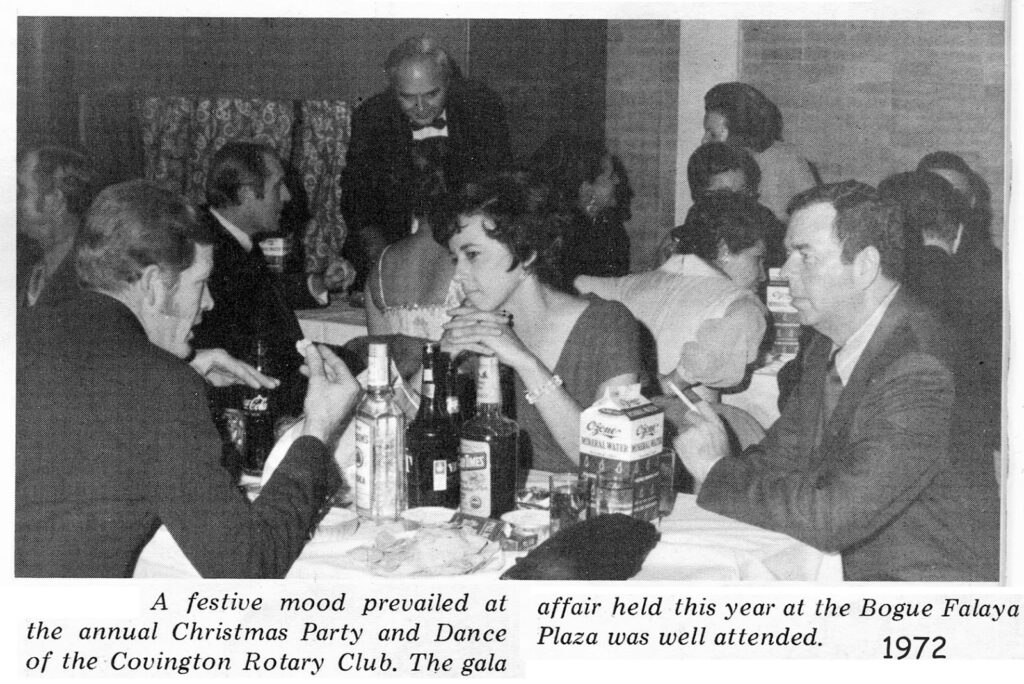 A number of dances and proms were held inside the mall.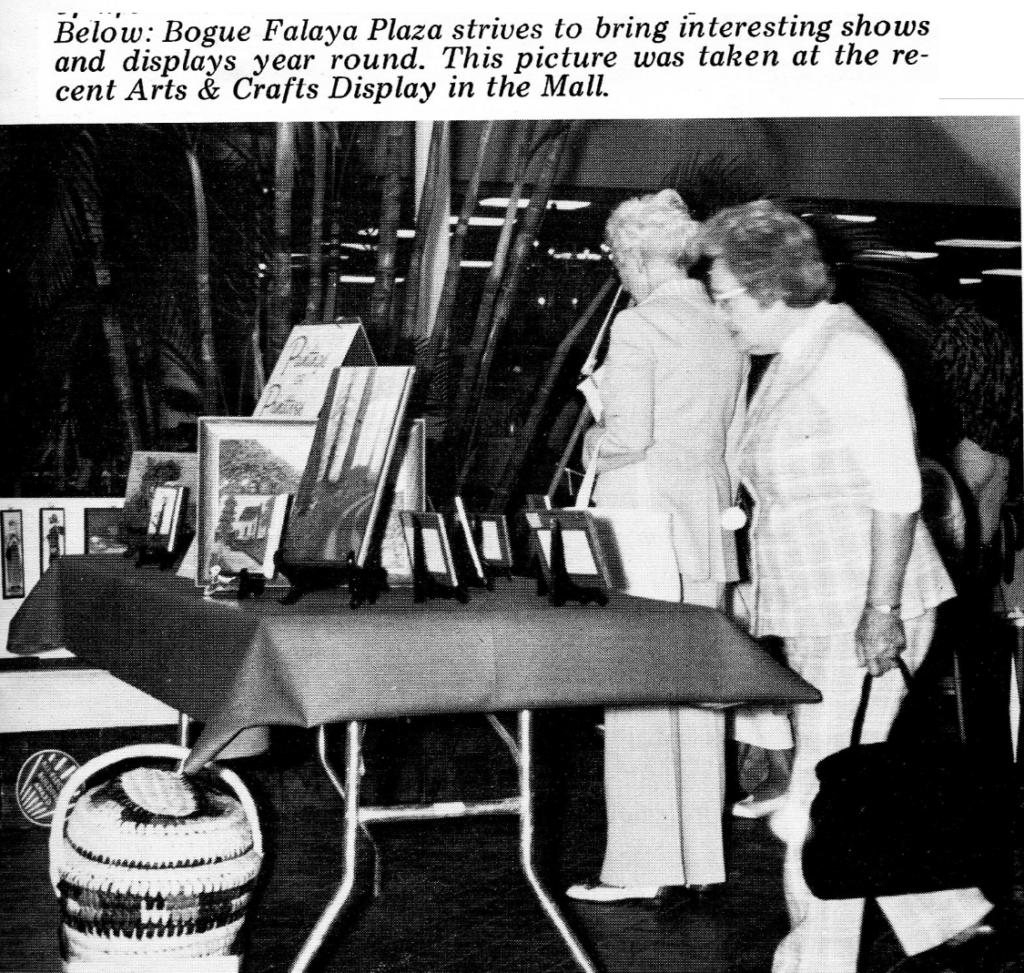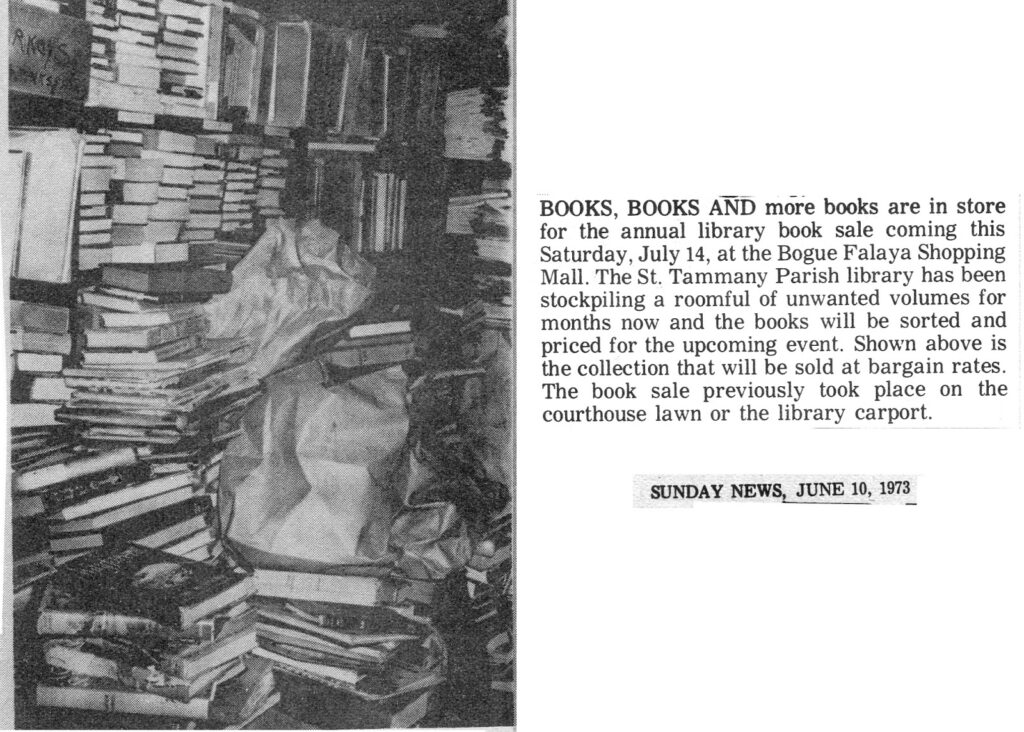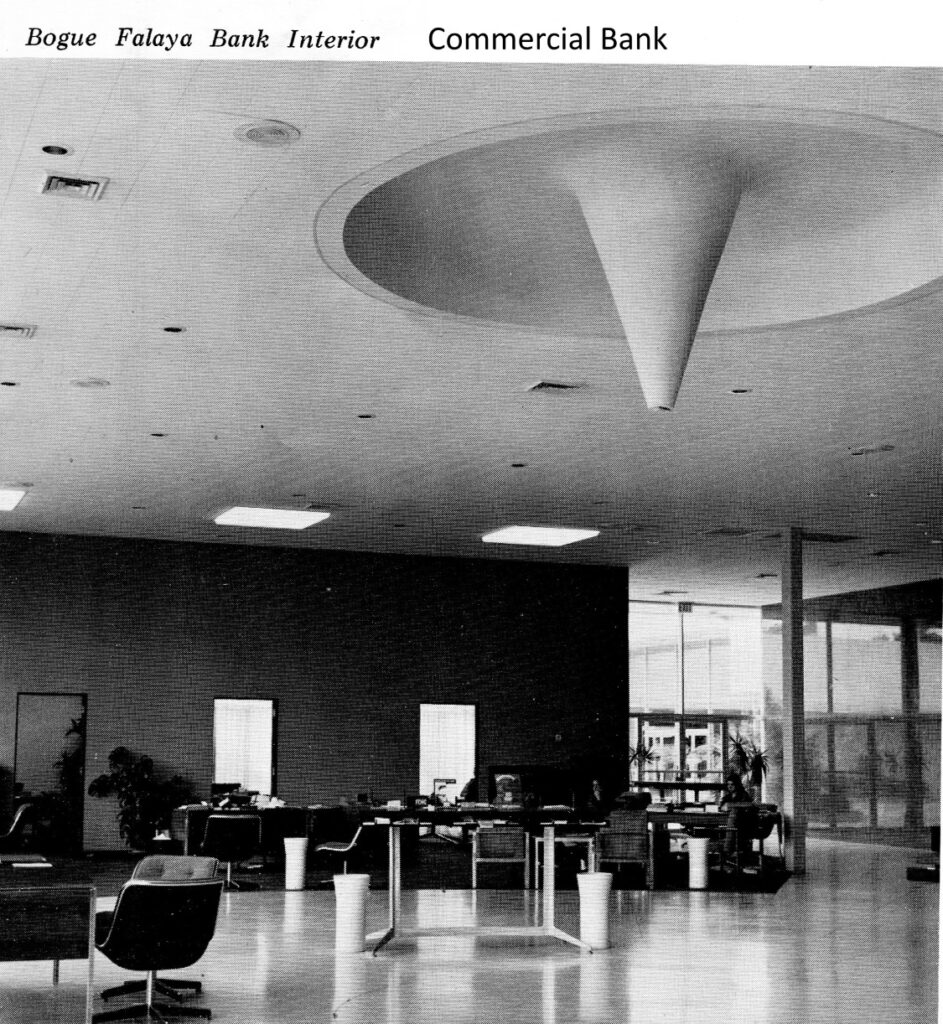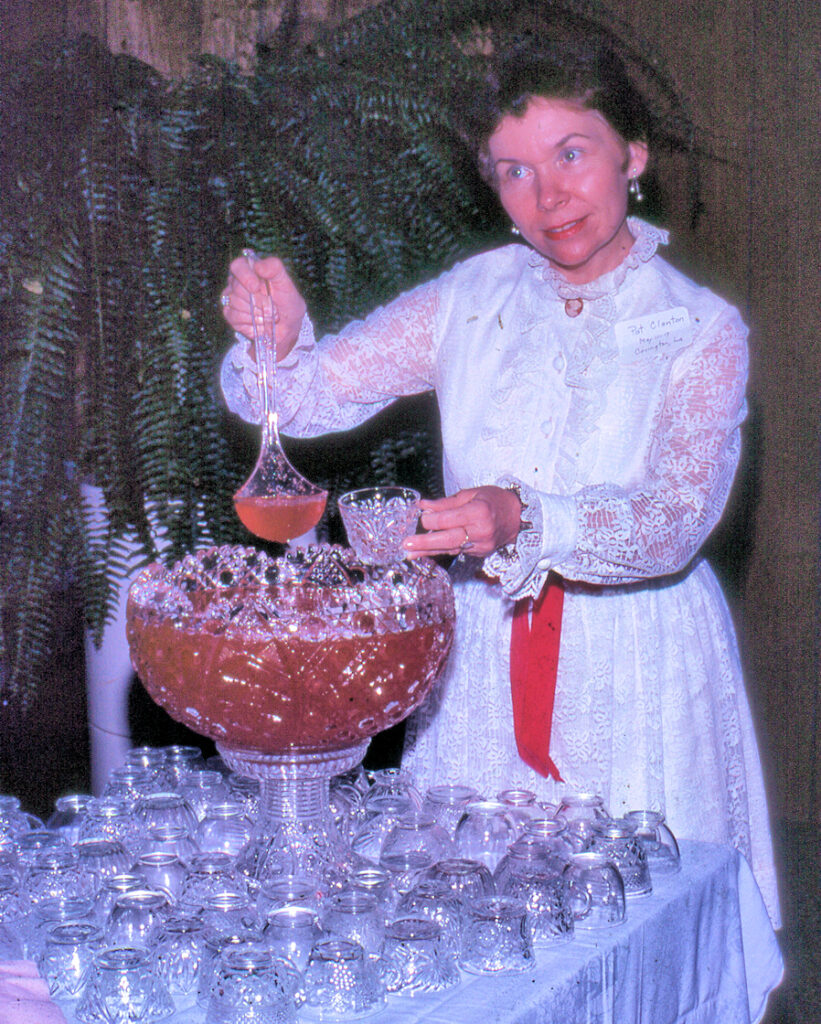 Pat Clanton served as Promotions Coordinator for the shopping center, putting on Boat Shows, Car Shows, Fashion Shows, Art Shows, and Dance Shows and bringing in Santa at Christmas time.   "We had different contests as well, band concerts and battle of the bands. There was a whole week dedicated to senior citizens, and we brought in plays, singing groups, and music presentation, accompanied by cakes and punch," she said.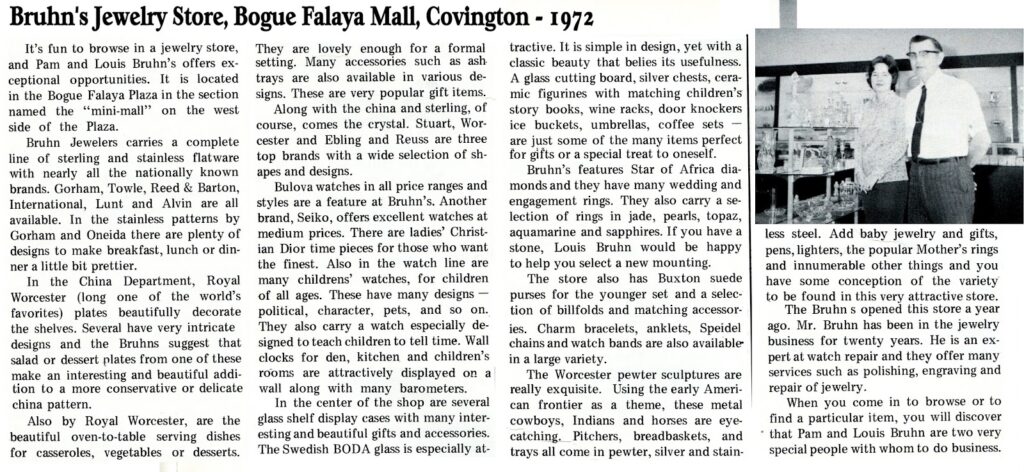 1972 Article from Pathways Magazine about Bruhn's Jewelry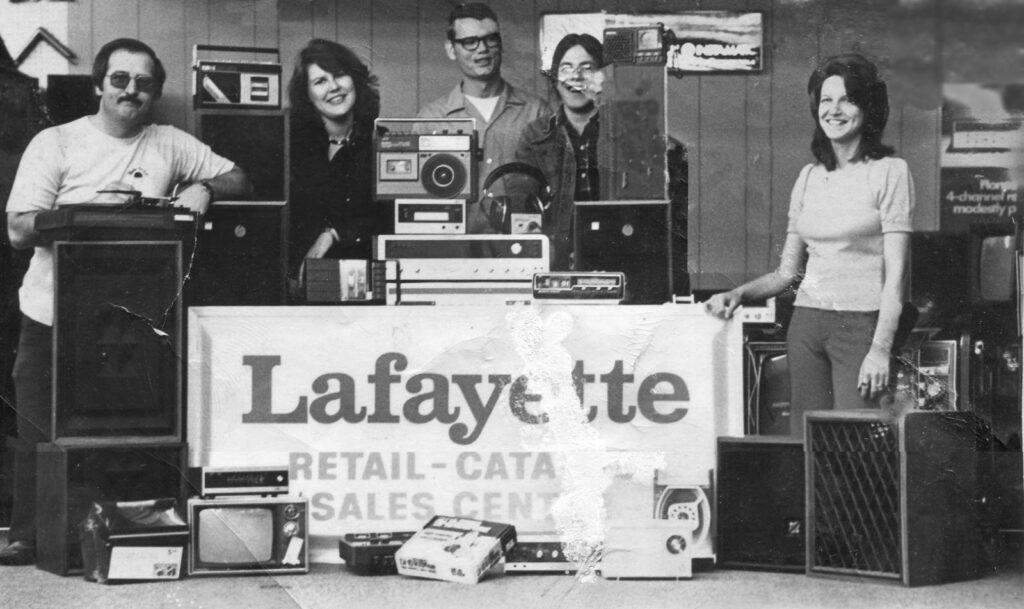 Staff of Photo-Sonics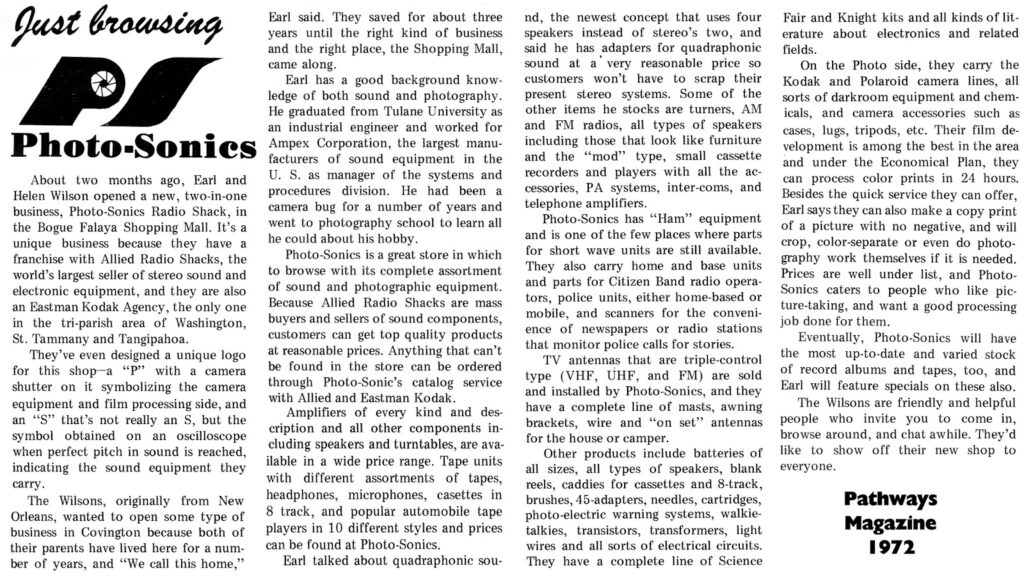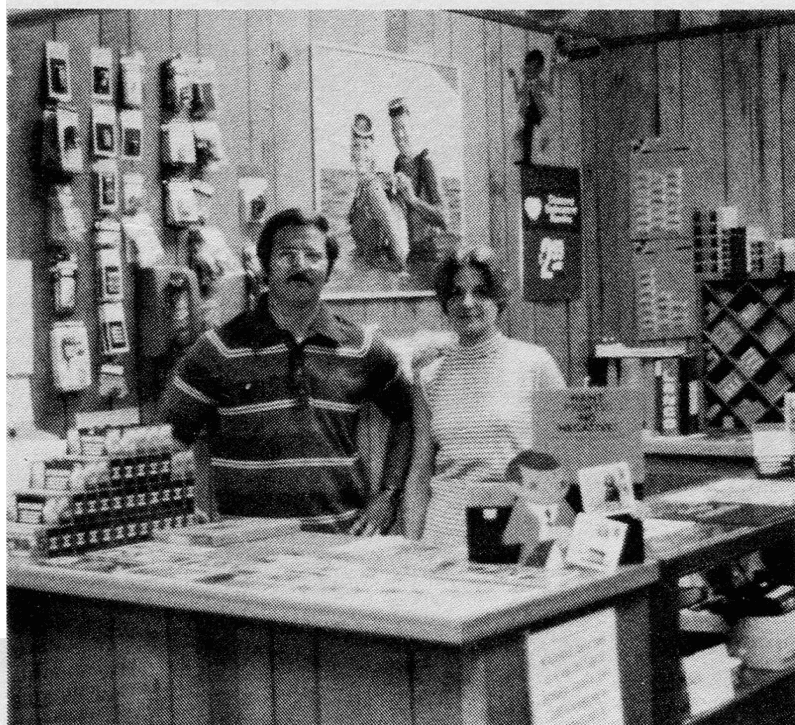 Earl and Helen Wilson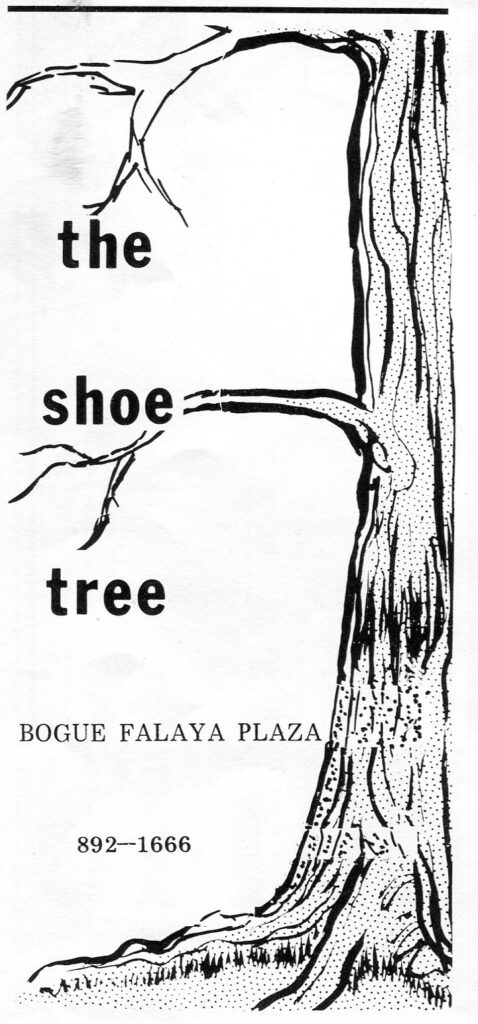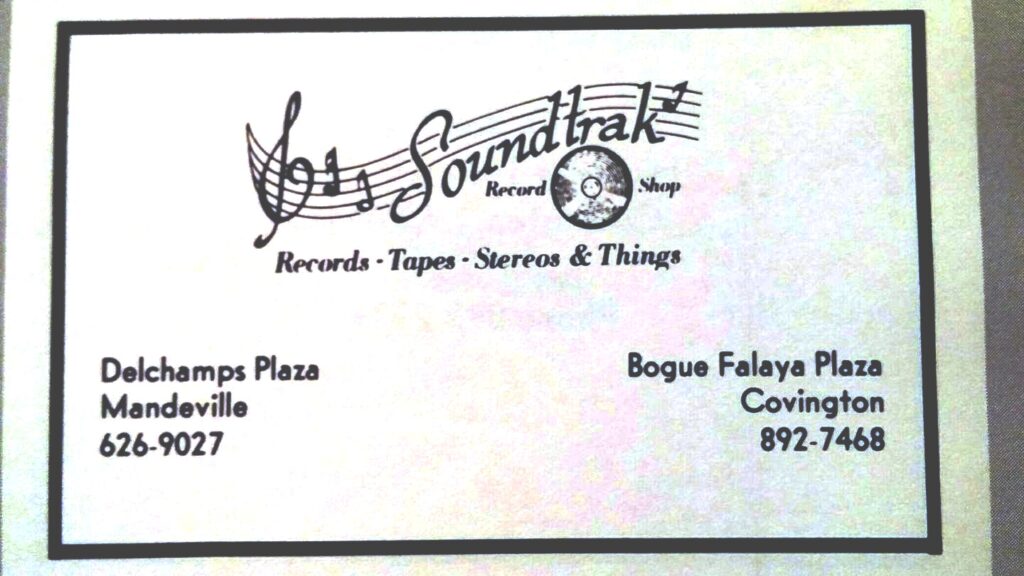 The Bealls Clothing Store was a very popular business in the mall.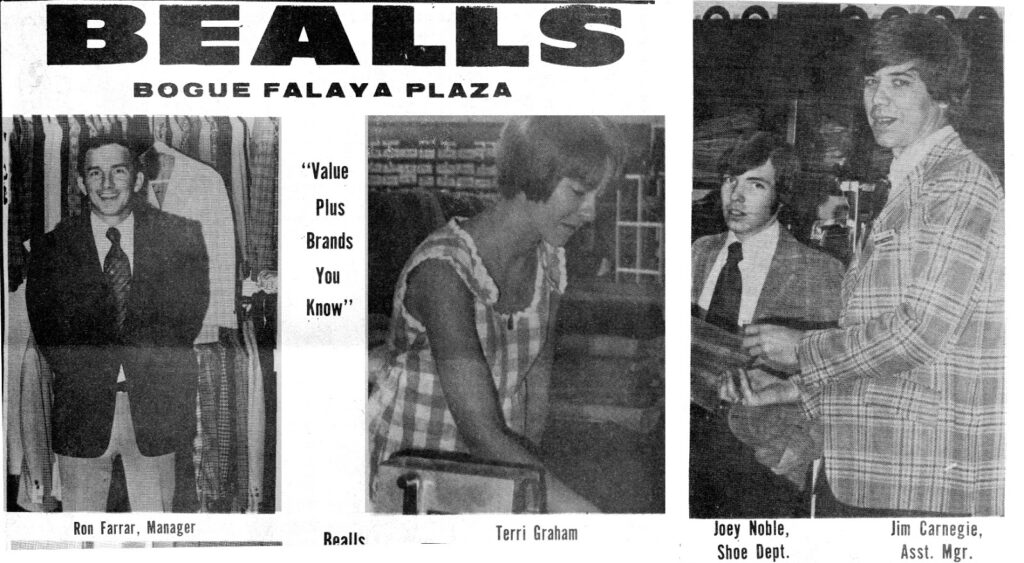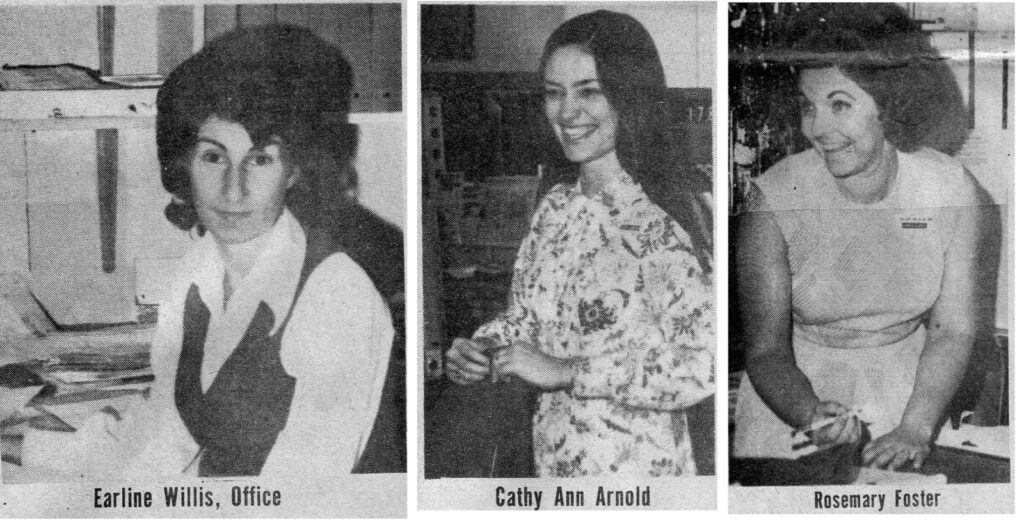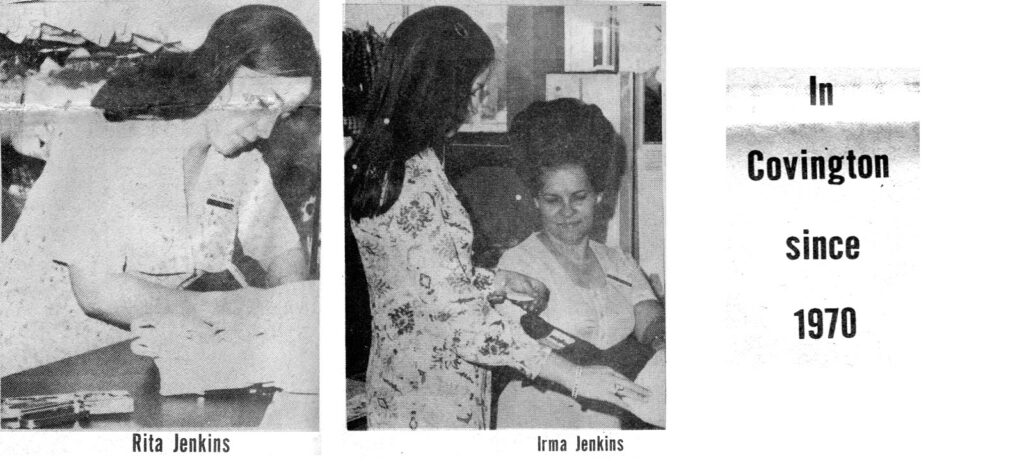 Morgan & Lindsey Store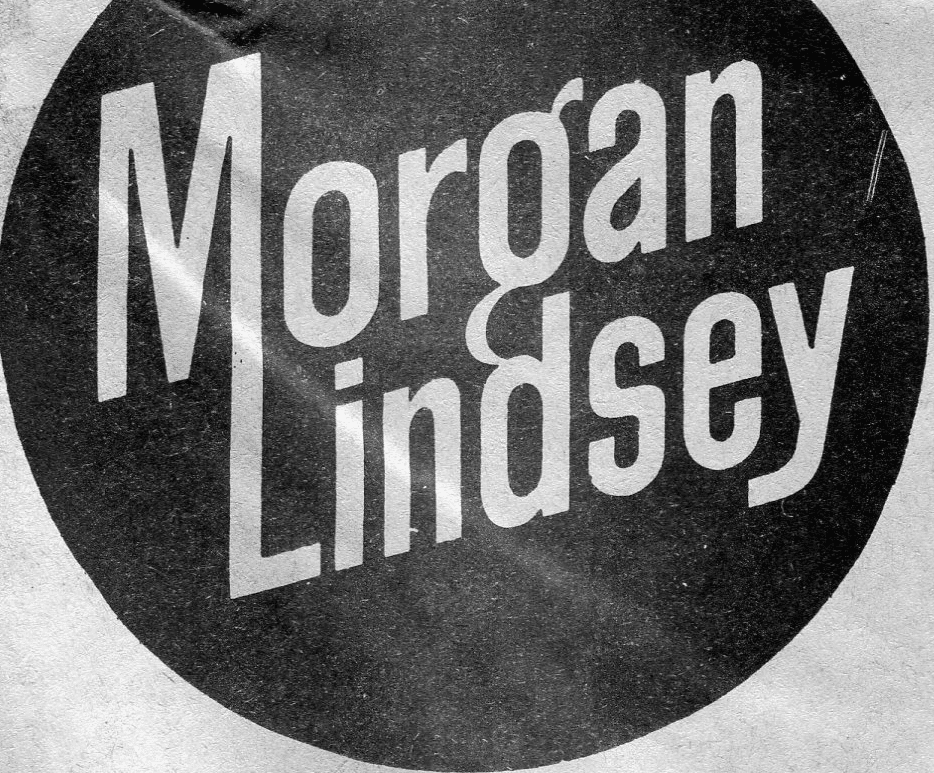 The Morgan & Lindsey Store had 18,000 square feet of shopping area. When Morgan & Lindsey began business in Covington, it had seven employees. It quickly outgrew its building and became one of the first stores to open in the Bogue Falaya Plaza in the summer of 1970. At that time, the staff had grown to 30 store employees and ten restaurant employees. Richard P. Dyes was manager for more than 15 years. Here are some photos.

In the picture on the right, the people are identified from left to right as N. F. Van-Tilburg, J. C. Wynn, D.M. Allen, R. P. Dyess, and J. H. Shannon.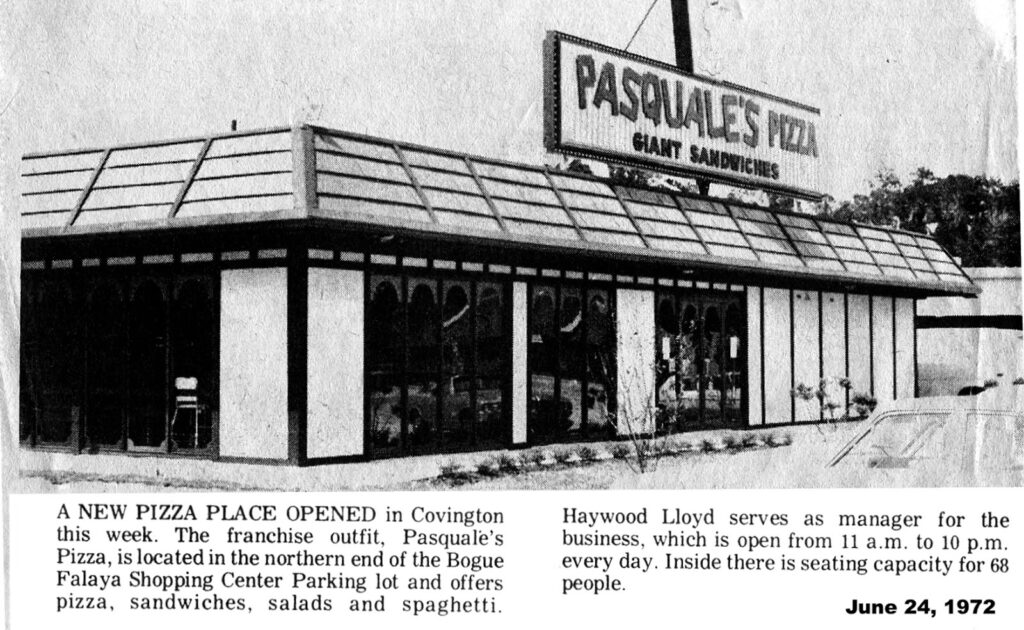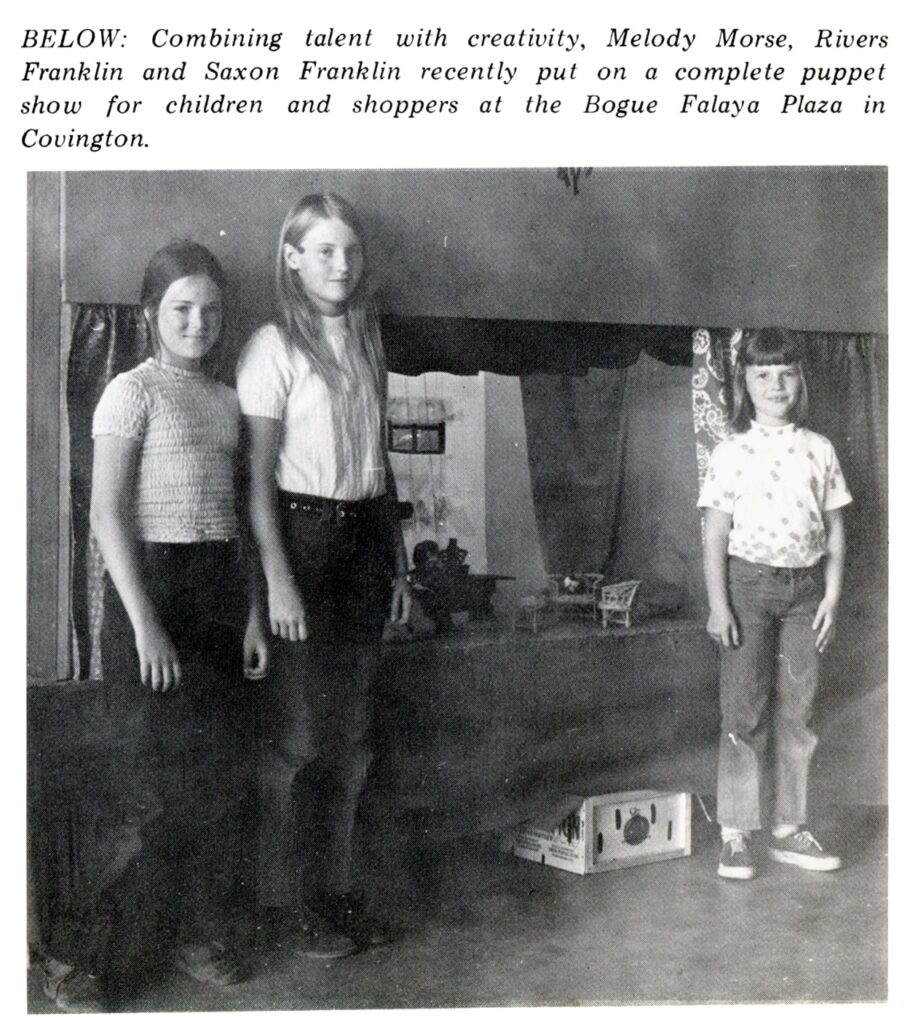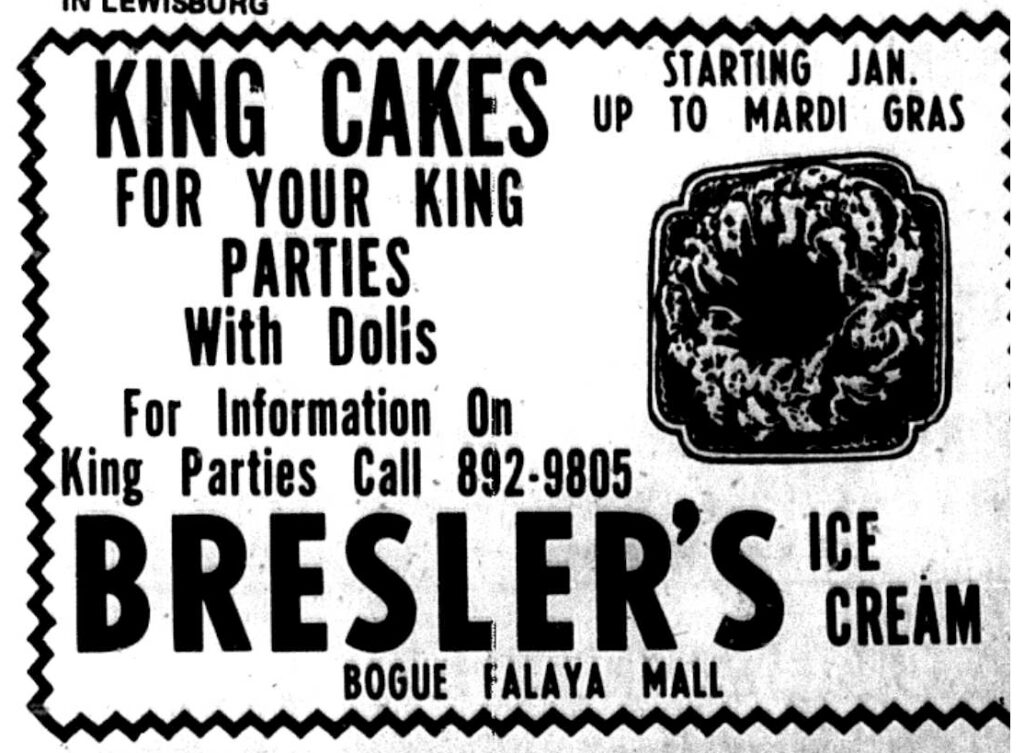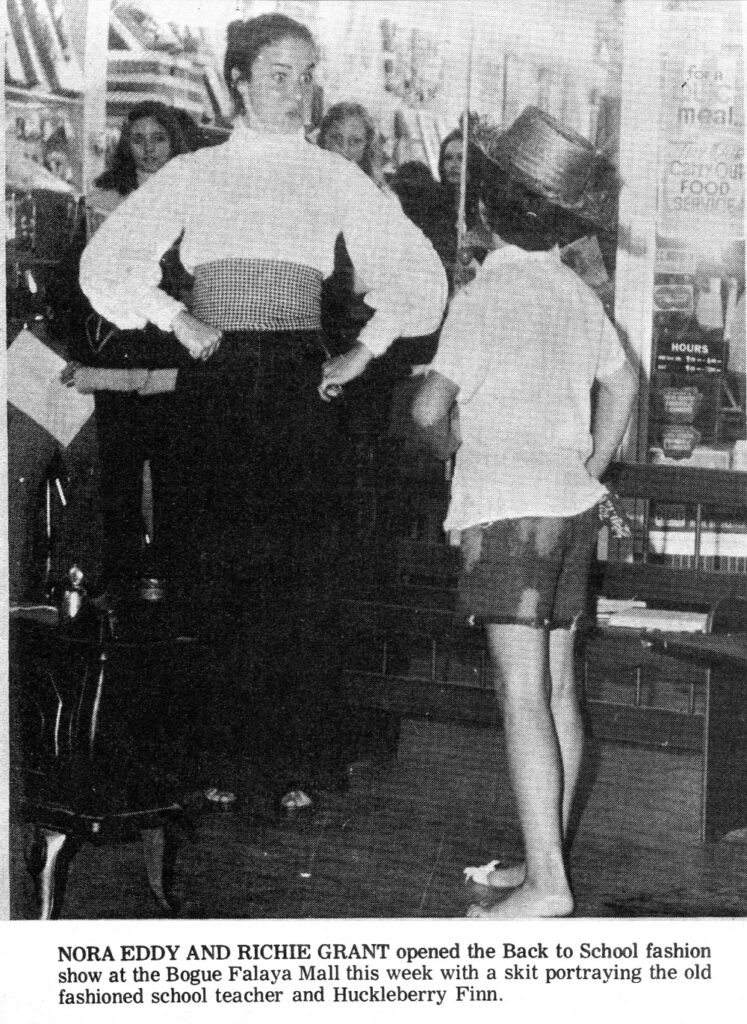 Unfortunately, the mall caught fire on March 11, 1984, and the stores suffered extensive fire, smoke and water damage.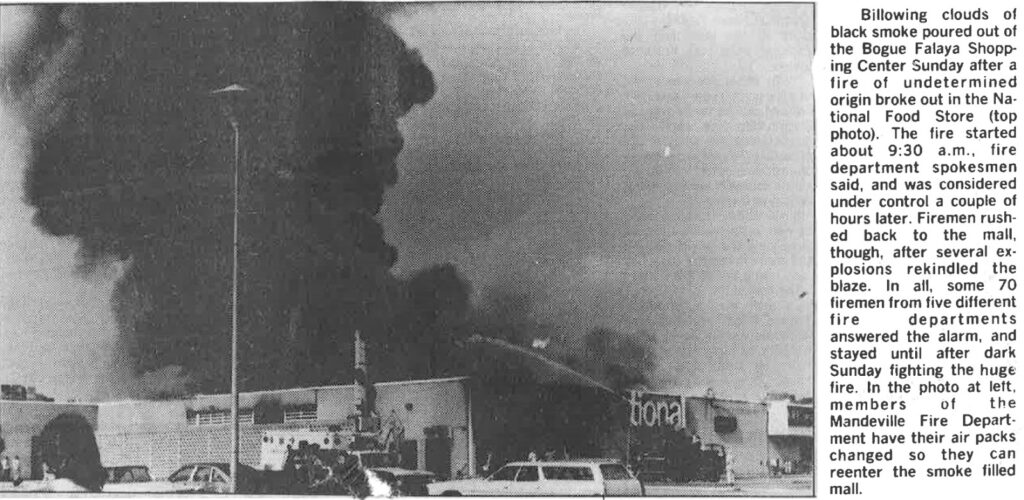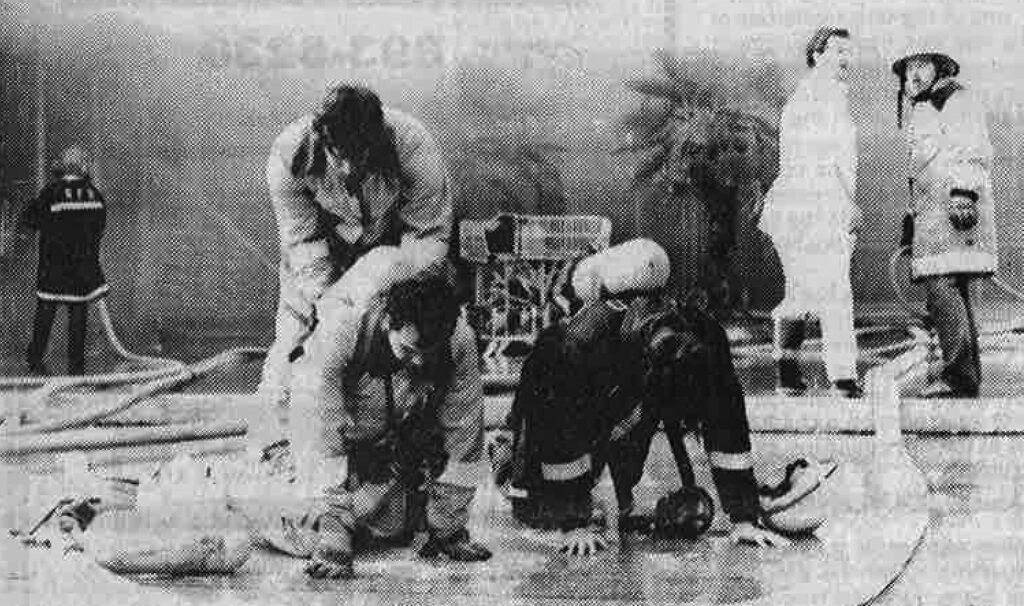 Here are some photographs I took of the inside of the shopping mall after the fire when the various stores were being cleaned out.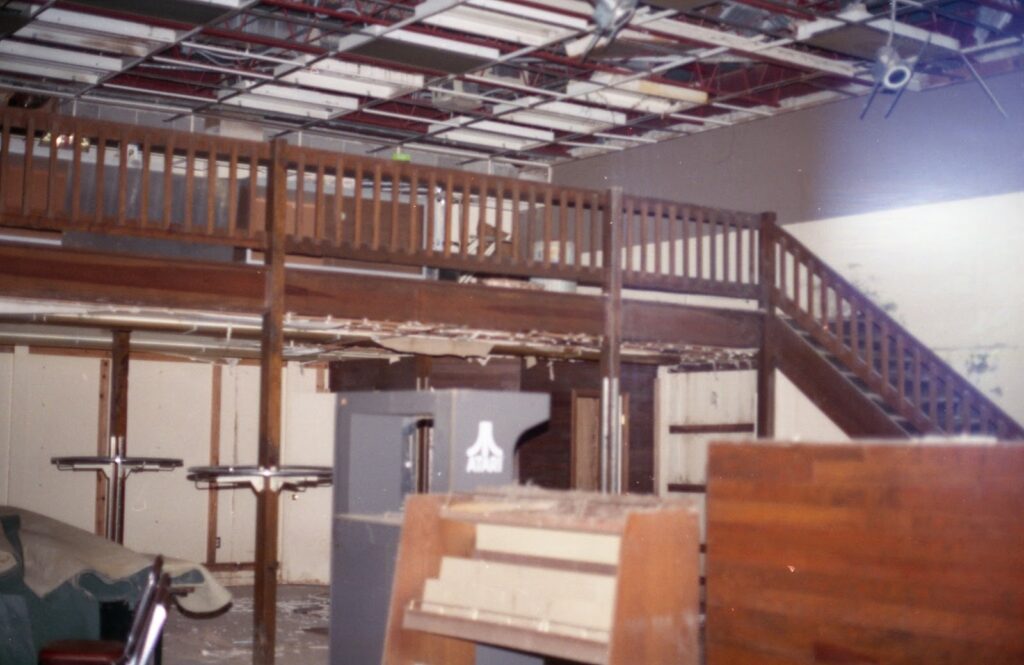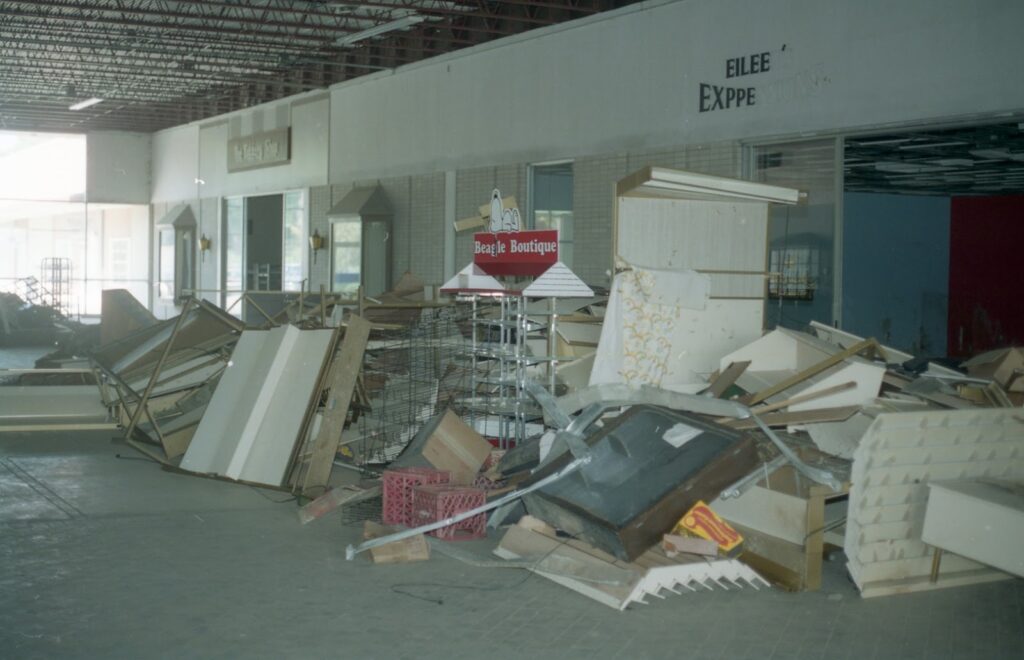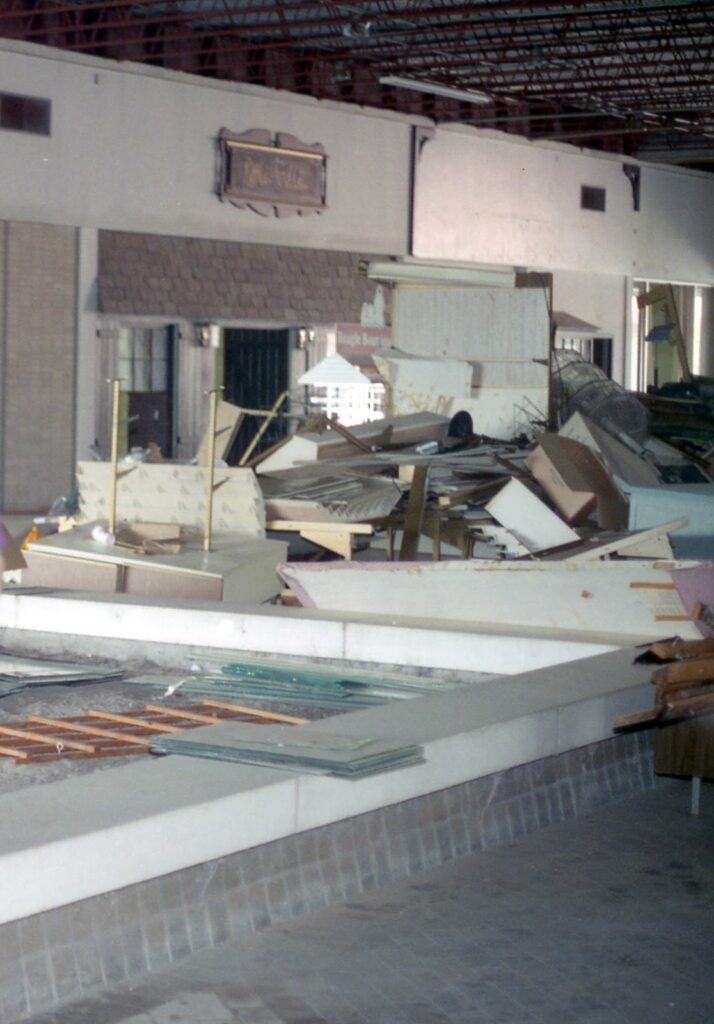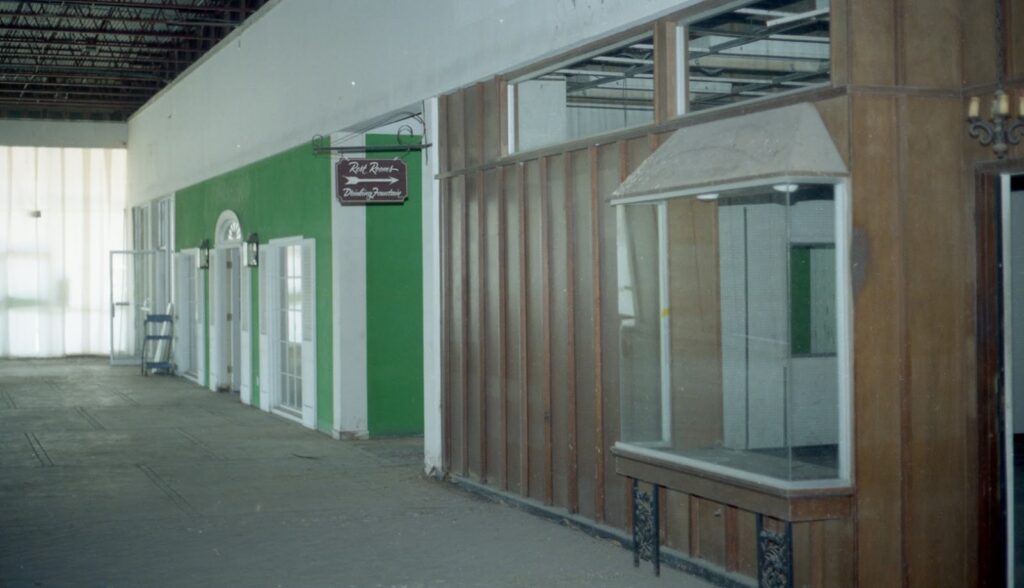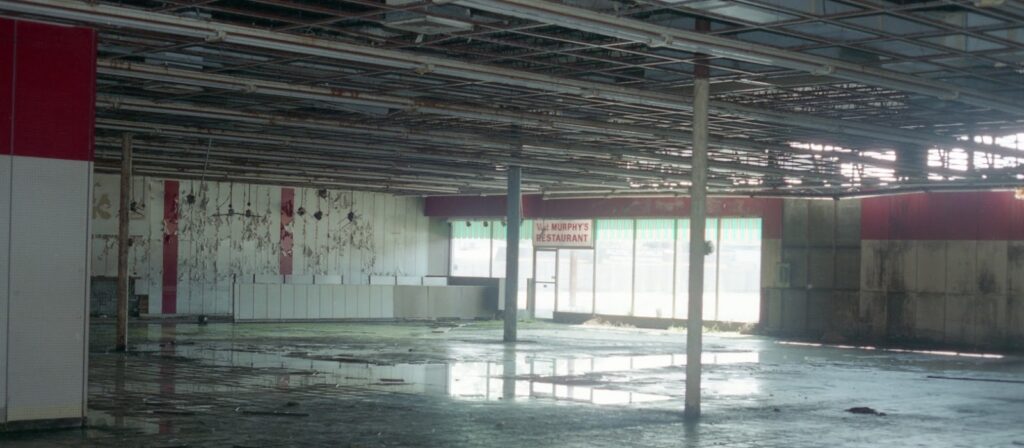 See also:
Photos of Street Scenes around Covington in the 1970's
More Photos of the Bogue Falaya Plaza Shopping Mall