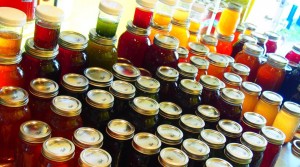 Hello friends! Wednesday is looking very inviting…take a stroll…enjoy a magnificent lunch…delight in the breezes. The music, the veggies, the lunches await you. Get crazy and try something you haven't tried before from the menu. There's a lot from which to choose and a few surprise dishes as well.
When Saturday rolls around, we'll have the chance to enjoy the lovely music of harpist, Jessica Meltz. So grab a muffin or two to enjoy with your coffee and spend some time perusing the produce and the other fine products at the Market. Later in the morning, Melanie (Herbs and Spice and Everything Nice) will prepare a selection of meats and dips using her aromatic herb and spice blends – mmm mmm mm mm mm – sounds very tasty to me – AND she'll give you some great ideas for using her seasonings.
I know I've mentioned Blood River Honey before, but I haven't mentioned the "extras" in a while. The honey is wonderful but there's also bee pollen and creamed honey! Can't you just taste a little creamed honey generously spread on a slice of freshly baked bread? Stop by and talk to Kevin about bee pollen and all its benefits, meet a few of the bees, and tour the "production facility".
Now don't you worry about bread because we have a variety of deliciously fresh baked goodness from Windfield Farms, Betty Rue, and 7Grain. Suzie makes a Jazz bread that just cries out for honey. Her baguettes are simply wonderful, spread with a little skordalia (Vincent & Mauricio) and a light sprinkling of Italian herbs (Melanie or me) and lightly toasted in the oven. Is your mouth watering yet? How about a slice of Lena's whole grain bread, generously spread with Mauthe's fresh cream butter or her toasted rounds diving into Nur's hummus (the chipotle is excellent)? Or a slice of Betty Rue's gluten free European brown bread slathered with her dairy free butter? Can you imagine a large bread slice covered in my pizza sauce, polka-dotted with fresh goat cheese (Farmhouse Dairy), sliced mushrooms and green onions on any of our vendor's breads? What could be more satisfying? Go ahead, I'll give you a minute…
My mind's drawing a blank too. Maybe wild caught catfish from Nick, sprinkled with my Shrimp on the Barbie seasoning, drizzled with melted butter (Mauthe's) and baked with an overstuffed artichoke from Angel on the side. Or perhaps a spicy empanada from Spanish R Us or Hot Tamale Mama's stuffed shells oozing with cheeses and sauce… red ripe strawberries full of flavor… Nanette's fresh, raw salads… an espresso, latte, or cappuccino from Coast Roast… a cool summer soup from Southy… Lolly Marie's chocolate covered apples… definitely one of those fat whoppin' cookies from…. OK. I guess I could think of a few things but…. you'll only find them here at the Covington Farmers' Market. You'd best get here and check it out for yourself.
Lots of love,
Charlene LeJeune
Abundant Life Kitchen
The Covington Farmers' Market is open each Wednesday, rain or shine, from 10 a.m. to 2 p.m. at the Covington Trailhead, 419 N. New Hampshire and every Saturday from 8a.m. to 12p.m. on the side lawn of the Covington Police Station, 609 N. Columbia St.
Call (985) 892-1873 for information or visit www.covingtonfarmersmarket.org