Fresh recipes inspired by ingredients found at the Covington Farmers' Market
Ingredients: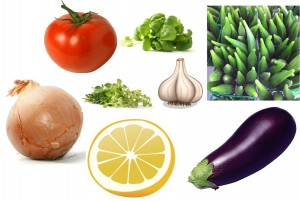 2 cups of diced eggplant (Asian or globe)
3 cups of sliced okra
2 medium tomatoes
1/2 cup of minced onion
3 cloves of garlic, minced
1/2 cup to 1 cup water (as needed)
1 tsp salt
1/2 tsp cayenne
2 tblsp fresh lemon juice
lemon basil (to taste)
oregano (to taste)
Directions:
There are many variations to this type of recipe.  You can start by cooking the garlic and onion in a saute pan, then cooking the eggplant until tender.  Depending on the type of eggplant you use, the cooking times will vary.  The Asian variety may be more tender than the Globe variety.  I found the easiest way to cook this particular dish is to throw all ingredients into a medium pot (minus the fresh herbs) and cook down on a medium-low heat for 15 to 20 minutes.  After the eggplant is tender, take it off of the fire and mix in the basil and oregano.  The end result is very similar to ratatouille, but the addition of the okra gives it a different character.  The acid of the tomatoes and the lemon juice help to reduce the okra "slime".