Inspired by fresh, local ingredients found at the Covington Farmers Market
Ingredients:
1 cup brown rice
1 cup vegetable broth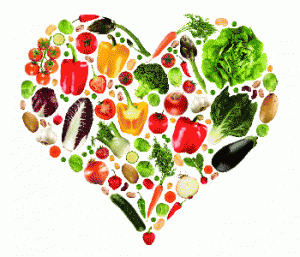 1 large diakon or other radish
a couple of carrots
1 large tomato
a cup of trimmed whole snow peas or edamame
a cup of sliced broccoli
1 red bell pepper, half minced and half sliced
1 large onion, half minced and half sliced
1 clove of garlic, minced
1 tablespoon of minced ginger
some chopped green onions
2 tablespoons of butter
2 eggs
4 teaspoons of soy sauce or liquid amino
2 tablespoons rice vinegar
1 teaspoon of toasted sesame oil
cayenne pepper and salt to taste, hot red pepper sauce to taste, crushed peanuts
Cooking Instructions:
Start by mincing and slicing the vegetables. Slice the radish and carrots into medallions, saving a little of the ends for grating. Clean and trim the ends of the whole peas, cut into one inch pieces. You can cook the rice while you prep and set aside to cool. Saute the minced onion, bell pepper, garlic and ginger in 1 tablespoon of butter with a little salt and cayenne. In another pan cook the slightly scrambled eggs in the other tablespoon of butter, stirring them often to keep them fluffy. Add the sliced radish, carrots, tomato, peas, broccoli, bell pepper and onion to the sauteed veggies and stir. Add the rice, broth, soy or amino, vinegar and oil, and stir some more, cooking on medium high. The eggs should be well cooked at this time, add this too. Do a little more stirring. Add a little more salt, cayenne and hot red pepper sauce to taste. Stir a bit more until all is well mixed (you can see where this dish got its name!)
Serve topped with grated radish and carrots, chopped green onion and some crushed peanuts.