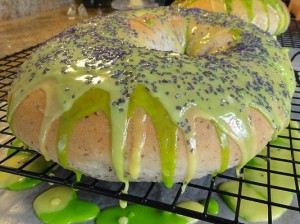 Hi, friends and a hopefully happy Tuesday to you! I hate to state the obvious but there will be no Wednesday market tomorrow.  Many of you are experiencing a "snow" day, too cold to work but a wonderful day for a steamy hot chocolate and a warm fire and maybe even a good movie. Please be careful if you do have to go out.
No worries, though.  Saturday is promising 70 degrees and we will be at the market with bells on… and maybe even shorts. And, to go with the mild climate, the bells, and shorts, Saturday will also bring our very own Jerry Hess crooning from the gazebo. I know. How great! Wait. There's more. Since Suzie Banck was unable to prepare her king cakes for last week's market, she will serve samples this Saturday – always a wonderful treat – plus full sized king cakes for sale. You'll definitely want to pick one (or two) up for the Super Bowl.
We have a new vendor right in between Southy's Soups and Teresa's Italian Cookies. Pete and Clara have fish – black drum, rondeau, and flounder, with a promise of speckled trout in the future. Pete catches them and Clara cleans them, fillets them, and packages them. Fish – baked or fried – will have you on the "must invite" list for years to come. Better yet, just take some home to fix for supper.
Saturday will be the perfect time to get your snacks for the Big Game. I know that I just mentioned a few snack options for New Year's so why don't I just add a few more. A pound or two of ground beef or pork can make some delicious meatballs. Add a few tablespoons of Hot Tamale Mama's spinach artichoke dip to your ground meat, salt and pepper, roll into mini-meatballs and pop into the oven. Once they are beautifully browned, they go into the crock-pot along with a jar of Bechac's Roasted Garlic and Tomato dressing or a jar of Chompers honey BBQ sauce. For a different flavor, use a pound or two of ground lamb (beef will work as well) combined with a few tablespoons of Nur's lentil & quinoa salad or tabouli to make incredible Mediterranean meatballs. After browning, put them into the crock-pot with a jar of my Dehli Delight. Either way, you're sure to be a hit.
You don't need a tray of goodies with one of Marielle and Nicole's (Windowsill Pies) French-inspired pies. This week they're baking that incredible Dark Chocolate Tart with Earl Grey Caramel, Amaretto Pear and Dried Cherry Pie, and Vanilla Bean Bourbon Pecan Pie. Don't they sound too delicious for words? An overstuffed artichoke from Angel will take up a tray by itself. You may as well get two; they are always a favorite.
Our vendors have lots of great ideas as well, such as Robin's chicken tenders & pepper jelly or pepper jelly cheese dip. Kevin will have a gourmet roast for us this week and a great cup of coffee is truly welcomed not matter what the temperature. Goes great with pie, king cake, muffins and, yes, cookies! We'll be here with all manner of goodness. We hope you'll join us. Now go get that cup of hot chocolate.
Lots of love,
Charlene LeJeune
Abundant Life Kitchen
The Covington Farmers' Market is open each Wednesday, rain or shine, from 10 a.m. to 2 p.m. at the Covington Trailhead, 419 N. New Hampshire and every Saturday from 8a.m. to 12p.m. on the side lawn of the Covington Police Station, 609 N. Columbia St. Call (985) 892-1873 for information or visit www.covingtonfarmersmarket.org