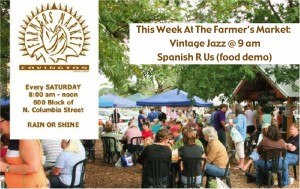 Happy Tuesday, friends! I'll bet you just can't wait until lunchtime tomorrow. I know how you feel. Your taste buds are tingling with thoughts of BBQ chicken and fixins' or crispy egg rolls and dipping sauce. Will you feast on ravioli or cannelloni, seared salmon salad or crunchy veggie wrap? Remember to try Robin's spicy pepper jellies, Marcie's sprouted nut butters, and Marietta's homemade granola. And then….dessert. I know, I know…with almond date bars, raspberry truffles, banana bread, caramel apples, mini cherry pie, and cashew brittle from which to choose, it's a sweet tooth's dilemma. What the heck! Get one of each. Problem solved!
Come Saturday Morning, a delightful tune for a delightful day, especially with Vintage Jazz sending finger-snappy jazz melodies from the gazebo. Spanish R Us Restaurant (I wonder if they're any relation to our Rebecca?) in Covington will serve samples from their menu. It's looking like a day you don't want to miss.
Southy is cooking up a special March soup this week with cabbage, potatoes, and carrots. It's a little late for St. Paddy's Day so we'll just call it Irish Soup. Go on and pick up a bag of sweet jalapeño gluten free cornbread balls from Betty Rue to enjoy with that or try Lena's organic cornbread mix and make it yourself. Spread your cornbread liberally with Vincent's Rosemary Skordalia or Mauthe's sweet cream butter – heaven. Southy will have asparagus soup for those of you who aren't Irish. Right next door, Johnadelle's is back with fresh strawberries. There aren't many so get there early.
We've got chickens all over the place! James will have more chickens this week which have been free range raised and supplemented with non-GMO feed. John also has free range chickens and you can get them in pieces/parts. Justin is offering both chicken and duck. Jessica doesn't have chicken or duck but she will have huge goose eggs. Just one is equal to 3 (count 'em, 1-2-3) chicken eggs and since they have been laying very nicely, there will be none for the roasting pan. Jubilee Farms is offering both beef and pork – steak, roast, chops, oh my! Since we're discussing meat, Farmhouse Dairy is well known for their delicious cuts of lamb and goat meats and even their goat cheese. Now that almost all the new babies have been born, Tiffany and Andy have goat's milk as well. I sure hope they're getting some sleep now. You know how those "kids" are.
If you haven't already tried them, make it a point to sample Dong's tasty Buchimgae (I still can't pronounce it) – you know, his Korean pancakes made with flour, water, onions, pumpkin, and garlic chives. Served with dipping sauce, they are a big hit! So were Betty Rue's cake pops, sinfully rich chocolate devil's food cake lollipops with peanut butter frosting, rolled in sprinkles and calling my name. Perhaps there's something calling your name – farm fresh eggs, Suzie's harvest muffins, Lena's toasted bread rounds, Sam's sprouts and nut butters, Norma Jean's muffaletta veggie wrap, Angel's plump stuffed artichoke, Kevin's gourmet coffee… Just follow the music; we'll be there waiting with fresh coffee and juice and all manner of good things.
Lots of love,
Charlene LeJeune
Abundant Life Kitchen
The Covington Farmers' Market is open each Wednesday, rain or shine, from 10 a.m. to 2 p.m. at the Covington Trailhead, 419 N. New Hampshire and every Saturday from 8a.m. to 12p.m. on the side lawn of the Covington Police Station, 609 N. Columbia St. Call (985) 892-1873 for information or visit www.covingtonfarmersmarket.org