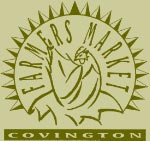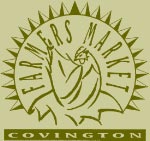 Hi, friends and a perfectly happy Tuesday to you! I see nothing but happy little suns showing on the weather forecast page for the rest of the week and I am thrilled to see them. It will be great to see how blue the sky can get and enjoy a great lunch at the same time. Kandi is sure to have pan seared salmon salad on a lovely bed of papaya noodles. It's really good with a glass of jasmine tea. Or try one of Nanette's fresh, raw salads such as Autumn Couscous made with cauliflower, pecans, cranberries and pumpkin seeds tossed in a ginger, green onion and maple vinaigrette. Wait! There's more. Spicy tamales or pupusas from Rebecca go very well with her chips and salsa. Jeff is planning on smoking turkey legs along with pulled pork. Nuccio's world famous muffalettas should not be missed; bring one home for supper. How about a piece of luscious coconut cake for dessert? Yummee! Frankie also has lemonade (blueberry, raspberry, mango) and boiled peanuts. And don't forget your veggies!
This Saturday will be Ann & Jan's 7th year as Covington Farmers Market organizers! Happy Anniversary! To celebrate we've ordered amazingly blue skies with a side dish of sunshine and gentle breezes. AND the air will be filled with the aroma of barbecue since Chompers BBQ smoker rig will be pulled up to the curb to cook and serve their delicious pulled pork, potato salad, and – everyone's favorite – Mac N Cheese. So grab your coffee and enjoy the morning with us!
I know y'all were pretty bummed that Lola Deux's truck broke down and they were unable to make it to the market last Saturday. Fortunately, our newest vendor, Simply Pure Juices, was able to fill in. Simply Pure offers cold pressed juices (no high pressure treatment here) that have been gently mixed and bottled by hand. The juices are unpasteurized with no additives to flavors such as Neutral Ground (apple, orange, grapefruit & kale) and Spanish Moss (cucumber, pear, apple, and lemon). There are several other flavors so check them out! Your body will thank you.
I tell you, we have some wonderful dishes out there on the tables at this market and every week I discover something new. Hot Tamale Mama has prepared lovely tamales in unique flavors such as, black bean & corn and eggplant & portabella mushroom. She also offers Bayou Stuffed Peppers, and Garden Lasagna – so creamy and delicious. Norma Jean makes an Artichoke & Valbreso Cheese quiche that even real men will adore. Bear Creek has a savory new potato leek hand pie that is Oh! So good! I know that many of you have enjoyed Buchimgae (Korean pancakes) because I see them floating around the market each week. Now, you can bring some home – premixed and just waiting for the fry pan. Dong has both quart and pint sizes.
Since autumn is settling in and we will soon be in the throes of winter, make sure you pick up some health insurance. Samantha's Elderberry Syrup will help keep those nasty colds at bay while goodies like Sacred Earth's Immune Booster bar and Kombucha Girls Spiced Tulsi with Echinacea bucha and my cultured veggies will add the friendly nutrients your body needs to stay healthy all winter long. Darned if they don't taste great, too! A few aromatic herbs from Alton and Sandra to put on your windowsill or in a sunny spot will add a sparkling fresh taste to your meals. While you're there, check out what they have for the winter garden.
No matter what your favorites are, I'm sure you'll find an added bonus at the market. Kevin (Blood River Honey) will be back at the market this Saturday. He will be there all morning, so don't everyone rush the table at once – leave a space for me! I've been rationing the last little bit of honey that I have. I love it on my Mauthe's yogurt. So good! So let the day greet you with music and smiles, lots of good food and good friends. See you there!
Lots of love,
Charlene LeJeune
Abundant Life Kitchen
The Covington Farmers' Market is open each Wednesday, rain or shine, from 10 a.m. to 2 p.m. at the Covington Trailhead, 419 N. New Hampshire and every Saturday from 8a.m. to 12p.m. on the side lawn of the Covington Police Station, 609 N. Columbia St. Call (985) 892-1873 for information or visit www.covingtonfarmersmarket.org