Hi, friends and happy Tuesday! Are you ready for Market Day? I am. I'm looking forward to all the delicious meals and usually pick up a few for later in the week. This week, Nanette will be serving a lemony cilantro lentil soup that just begs to be tasted. I suspect it will be a bit chilly tomorrow and a hot, toasty muffaletta will hit the spot.  Spice your lunch up a bit with one of Rebecca's hot tamales and a touch of avocado salsa. Kandi is serving that delicious chicken porridge once more – a wonderful treat on a nippy day. Frankie always has scrumptious desserts to delight you and Natalie has STRAWBERRIES! I know. They're not only an earlier variety but sweet as well.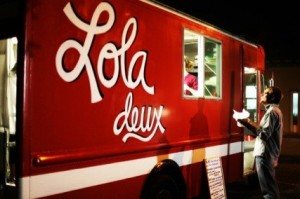 We'll be sharing our Saturday with the Three Rivers Festival this weekend and we have a triple treat for you! Steve and Elizabeth Nuccio will be in the demo tent sampling and selling their famous muffalettas. Then, on Theard Street, right across from the market, you will find the Lola Deux Food Truck and those fabulous Parmesan Fries! And, wafting from the gazebo will be the lively tunes of the Last Chance Bluegrass Band. WOWEE!
Time just keeps moving on (faster and faster) and Thanksgiving will be here before you know it. See Enten Farms about a nice plump duck for your Thanksgiving holiday meal or Bruce Lambert (Two Kids Farm) for pasture raised turkeys and geese. If you don't want to do the cooking, see Jeff (Chomper's BBQ) and make sure you get your smoked turkey and side dishes on order.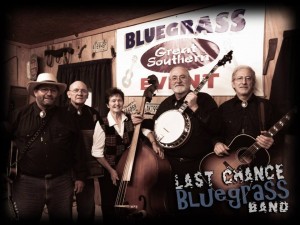 There are lots of veggies for the perfect side dish, such as green beans (the casserole is the inimitable Thanksgiving dish), sweet potatoes (you'll have to candy them yourself), merliton or eggplant plus some shrimp (for stuffing, of course), broccoli, cauliflower, carrots, and green onions. For your salad, there are lettuces, arugula, mizuna, mixed greens, shoots, and sprouts. Top them with fabulous dressings from Gina (Bechac) or Nanette. If your family is like ours, dirty rice is a must so don't forget the ground meat. I'm sure James will have chicken livers for those of you who add them.
Don't stop there! Mauthe's New Orleans style cheesecake is the to-die-for-perfect dessert. The only problem is getting it to last until Thanksgiving Day (hmmm…better get two). A taste of one of Jennifer's pies will convince you that your day will not be complete without a Bear Creek Road pie. Talk to her about what flavors are available.
Soups are a delicious addition to the meal and Norma Jean, Nanette, and Pam (Hot Tamale Mama) have some of the absolute tastiest around! What would your meal be without bread to go with it? Toasted bread, spread with butter or rosemary Skordalia (Vincent and Mauricio) is a great accompaniment to the meal (and even better when it's already baked.) If you can save a slice or two, warm in the oven and then spread with Althee's muscadine jelly or plum jam and breakfast is done! Don't take a chance, order early!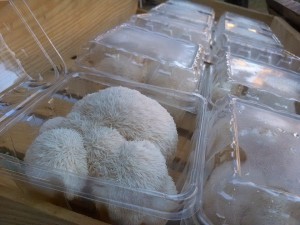 We offer several varieties of mushrooms and choosing which kind can be confusing. Here's a little hint. Shiitakes have a savory, meaty flavor. Oyster mushrooms have a more subtle nutty taste while the Lion's Mane is more reminiscent of seafood, especially when cooked. Any of these delicacies will go nicely, gently sautéed in butter or olive oil and tossed into steamed broccoli for an amazing side dish that will have your guests coming back for seconds. Kick the flavor up a notch – 1) simmer in one of Nanette's lovely sauces, 2) add cream and a tablespoon of my Shrimp on the Barbie seasoning to your sauté and cook until thickened, 3) make a sauce with Robin's Pepper Jelly by mixing with a little warm water to thin out the jelly and adding to your sauté. Come to think of it, a little pepper jelly sauce would go beautifully with carrots, green beans, cauliflower, cabbage, or sweet potatoes.
I can never report on everything we have to offer at the market. You'll have to come and see for yourself. We'll be here as always, with smiles on and a bountiful harvest. We'd love to see you.
Lots of love,
Charlene LeJeune
Abundant Life Kitchen
The Covington Farmers' Market is open each Wednesday, rain or shine, from 10 a.m. to 2 p.m. at the Covington Trailhead, 419 N. New Hampshire and every Saturday from 8a.m. to 12p.m. on the side lawn of the Covington Police Station, 609 N. Columbia St. Call (985) 892-1873 for information or visit www.covingtonfarmersmarket.org