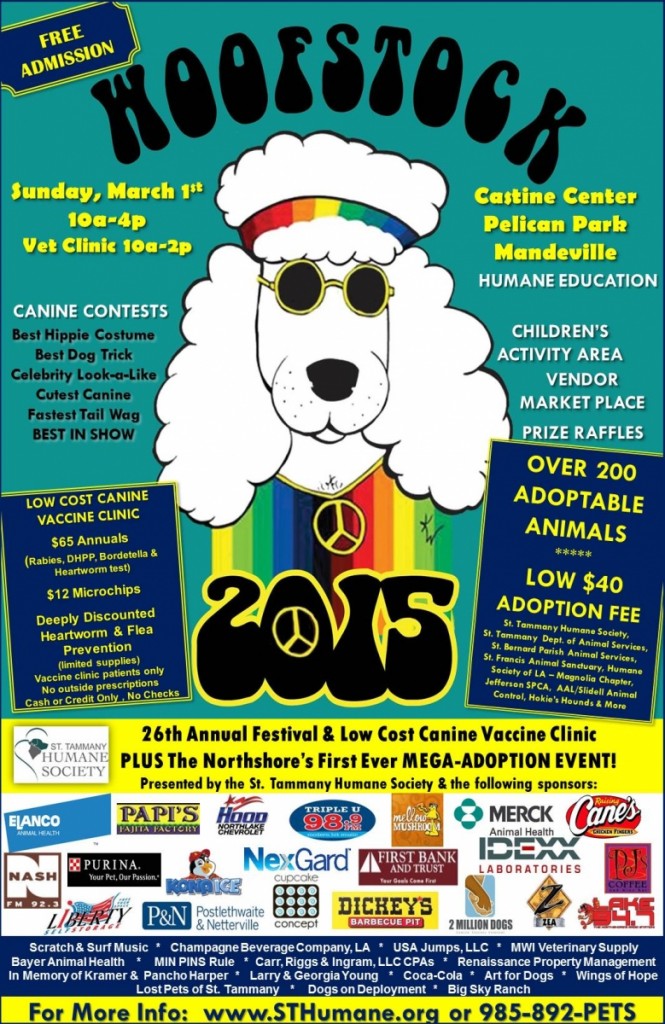 Join the St. Tammany Humane Society for their 26th Annual Spring Festival "Woofstock 2015", low cost clinic and fundraiser. Admission to the festival is free, and families along with their canine companions are invited to enjoy the many activities for which Woofstock is famous, including canine contests, humane education, children's entertainment, basket raffles, a Woofstock vendor marketplace, food, drinks and music. This year's canine contests include: Best Hippie Costume, Best Celebrity Look-alike, Fastest Tail Wag, Cutest Dog, and Best Canine Trick. The winners of each individual contest will then compete for the coveted title of "Best in Show."
For the past 26 years, our low-cost vaccine clinic allows dogs to receive vaccinations, heartworm tests and microchips, while their owners purchase preventatives and take advantage of other services at deeply discounted rates. The hours for this year's vet clinic are 10 am to 2 pm.  Supplies are limited.
Part fundraiser, part festival, Woofstock 2015 will be breaking new ground by becoming the Northshore's first Mega Pet Adoption Event, featuring over 200 adoptable dogs and cats from STHS and other area rescue groups and shelters including St. Tammany Department of Animal Services, St. Francis Animal Sanctuary, Big Sky Ranch, Animal Assistance Lead with Slidell Animal Control, Hokie's Hounds, Humane Society of Louisiana-Magnolia Chapter, Jefferson SPCA, CATNIP and St. Bernard Animal Services. STHS states this is the first time these organizations have come together for an event of this magnitude, and they have set a combined goal to find permanent homes for at least 100 animals during this event, offering a special low adoption fee of $40.
Woofstock 2015 will be held this Sunday, March 1st from 10 am – 4 pm at the Castine Center in Pelican Park, Mandeville.         www.sthumane.org