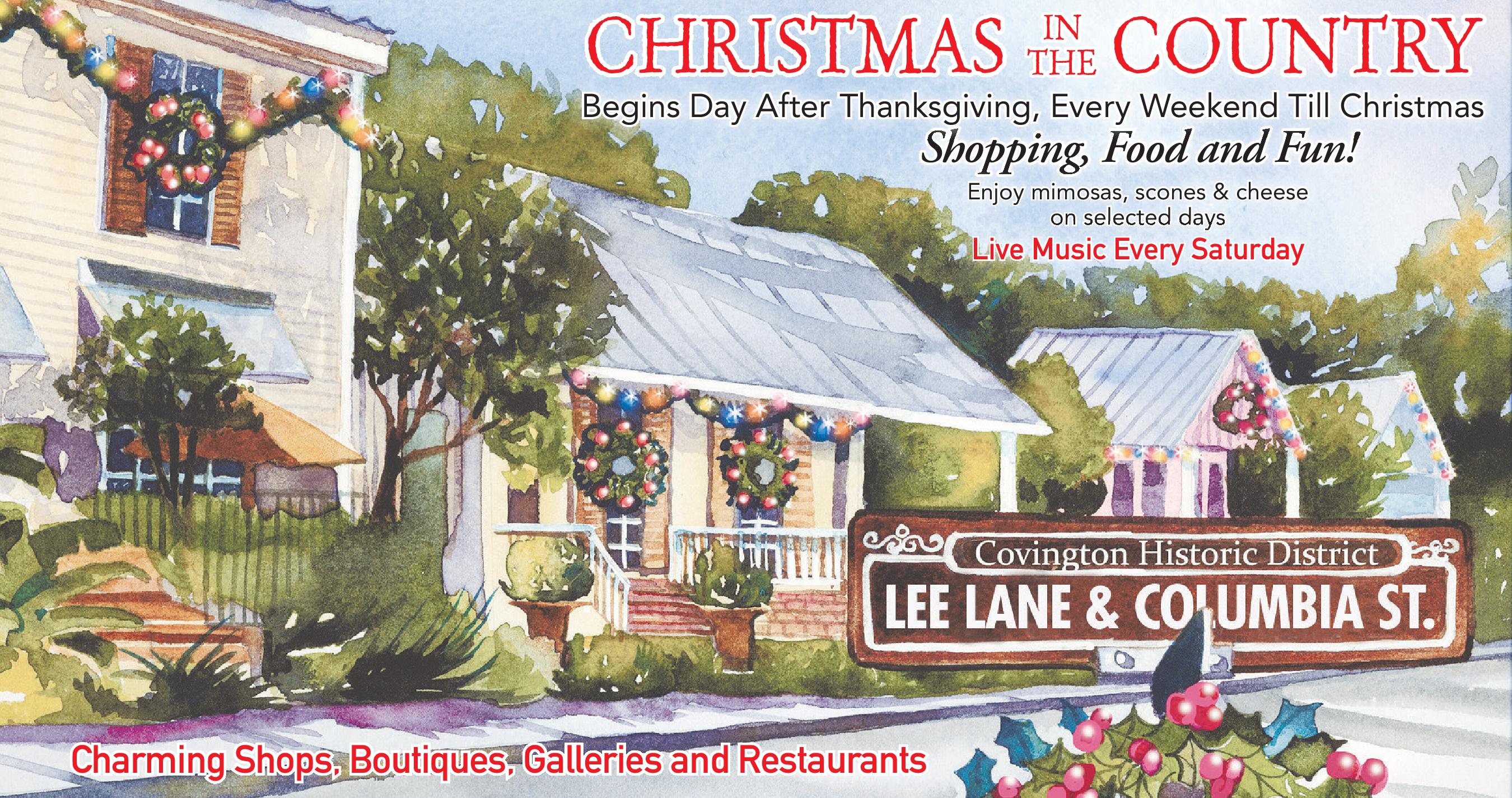 Join the CBA, City of Covington and merchants and shops throughout downtown Covington for "Christmas in the Country", every Saturday after Thanksgiving through Christmas, for shopping, food and fun! Look for special shopping events, live musicians, carolers, refreshments and door prizes. Shops are beautifully decorated and aglow with the warmth of the holidays.
Holiday shoppers can enjoy an old world shopping experience in a romantic holiday setting, while discovering everything from couture fashions to original fine art, home furnishings, and antique treasures in dozens of boutiques and galleries. Shoppers will also find weekly specials and entertainment, especially within the tax-free shopping area of the Covington Cultural District, all sponsored by the Covington Business Association, Lee Lane Merchants, and Covington Downtown Economic Development.
Most shops are open 9am – 5pm Mon. – Sat., some open on Sundays.  Shoppers will enjoy taking a break at luxurious spas and salons, getting an on-the-go fresh lunch, or staying for an evening of fine dining and entertainment at the city's award-winning restaurants and nightclubs.
Participating merchants on Lee Lane:  The French Mix, Bella Cucina, Turkoyz, Copper Rooster Antiques & Gifts, Coffee Rani, New Orleans Food & Spirits, California Drawstrings Northshore & Last Call, Gracie's Salon & Boutique, Rutland Street Gallery and The English Tea Room.  Columbia Street:  Shoeffle, DeCouer, Olive Patch, History Antiques, Columbia Street Mercantile, Motif, Mo's Art Supply, Grande Opus and Savoye Gallery.