Join the St. Tammany Humane Society and 5,000 "adopted" rubber ducks for this year's Duck Derby and Festival on June 11, 2016, from Noon-6:00 pm at Bogue Falaya Park in Historic Downtown Covington.
The day will be highlighted by the dropping and racing of the ducks down the Bogue Falaya River for a chance to win the top prize of $1,000 cash!  Second place will receive $1,000 in groceries at Whole Food Market and the third duck, a three month fitness package including four individual personal training sessions at Pelican Athletic Club. The race begins at 2:00 pm and the cost to "adopt" a duck is only $5;   ducks can be adopted singly or in flocks.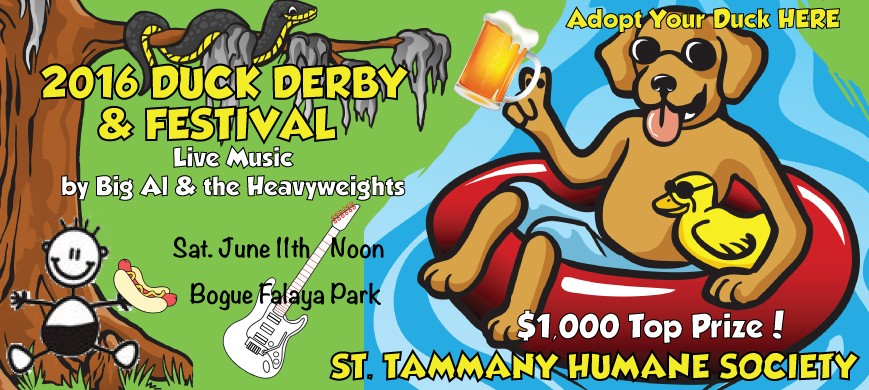 The day's entertainment will also include live music by Big Al and the Heavyweights, ice cold beer and food choices provided by local restaurants. Children can enjoy duck-themed carnival games, face painting, snowballs, cotton candy and many more activities all to lead up to a Quak-tastic time! The shelter will also have adoptables on-site looking for their forever homes.  Admission to this family-friendly event is FREE and don't forget the pooch!
The most important part – every "adopted" rubber duck helps a dog or cat in need. The St. Tammany Humane Society is Louisiana's largest non-profit (501)(c), no-kill animal welfare organization and shelter. Since 1953, STHS has assisted the abused and abandoned animals of our community.  The shelter relies solely on the generosity of its supporters.