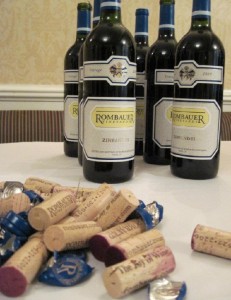 The Covington Business Association presents "A Taste of Covington," a four-day food and wine experience in historic downtown Covington, April 4th through 7th, 2013. Top sponsor is the Southern Hotel, co-sponsored by the Gulf Coast Bank, Glazer's Domaines & Estates and Acquistapace's Covington Supermarket. The event features a Vintner's Dinner, cooking demonstrations, the STAA's Art Market, a Gallery & Merchant Stroll, and a Jazz Brunch to wrap up the exciting weekend.
We begin with the Vintner's Dinners on Thursday April 4th.  Participants include Annadele's Plantation, Dakota Restaurant, Del Porto Ristorante, Gallagher's Grill, Lola Restaurant, Mac's on Boston, Seiler Bar and Toad Hollow.  For $75, the Vinter's Dinner includes a four course gourmet meal with wine pairings.  Many of the Thursday dinners are already sold out; you can check www.atasteofcovington.com for availability and menu offerings.
The "Grand Tasting" will be Friday the 5th from 7 pm to 10 pm.  This event is sponsored by Gulf Coast Bank and will take place in the wine warehouse at Acquistapace's Covington Supermarket.  This event has been highly anticipated, and is already sold out.
Saturday the 6th offers day-long events starting with the STAA's Art Market at the Trailhead from 9 am to 4 pm, presented by the St. Tammany Art Association.  From 5 pm to 6:30 pm, the Covington Trailhead hosts "Chef's Cooking Demos and Wine Tastings".  Tickets are $20 per person and are still available at the time of writing.  Call the Trailhead Office for information, 985-892-1873.  The CBA Merchant Stroll ground out the evening from 7 pm to 10 pm.  Twenty businesses in downtown Covington will serve different wine selections hosted by Glazer's Domaines and Estates, and the stroll is free and open to the public.  There will be live music by local bands Bayou Blue, Christian Serpas, Steppin' Up, Amp'd Brass Band and Montage. Visit atasteofcovington.com for a list of participating merchants.
The 2013 Taste of Covington experience finishes with a Jazz Brunch on Sunday the 7th from 11 am to 2 pm.  This event is presented by the Seiler Bar, and tickets are $30 per person.  Champagnes will be provided by Gerard Bertrand and the brunch will feature entertainment by Amp'D Brass Band.  Please call 985-898-0353 for reservations, which are still available at the time of writing.
Check www.atasteofcovington.com for more information