Happy Wednesday, friends! We're looking forward to a great day at the market full of music and fresh veggies and good food.
Mr. Houston and Marietta will have gorgeous potatoes, zucchini, squash, eggs and more. Kandi's decadent Shrimp and Cre…am Cheese Rolls or Fresh Summer Rolls, not to mention her delightful Noodle Salad, are sure to be a hit with your tummy. Roma's Tandoori Chicken or Curried Chicken Wraps are incredible. You can always count on delicious authentic Honduran food from Spanish R Us or a scrumptious raw vegetable wrap from Nanette.
Oh where, oh where has the week gone? Before you know it we'll be waking up to a glorious Saturday morning. Time for a delicious cup of coffee, a vanilla custard (Hot Tamale Mama) with granola on top (Windfield, Teresa's Italian, 7Grain) and toe-tappin' tunes from The Grocery Clerks beginning at 9:00. Keith and Nealy Frentz will drive their Food Truck, Lola Deux, to the market and there will be Parmesan Fries at the market again! Yeah!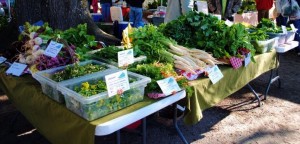 The assortment of veggies is growing; isn't summer wonderful – and tasty?! I found a wonderful zucchini bread recipe (at the end of the email) that looks delicious and easy. I'll have to try it this week. I'll bet you can substitute yellow squash and never know the difference. There are a few new things at the market this week. Patty has Baklava and Mediterranean pickles (cabbage, cauliflower) in addition to her spicy Cajun pickles. Crystal (Betty Rue) offers pizza made with basil pesto, caramelized onions, and artichoke hearts on a gluten free sourdough crust… it looks so yummy! Over by the oak tree, there are blueberry plants for sale. Wouldn't it be nice to have your own blueberry "orchard"? Think of the possibilities. Hmmmm.
Now, as you know, I've been on a serious diet – again – but my fortitude was sorely tested this past weekend with a new vendor – ICE CREAM! Ice cream even tops cookies on my goodie list. Flippin' Amazin' (that's the name) doesn't make just any ice cream but a smooth and creamy delight made with Mauthe's cream cheese. Cream cheese has to be my all time favorite ice cream and to add to my dilemma, Flippin' Amazin's booth is right by mine – Oh the Humanity!! Cookies and cream cheese, homemade sweet pepper jelly and cream cheese, blueberry cheesecake, peanut butter and banana cream cheese – my drooling glands were working overtime. You really have to try it out for yourself – flippin' amazin' describes them perfectly. He's even at the market on Wednesdays.
Who can sleep in on such a Saturday as this? Pickled veggies, mushrooms, raw honey, Spanish foods, peaches, gorgeous plants, raw juices, kombucha, popsicles, tomatoes, goat cheese, and the Grocery Clerks all wrapped up in a glorious Saturday morning!  I know, I know…I can hardly believe it myself. If you're not there, you're gonna miss out.Lots of love
Charlene LeJeune
Abundant Life Kitchen
Market Hours:  Wednesday, Covington Trailhead, 10am – 2pm;  Saturday, Columbia St (by Justice Center) 8am to Noon. Visit us at http://www.covingtonfarmersmarket.org/