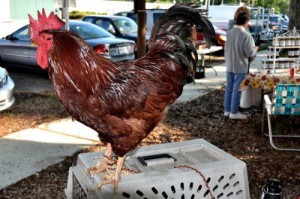 Hello friends, and Happy 3rd of July!  I hope you're planning a wonderful celebration! Be sure to stop by for a great lunch. You'll want to take something home because, after all, you'll be doing all that grilling and picnicking on the 4th!
On Saturday, we have special treat for you! Watermelon! What can be better at the height of summer than a juicy, delicious slice of homegrown watermelon? Join the Porch Rockers at 9:30 in the gazebo for loads of good music. I am so sorry that I won't be there to enjoy that.Well, I wasn't at the market last week since I've been visiting my children and grandkids in Kansas. Naturally, my grandkids can come out with some truly amazing observations (they are, after all, mine) and this particular conversation between my 4-year-old grandson, Johnny, and his mother was very enlightening.
Johnny: Mom, I think I'm gonna be a farmer when I grow up. Mom: Oh, really? That's great! So what are you gonna grow? Johnny: Huh? Mom:  Well, are you gonna grow vegetables or are you gonna have some animals on your farm? Johnny: Oh. I'm gonna grow cookies! (You can tell he's my grandson, right?)
So now, I'm really a little upset. You know my passion for cookies, and all this time I've been buying garden plants from Alton and Sandra and never once (and I mean NEVER) have they had oatmeal-raisin OR chocolate chip OR biscotti OR fluffy wedding cookie plants! I'm putting in my order right now, Alton! I'll need 3 flats of oatmeal-raisin, 3 flats of biscotti (preferably orange almond) and 2 flats of chocolate chip for this fall and if you can find a couple of those almond macaroon…..
I don't have to tell you that it's been a bit on the warm side lately, so here are a few "cool" ideas for cooling off. Why not a homemade smoothie? Pick up a half-gallon of milk or yogurt from Mauthe's and blend with fresh peaches, plums, or blueberries and ice or just freeze the fruit until semi frozen and blend. Of course, you can always just treat yourself to one of Amanda's amazing Popsicles. She is always coming up with new flavors with fresh ingredients. A glass of juice straight from the orange could hit the spot as well. Let's not forget about Flippin' Amazin's cream cheese ice cream, made with all fresh ingredients and none of those things no one but a scientist can pronounce.
Last year I was looking for something to make with eggplant that did not include breading and/or frying. Fortunately, Giada was on the Food Network with the perfect quick and easy recipe. I thought some of you may enjoy it; my family did. Most of you know I can't really follow a recipe all the way through and usually end up improvising so here it is in a nutshell. I just peeled the eggplant, then cut it in half and cubed it. I sautéed it down with onions (a little salt, a little pepper) until it was nicely browned adding sliced pickled garlic (Bushwood Farms) just as it was starting to brown. I sliced a few heirloom tomatoes into bitesize pieces (Nick, John or A.J.) and added them to the pot. While it was "veggin' out" in the pan, I boiled pasta (Giada used penne but Lena/7Grain has a delicious whole grain pasta). When the eggplant was browned and tomatoes nicely done, I turned off the fire and added one of Nur's basil pesto containers and mixed it into the eggplant. Then I added the cooked pasta, tossed it all together and topped it with shredded parmesan. WOW! It was delicious and got a lot of rave reviews from my family.
Nick has been fermenting string beans and squash. Since I also ferment veggies (in the form of sauerkraut) I absolutely had to try them. If you haven't already tried his, make sure you give them a try. The string beans are incredible! Nick used several varieties of very colorful squash and lots of basil in the squash blend – they are sooo good and sooo very good for you!  There really is nothing like a farmers' market when the veggies are at their peak of flavor and variety. Oh! If only summer could last all year long (OK, maybe not the heat but definitely the veggies). Fresher than this you just can't find. I can only describe them; you need to come out and see the goodness for yourself.
Lots of love
Charlene LeJeune
Abundant Life Kitchen
Market Hours:  Wednesday, Covington Trailhead, 10am – 2pm;  Saturday, Columbia St (by Justice Center) 8am to Noon. Visit us at www.covingtonfarmersmarket.org