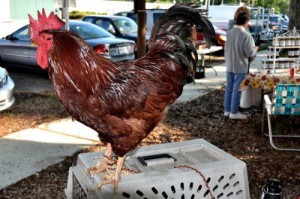 Hi, friends and Happy 2014!  It's gonna be a terrific year; I absolutely refuse to have it any other way. Resolutions? I'll just make them up as I go along. Who knows? Maybe I'll actually get my garden planted, lose some weight, get a few exercises in (here and there) but you can be sure I'll always be ready for a great day at the Covington Farmers' Market!
Wednesday promises to be much warmer than today (thank you, Lord!) so make plans now to get out for a delicious lunch at the Farmers Market. Wasn't that part of your New Year's Resolution anyway? Enjoy a "try me! try me!" plate of Chomper's BBQ pork, macaroni n cheese with a hot baked cinnamon apple for dessert. I've got your attention now, right? Rebecca's spicy Mexican dishes are sure to warm your heart and your tummy. Maybe a bowl of Nanette's stick-to-your-ribs (and resolutions) soup or a savory platter of Kandi's crispy egg rolls would be your choice and don't forget the veggies and eggs – or Lolly Marie's truffles – or Frankie's fried pies…with a nice cup of coffee – I looove this no resolution thing!
Joe Barbara's delightful tunes will issue from the gazebo on Saturday morning so get your dancing shoes on! Grab your coffee and get ready for Chomper's BBQ. That's right; Jeff and Kristen are back with smoky pulled pork, macaroni N cheese, hot cinnamon apples and coleslaw for sampling. Don't pass up this chance to sample his world famous BBQ sauces. He will have those sauces for sale, along with his meat rubs, smoked turkey legs, pulled pork by the pound or a pint of Mac N Cheese or coleslaw. If you tasted his food on Wednesday, you'll probably be first in line.
If you're planning to eat healthier this year, this is definitely the place to be. Nourish your body with gluten-free foods, kombucha, cultured veggies, vegetarian tamales, super salsa, free range chickens, fresh yard eggs, grass finished beef, huge shrimp, and a smorgasbord of wonderful soups made with seasonal vegetables (from the market, of course).
Plus, there are THE MOST GORGEOUS veggies such as, broccoli, cauliflower, radishes, Asian greens, collards, turnips, lettuces and more on the tables. Throw together a terrific salad with arugula, lettuce, Tatsoi, sliced radish, and broccoli and top with fresh sliced mushrooms (shiitake or oyster) or fresh strawberries, and a sprinkling of sprouts (Sam's Sprouts).  Add some chunks of leftover roasted chicken or boiled shrimp and you have more than just a salad! Dress your salad with Bechac's Bleu Cheese, Honey Creole, or Roasted Garlic & Tomato dressings. The Roasted Garlic & Tomato also makes a tasty marinade for chicken. Or pick up one of Nanette's ready-made raw specialties. You won't have a chance to get tired of the same old, same old since she has an amazing selection of vegetable combinations and dressings.
Mary, Mary, don't be contrary. Get your garden started with plants from Alton and Sandra, a few berry bushes or fig tree from Dennis, and a bag or two of chicken poop from Grammy's eggs – what could be easier?
For those of you with no resolution, there are cookies, fruit pies, muffins, gourmet candies… plump apples cloaked in caramel and chocolate, crisp orange almond biscotti, gluten-free pumpkin muffins, sweet raspberry crumble, and lemon curd just because…who needs a reason? There are freshly baked breads with jams, jellies, and sweet cream butter for spreading or herbed oils and golden honey for dipping.
Just a stroll around the grounds will give you an idea of the wonders we have to offer! This really is a marvelous place to spend the morning! We will see you there, right?
Lots of love,
Charlene LeJeune
Abundant Life Kitchen
The Covington Farmers' Market is open each Wednesday, rain or shine, from 10 a.m. to 2 p.m. at the Covington Trailhead, 419 N. New Hampshire and every Saturday from 8a.m. to 12p.m. on the side lawn of the Covington Police Station, 609 N. Columbia St. Call (985) 892-1873 for information or visit www.covingtonfarmersmarket.org